By the numbers: Polar vortex cold snap sets records, kills at least 9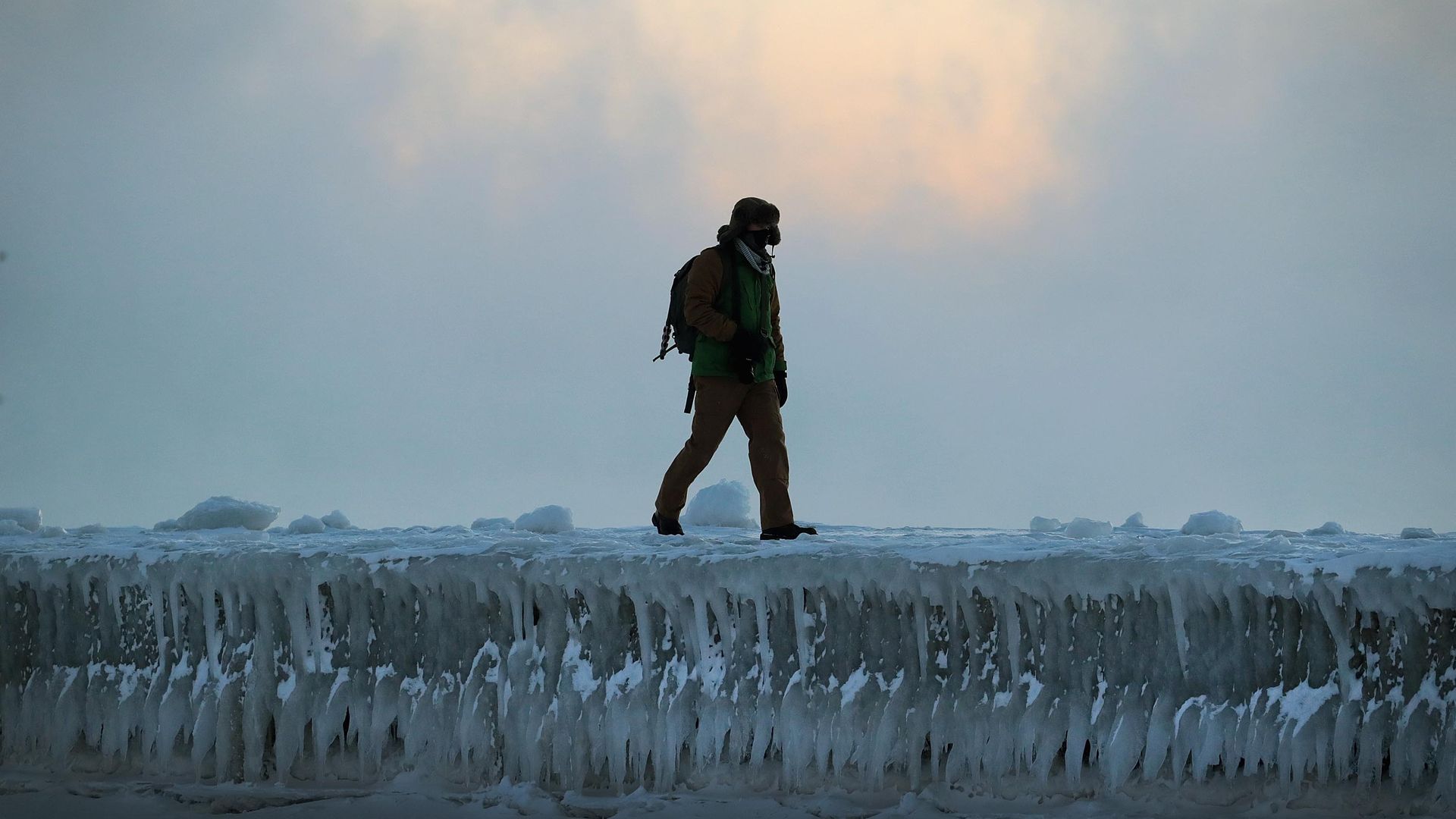 Cities across the Midwest and Northeast U.S. set new record low temperatures Wednesday and Thursday morning as a once-in-a-generation cold snap swept through the U.S. The frigid conditions have been linked to at least nine deaths already.
The big picture: An air mass that originated in the High Arctic is sweeping through the U.S., but even though temperatures are expected to start easing this afternoon and be above freezing this weekend in parts of the Midwest, this is likely not the last time this kind of sudden cold snap could affect large portions of the nation. Recent studies show climate change could cause more southward jogs of the polar vortex in the future.
The coldest location in the U.S. on Thursday was Cotton, Minn., where the temperature reached minus 56°F. The coldest location in the U.S. on Wednesday was Norris Camp, Minn., where it was minus 48°F, with a wind chill of minus 65°F.
Rockford, Ill. hit minus 30°F Thursday morning, breaking its old all-time cold temperature record of minus 27°F, set in 1982.
Moline, Ill. hit a new all-time record of minus 33°F Wednesday evening, lower than the minus 28°F record previously set in 1996.
Cedar Rapids, Iowa broke its previous all-time record of minus 29°F when it dipped to minus 30°F Thursday morning.
Mather, Wis. hit a new all-time record on Wednesday of minus 43°F.
Chicago set a new daily record of minus 21°F on Wednesday, but failed to threaten its all-time coldest temperature of minus 27°F.
Illinois and Minnesota either reached or came close to setting all-time state records on Thursday. The Mount Carroll Cooperative station in Illinois reported a temperature of minus 38°F, which, if verified, would break the previous record of minus 36°F, set in 1999. Minnesota would have to go below minus 60°F to break its record (Cotton came within 4°F of that this morning).
New daily records were set in Detroit at minus 14°F, Pittsburgh at minus 5°F, South Bend, Ind. at minus 20°F, outside of Marquette, Mich. at minus 26°F, La Crosse, Wis. at minus 33°F, Grand Forks, N.D. at minus 32°F, International Falls, Minn. at minus 46°F, and Chicago at minus 21°F.
The state of play: Chicagoans reporter hearing loud noises and banging overnight, likely as a result of a "frost quake," or a cryoseism, per local WGN-TV, which occurs when a sudden drop in temperatures causes underground water to freeze and expand, causing the ground to crack.
As many as 13,500 customers had power outages in Wisconsin and Iowa by midday Wednesday, per the Washington Post.
Resources:
Go deeper