All the times Trump's intelligence officials contradicted him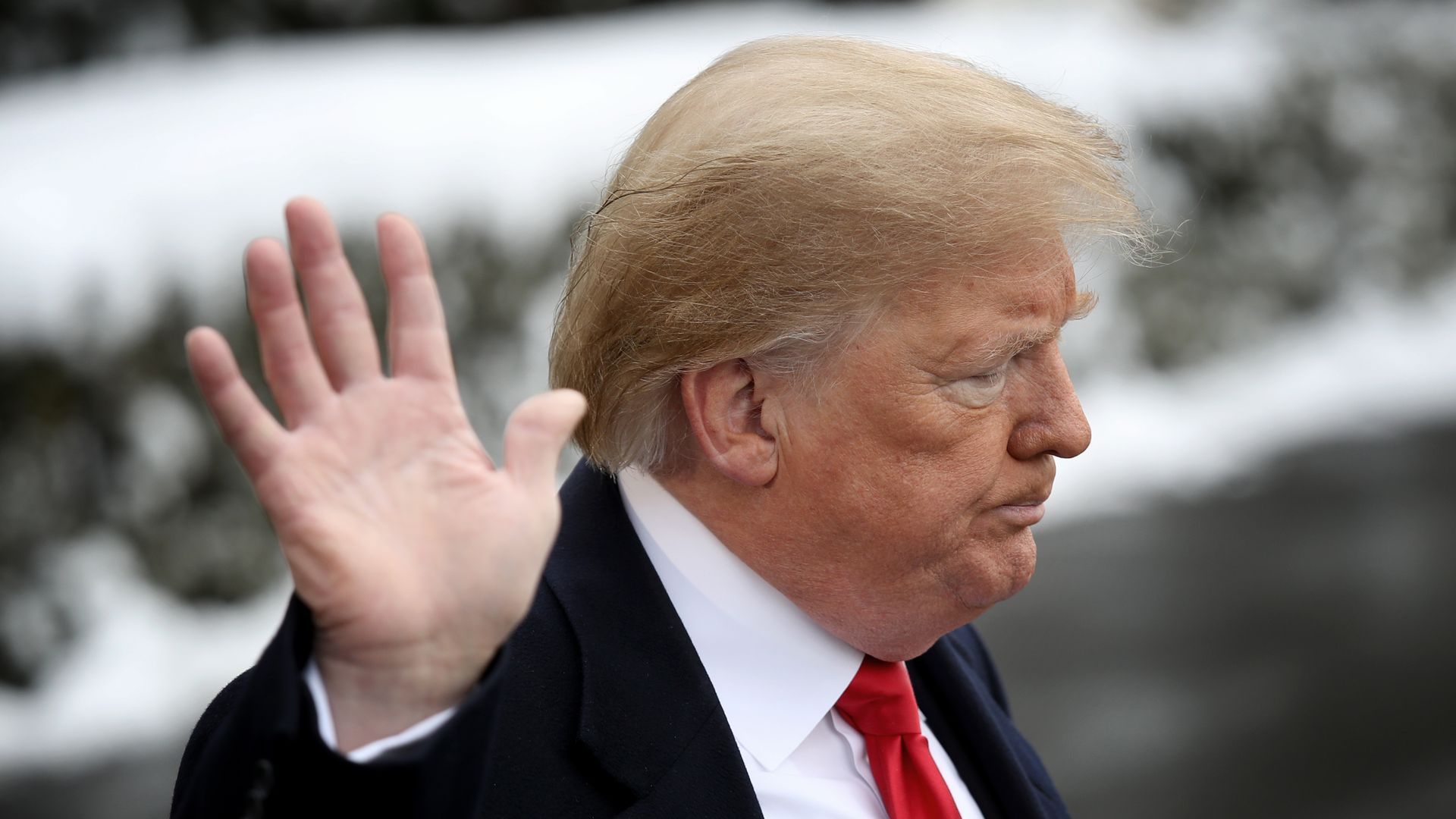 After his intelligence officials contradicted President Trump multiple times in sworn, public testimony Tuesday before the Senate Intelligence Committee, Trump tweeted that their national security assessments were "wrong!" and that perhaps they "should go back to school."
Why it matters: This is not the first time President Trump has cast doubt on the findings of the U.S. intelligence community, especially when they run counter to his interests or preconceived notions. Sen. Mark Warner (D-Va.), vice chair of the Senate Intelligence Committee, notes: "People risk their lives for the intelligence he just tosses aside on Twitter."
On ISIS
Trump: "We have won against ISIS. We've beaten them and we've beaten them badly. We've taken back the land and now it's time for our troops to come back home." (Dec. 19, 2018)
On the Iran Deal
Trump: "The Iran Deal is defective at its core. If we do nothing, we know what will happen. In just a short time, the world's leading state sponsor of terror will be on the cusp of acquiring the world's most dangerous weapon." (May 8, 2018)
On North Korea
Trump: "There is no longer a Nuclear Threat from North Korea." (June 13, 2018)
On Russian election interference
Trump: Putin "said he didn't meddle, he said he didn't meddle. I asked him again. You can only ask so many times...Every time he sees me he says I didn't do that and I really believe that when he tells me that, he means it." (Nov. 11, 2017)
On Mueller
White House spokeswoman: The Mueller probe is "probably one of the smallest things that they've got going on their plate." (May 11, 2017)
Trump: "A total WITCH HUNT with massive conflicts of interest!" (Mar. 19, 2018)
Trump: The Inspector General report on James Comey's handling of the Hillary Clinton emails "totally exonerates me" with relation to the Mueller probe. "There was no collusion, there was no obstruction." (June 15, 2018)
On Comey
White House Press Secretary Sarah Sanders: Comey had "lost the confidence" of "rank-and-file" FBI employees. (May 9, 2017)
On Khashoggi
Trump: "Sounded to me like maybe there could have been rogue killers — who knows" who killed Washington Post journalist Jamal Khashoggi. (Oct. 15, 2018)
On Rob Porter
White House Deputy Press Secretary Raj Shah: The background investigation into former White House Staff Secretary Rob Porter, who was accused of domestic abuse, was "ongoing." (Feb. 8, 2018)
On Brett Kavanaugh
Shah: The "scope and duration" of the investigation into allegations of sexual assault against Supreme Court nominee Brett Kavanaugh, "has been set by the Senate." (Sep. 29, 2018)
On wiretapping
Trump: "Terrible! Just found out that Obama had my 'wires tapped' in Trump Tower just before the victory. Nothing found. This is McCarthyism!" (Mar. 4, 2017)
Go deeper: Everything Trump says he knows "more about than anybody"
Go deeper