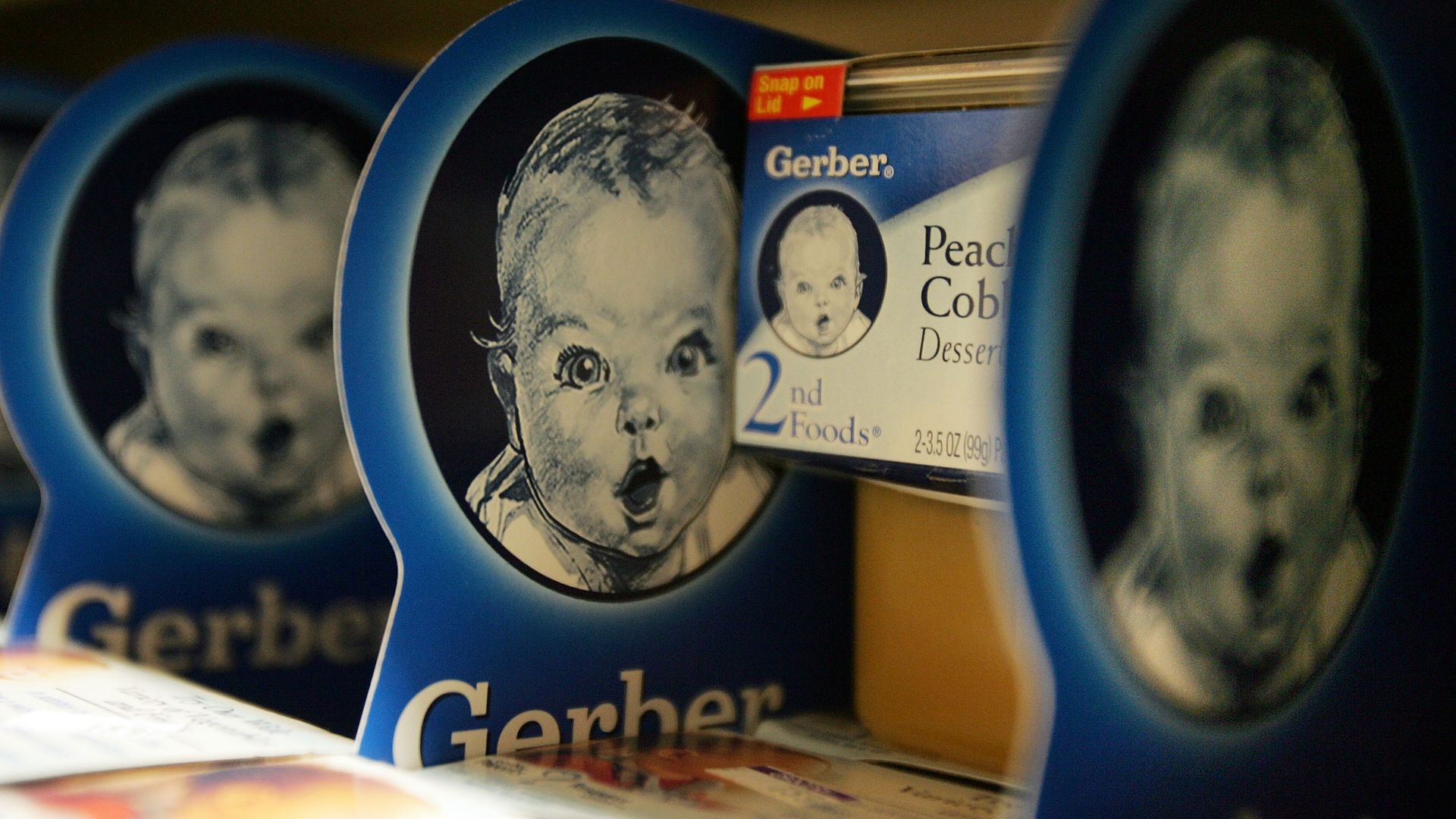 One of the most visceral experiences in anyone's life is conceiving and raising a baby, and some of the world's biggest companies revolve around an increasing parental obsession with getting the first couple of years right.
But now, one of the central businesses in infant care — the $7 billion-a-year U.S. baby food market — appears ripe for disruption by startups that are changing how business value is defined.
Driving the news: What is happening in baby food reflects the shift in retail, in which a new brand's value is increasingly not based purely on revenue, but on its reliable fan base — how much traffic it can bring a store at a time when shoppers are fickle.
Baby food has long been dominated by two brands: Gerber remains No. 1, and Beech-Nut is the second-biggest seller.
But a huge chunk of baby food consumption is homemade, experts say — a reflection of a mania for organic, fresh products and an increasing rejection of processed brands.
This is what has created a threat to the legacy brands. Because many parents simply don't have the time to prepare every meal for their babies, those wanting something fresh are open to upstart organic food brands that will do it for them.
Angela Sutherland is co-founder of Yumi, a California-based organic baby food startup that markets direct to consumers. Sutherland sends overnight shipments of freshly made baby foods to its clientele weekly.
In 2017, Sutherland and her partner raised $4.1 million in venture capital. Since then, she tells Axios, they have shipped about half a million jars of mixtures like banana with kale and black beans; kiwi combined with coconut milk, quinoa and banana; and standard spinach.
They are around $5 a jar, more or less double the cost of processed brands, depending on the type.
The business has grown by 30% month after month, Sutherland says, and has built a fanatical base of "megafans."
Sutherland says that big retailers have begun to circle the company in hopes of a distribution deal. "It shows how much retailers want brands with connection to a fan base," she says.
Kimberly Greenberger, an analyst with Morgan Stanley, agreed. To differentiate their merchandise from competitors, brick-and-mortar retailers today are looking to secure exclusive products. "The more exclusive and proprietary, the more the retailer can capture that consumer demand," she says.
"Something like baby food, where there is a monopoly or a duopoly — anything that disrupts that duopoly with a natural label will disrupt the market," Barbara Denham, chief economist at Reis, an analytics firm owned by Moody's, tells Axios.
Yumi is fulfilling two current market fads — making organic foods and shipping them to customers' doorsteps. The business is subscriber-based, and it tries to be highly customized, arriving in a box with a card listing nutritional studies validating a particular mixture of ingredients, Sutherland says.
"Now we ship to New York and the tri-state area. We are rolling out nationally this year," says Sutherland, a former investment banker. "We didn't realize how fast the business could grow."
Go deeper