AV entertainment systems could consolidate all kinds of data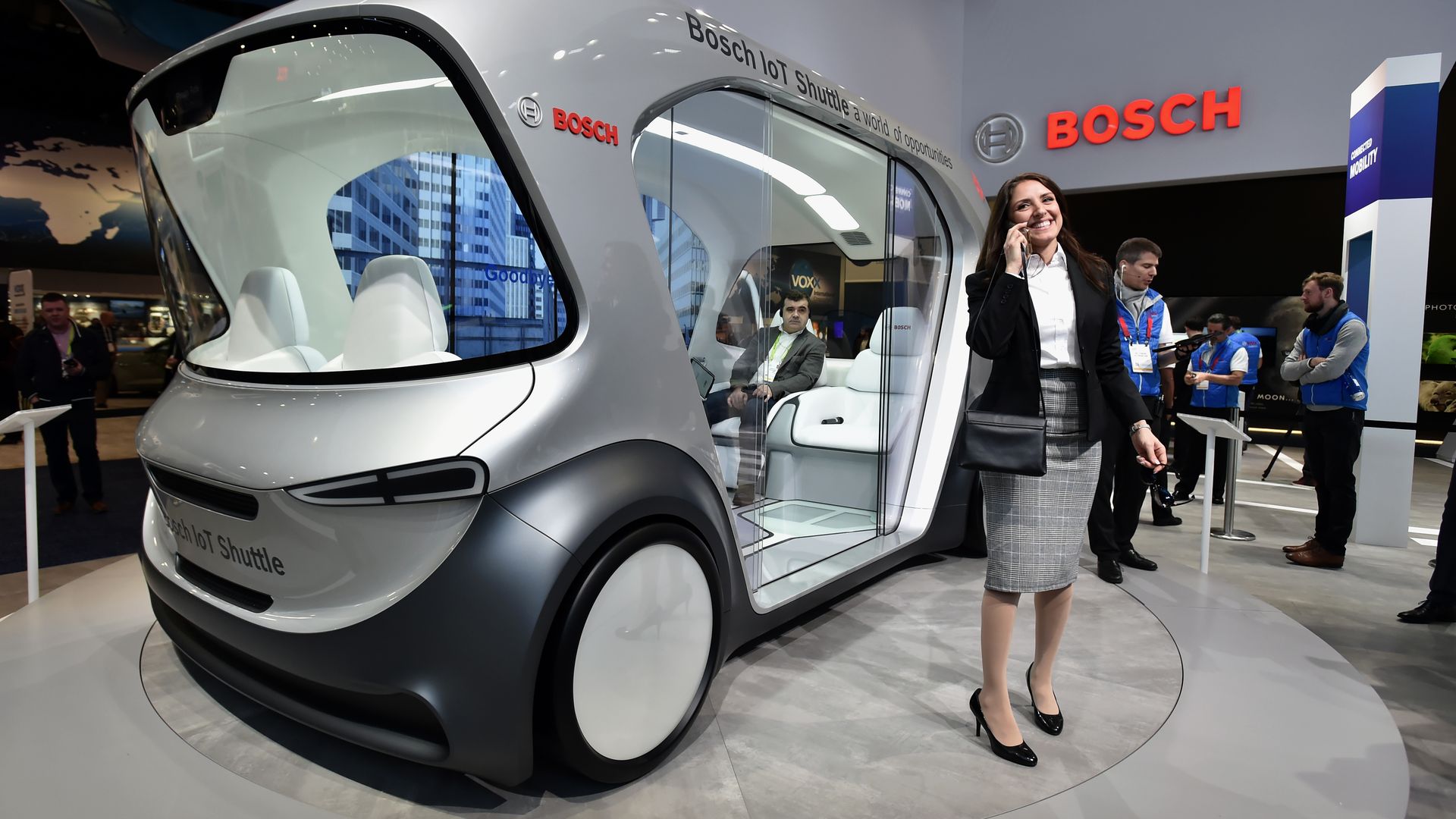 Tech and entertainment companies are rolling out infotainment concepts for AVs that could offer passengers personalized services, but require collecting data on their streaming usage, location and more.
Why it matters: The collection, analysis and distribution of technology users' data has become a massive industry. AVs could end up effectively aggregating extensive passenger information from the cars and passengers' cell phones that could then be shared with third parties — exacerbating issues around privacy and security.
Details: Beyond location and streaming data, these systems could track social media usage and data on a passenger's in-car activity. It's not clear yet how individual user profiles might work, but they could involve creating login credentials, be synced with other apps, or incorporate biometric data like touch or face ID.
Bosch showcased a shuttle with personalized entertainment screens that had streaming capabilities and could provide restaurant recommendations based on GPS tracking.
Intel and Warner Brothers demonstrated a virtual reality experience in a retro-fitted BMW X5, which included sensory and touch feedback and an option to pay for streamed movies during the ride. That data could be used by creative studios to target ads or inform decisions about what kinds of content to produce.
BMW's Vision iNext concept had an AI-driven voice assistant and could store information about a passenger's preference for work, entertainment or relaxation in transit. BMW has already rolled out Google Assistant connectivity in other models, which could open up access to contacts, calendars and other personal data.
Between the lines: This data could then be used for targeted ads that could appear in a variety of settings including homes, offices and retail locations.
If data generated in AVs is synced with mobile phones or tied to social media accounts, passengers could end up sharing a much fuller data profile of themselves than they realize.
All of that information could be vulnerable to hackers as well.
What we're watching: The General Data Protection Regulation in Europe and the California Consumer Privacy Act offer some protections of consumer data, including the option for users to opt out of data sharing.
AVs would be covered by those regulations, but users would have to read and understand the fine print, and regulations could cover fleet services differently than the way they currently cover data that cars generate.
Sudha Jamthe is CEO of IoTDisruptions and teaches AV Business at Stanford Continuing Studies.
Go deeper