2. Inside Kushner's immigration plans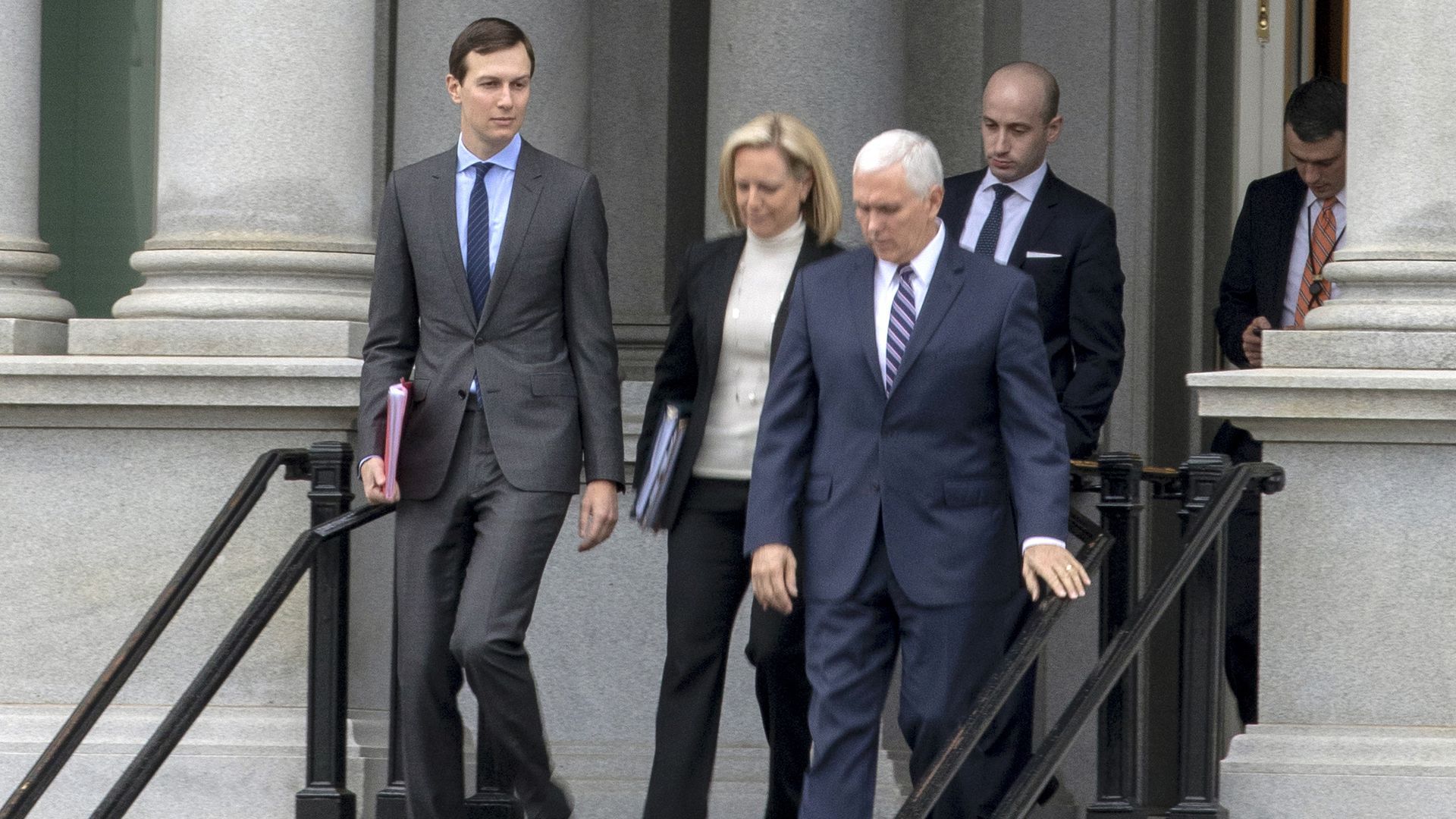 Jared Kushner ran a white board planning session last week at the White House with the Koch network and other people who worked with him on criminal justice reform. The purpose: to see if the administration can replicate the approach they took to pass criminal justice reform to overhaul America's immigration system.
"They would like to try and replicate at some level a bipartisan coalition on immigration issues, something paired with border security as well," said Koch Industries senior vice president Mark Holden, who attended the meeting.
A senior White House official familiar with Kushner's thinking said it's too early to tell what he's going to do, but confirmed he held the planning meeting last week.
Behind the scenes: The meeting lasted a few hours, according to Holden. The Texas Public Policy Foundation's Josh Trevino and Brooke Rollins, who works in the Office of American Innovation and was a key player in criminal justice reform talks, also attended.
The white board session was one of several immigration-related meetings the White House hosted over the past week. Kushner and his team met with faith leaders, Hispanic leaders and prominent conservatives. Some have expressed skepticism that Kushner — a New York liberal with no background in immigration policy or politics — could succeed where so many of his predecessors have failed.
Tea Party Patriots co-founder Jenny Beth Martin, who met with the president and other conservative leaders last Wednesday, told Axios: "Border security and immigration reform are much more complex issues than criminal justice reform. … It would be wise [for the White House] to be in touch with the president's base as any such legislative deal is being created. Many of the strongest parts of the president's base do not want amnesty, and the president's promise to secure the border is what drew those voters to him from early in his campaign."
(The White House has, however, been meeting with conservative movement leaders — including Martin — who regard themselves as representatives of the base. Vice President Pence attended the meeting with Martin last week.)
Daniel Garza, president of the Koch network's LIBRE Initiative and a supporter of Kushner's approach, attended a separate White House meeting with Hispanic leaders. Garza said Kushner used a quote he presumably gathered from his ongoing efforts to bring peace to the Middle East. "At one point during the meeting, Jared quoted [former Israeli President] Shimon Peres and said something along the lines of 'You don't arrive at peace by meeting with just friends,'" Garza said.
Between the lines: Two senior White House officials told Axios they are stunned that Kushner thinks he could be the mediator who solves one of the most intractable problems in American politics for the past 20 years: immigration reform. One senior White House official told Axios that Kushner's success in criminal justice reform has no bearing whatsoever on his ability to succeed on immigration.
"He convinced Democrats to support something they already agreed with," the senior official told Axios.
Supporters of Kushner point out that if he didn't persuade Trump to move from a harsh law-and-order candidate to being open to — and ultimately supportive of — criminal justice reform, then the effort would have died.
The other side: Two other senior White House officials familiar with Kushner's plans told Axios that the president asked Kushner to join with Vice President Mike Pence and Homeland Security Secretary Kirstjen Nielsen to negotiate immigration on behalf of the White House. One of those officials said Kushner has almost exclusively been talking to Republicans to figure out what they want out of a reform package. His planning sessions are "about defining what we're for, not what we're against."
"Right now [Kushner is] just trying to understand the Republican position so that we can take all those views to the president and he can make an informed decision," the same official said on Tuesday.
"This is more of a long-term policy process, not a resolution for the shutdown," the official added. "And amnesty was not discussed at any of these meetings. This is really about how do we reform our broken immigration system."
As Axios has reported, Kushner relayed to White House officials an idea from Republican Sen. James Lankford: Give a path to green cards for illegal immigrants who came to the U.S. as children and who are currently protected under the Deferred Action for Childhood Arrivals (DACA) program.
Acting White House chief of staff Mick Mulvaney told Axios: "We have a fantastic team working on this — all pulling in the same direction to carry out the president's strong border security agenda, including steel barriers. At this stage, there's no way to know what that legislation will ultimately look like, but you can be sure it will protect the American people."
Editor's note: This story has been updated to include a quote from acting White House chief of staff Mick Mulvaney.
Go deeper