The Huawei charges are tangled up with U.S.-China trade talks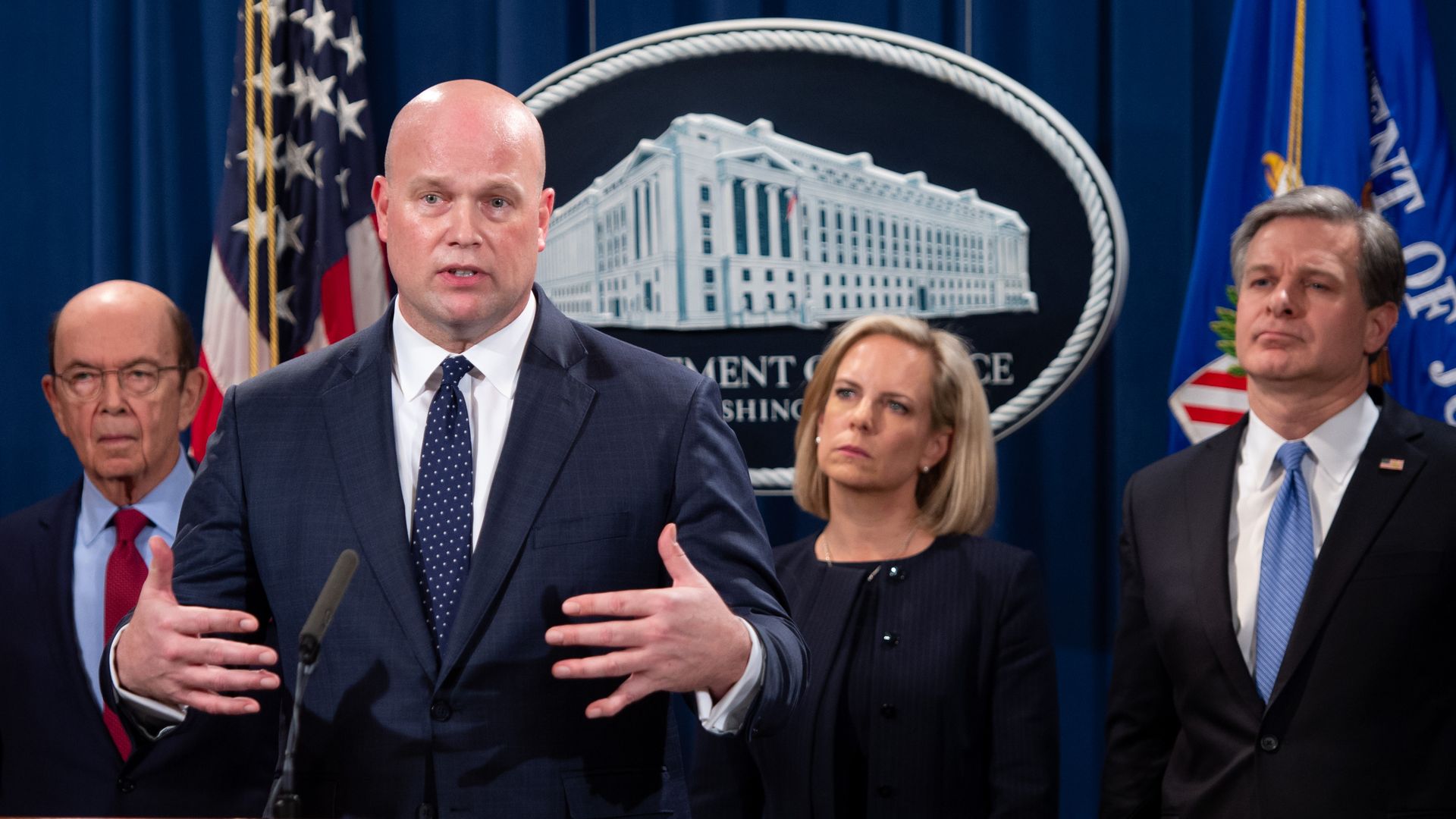 The allegations behind the Department of Justice's two new sets of charges against Chinese tech giant Huawei, announced Monday, had been discussed for years. But the U.S. made its move against Huawei at a critical moment for the Trump administration's high-stakes trade negotiations, as a Chinese delegation arrives in the U.S. for talks that begin tomorrow.
Why it matters: The trade talks are surrounded by a tightening knot of scandals for the world's largest telecommunications equipment provider. Even before yesterday's announcement, a growing number of countries had announced bans on Huawei's 5G wares due to allegations they were sabotaged for use in Chinese espionage.
What they're saying: "There's no way to separate the charges from the trade issue," said Thomas Duesterberg, Hudson Institute fellow and former assistant secretary for international economic policy at the Commerce Department. "The negotiations are in some ways meant to correct the advantages China got through activities that led to the charges."
The charges:
One set of charges being tried in Washington state says Huawei personnel stole the technology used in a T-Mobile robot that tests phones.
A second set, this time in New York, alleges that Huawei repeatedly misstated its relationship to an Hong Kong-based firm, Skycom, which the DOJ says was actually a subsidiary operating in violation of the sanctions.
Huawei CFO Meng Wanzhou was arrested in Canada in December as part of the second set of charges.
An easy inference to make is that the two sets of arrests were intended to influence the trade negotiations with China scheduled for Wednesday and Thursday.
Not so fast, some experts argue. While Trump has intimated that he might use Meng as a bargaining chip (a likely unconstitutional offer that may have jeopardized the extradition), the DOJ has distanced itself from the White House's trade negotiations.
There's a much more mundane explanation for the timing: Among U.S. allies, Canada is one of the toughest to obtain an extradition from, and it takes about this much time to go through the Canadian process, said Chris Ott, a former prosecutor with the DOJ's National Security Division and current partner at Davis Wright Tremaine.
While the administration largely believes a new trade agreement can stop China from skirting trade rules and reverse some of the long-term damage to U.S. interests, the DOJ penalties are more than just a bargaining chip in the trade negotiations.
The threat of arrest may be devastating for Huawei and, while it likely won't end suspicions of Chinese companies' participation in government mandated espionage campaigns, it will dramatically raise the business cost of doing so.
"It may not be safe for Huawei executives to travel to extradition countries," said Ott. "It's hard to run an international business that way. They can never show up to CES again. They can't even go to Japan."
Go deeper: Huawei expects to be world's top smartphone maker by year-end
Go deeper