Charges against Huawei escalate tensions in U.S.–China trade war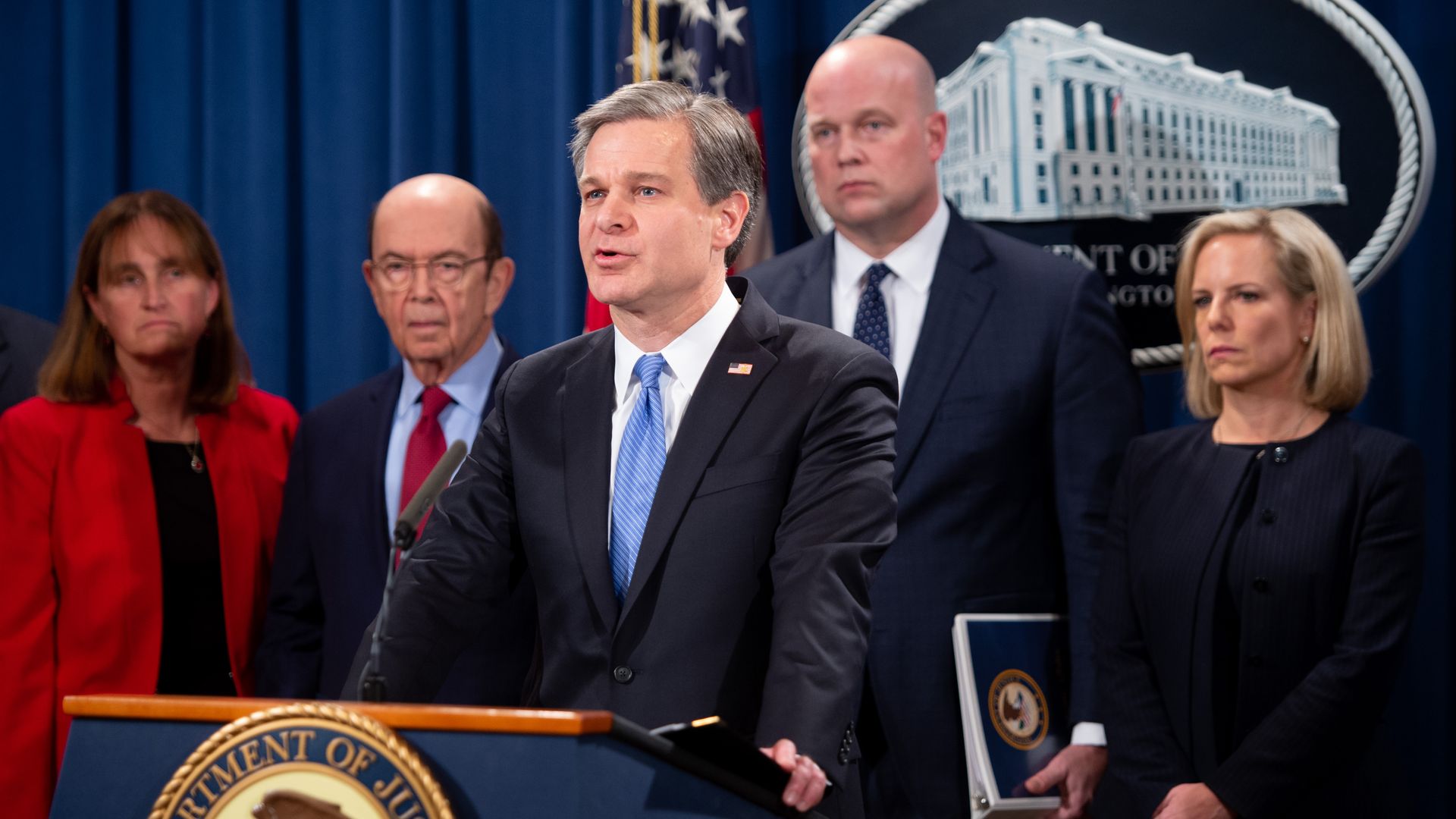 The Justice Department brought 23 separate charges on Monday against Huawei, China's dominant telecommunications equipment manufacturer. The indictments cover intellectual property theft, violations of sanctions on selling equipment to Iran, and obstruction of the investigation. Sabrina Meng, daughter of Huawei's founder, who is being held at U.S. request in Canada, was charged with fraud in misleading banks about Huawei's business with Iran.
Why it matters: The criminal charges help validate U.S. accusations that China systematically steals valuable technology and that its companies sell sensitive equipment to repressive regimes such as Iran. Although not unexpected, they come on the eve of high-level trade negotiations in Washington with China this week, and will probably slow down the Chinese effort to close a deal.
Background: The U.S. has long insisted that China makes a habit of stealing or forcing the transfer of valuable intellectual property, and has brought charges against China in the World Trade Organization and in U.S. courts. The appropriation of sensitive technology is part of China's long-term plans to dominate sophisticated technology sectors and displace existing leaders in the U.S., Europe and Japan.
U.S. authorities have also long suspected that Huawei equipment could be used for espionage purposes, spurring them to launch a global campaign to persuade like-minded allies to prohibit deployment of 5G networks, the next generation of telecommunications equipment.
Hidden sales to Iran, as alleged in yesterday's indictments, reinforce the United States' case that Huawei cannot be trusted with building the new networks and that its technology aids and abets authoritarian regimes in deploying the tools of repression.
What to watch: After Meng was detained in Vancouver, the Chinese reopened a settled case against an alleged Canadian drug smuggler and imposed the death sentence. Until Meng's case is settled, we should not be surprised to see other moves against U.S. and Canadian citizens. We will also find out this week if the trade negotiations founder because of Chinese ire over the Huawei charges.
Thomas J. Duesterberg is a senior fellow at the Hudson Institute.
Go deeper