3. Howard Schultz knows some Dems are going to hate him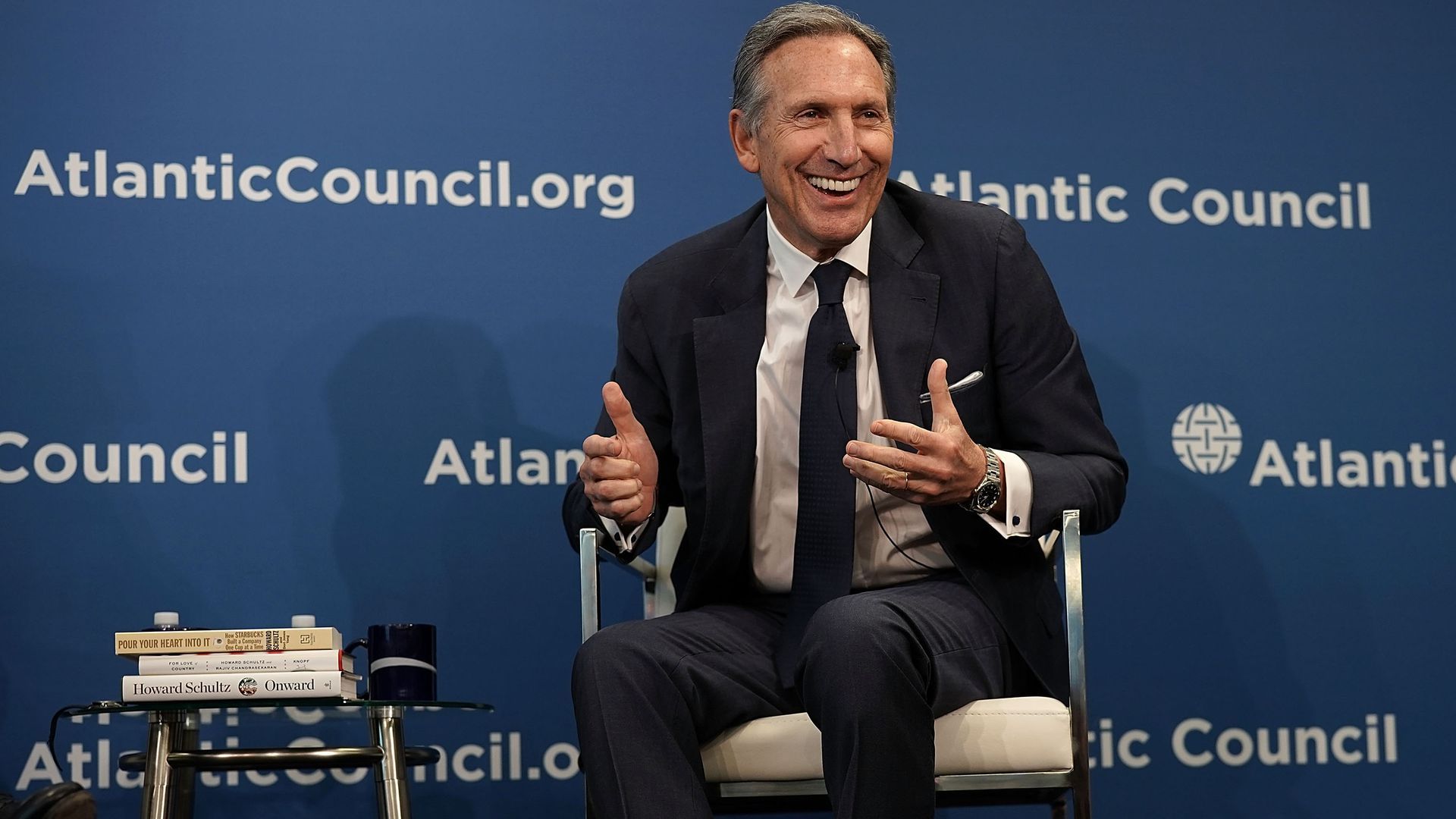 Former Starbucks CEO Howard Schultz tells Axios he's "unfazed" by the online trashing from Democrats who think that by running for president as an independent, he could split the anti-Trump vote and re-elect the president.
What he's saying: "I'm putting myself in a position that I know is going to create hate, anger, disenfranchisement from friends, from Democrats," Schultz said after last night's "60 Minutes" segment unveiling his plan to explore an independent bid.
"I'm concerned about one thing: Doing everything I can to help families who have been left behind, and to restore dignity and honor back in the Oval Office."
"I'm not considering this to win the Twitter primary," he continued. "I believe that lifelong Democrats and lifelong Republicans are looking for a home, and they're not spending hours and hours on Twitter."
Schultz's fellow billionaire, Mike Bloomberg, looked at running as an independent, but will run as a Democrat if he plunges in.
Howard Wolfson, a top Bloomberg adviser, tweeted after Schultz's appearance: "I have seen enough data over many years to know that anyone running for POTUS as an independent will split the anti-incumbent, anti-Trump vote."
"The stakes couldn't be higher. We can not afford the risk of spoiler politics that result in Trump's re-election."
A Schultz adviser tells me his team sees opportunity in "the most moderate population the country's ever had," with so many "disengaged and disenchanted."
In the latest Gallup data, 39% of people see themselves as independents, 34% as Ds and 25% as Rs.
The adviser said research by the Schultz team shows a centrist independent would draw evenly from the Republican and Democratic nominees, and bring Trump down to a "statistical floor of 26-27-28 percent."
Schultz talks of "the level of toxicity, the level of revenge" in national politics. But when I asked about Democrats, he said: "I don't want to get into specific people."
When I asked Schultz for examples of conservative ideas he supports that liberals don't, he said: "I have been a loud voice with regard to the national debt and the deficit, going back to the years of President Obama."
Schultz said it's too early to talk about a running mate.
But when I asked him a Republican he admires, he said Purdue President Mitch Daniels, the former Indiana governor.
And when I asked him a CEO he admires, he singled out IBM's Ginni Rometty, who "defines authenticity."
Schultz plans to travel the country for the next three months. He'll appear on "The View" tomorrow — the publication date of "From the Ground Up," which he calls "part memoir, part blueprint for how to induce positive change."
He told me he'll decide by late spring or early summer.
He left open the possibility of self-financing his campaign, which leaves him in less of a rush than candidates who have to build a fundraising machine.
"I think I've got plenty of time," he said. "I'll gauge the level of interest in what I've come to believe over the last year — that a choice between Donald Trump and a far-left-leaning progressive Democrat provides a wide and large opportunity."
Go deeper:
Go deeper