Inside Trump's decision to end the shutdown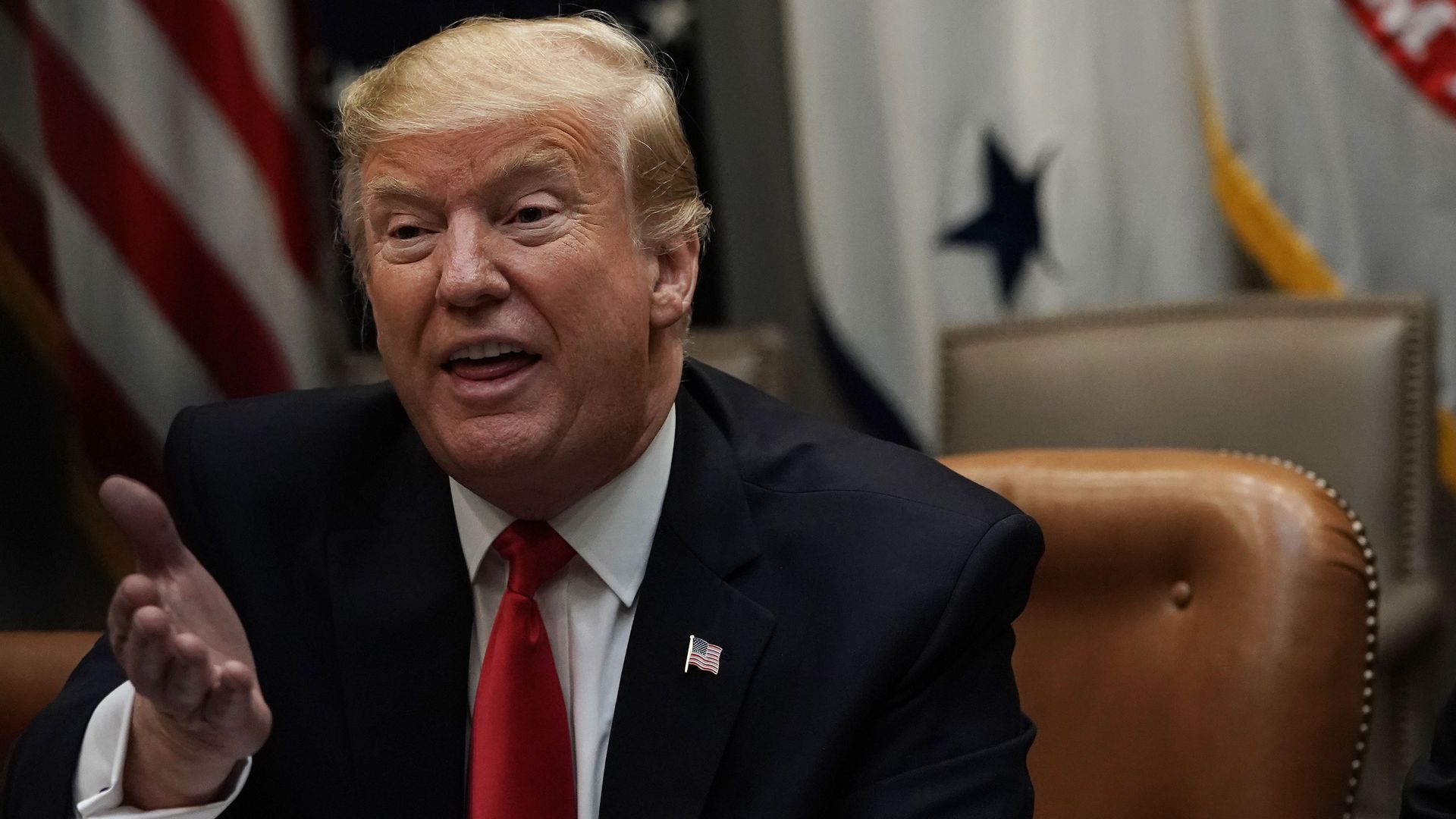 On Friday morning, acting White House chief of staff Mick Mulvaney convened a small group of aides in his office to discuss their options to end the government shutdown. There weren't many. The previous day, Trump had been embarrassed on the Republican-controlled Senate floor, where Chuck Schumer's bill to open the government got more votes than his.
The state of play: One idea discussed there, which hasn't previously been reported, was to reopen the government with a three-week continuing resolution and if negotiations broke down during the three weeks, a one-year government funding extension would kick in. Trump didn't like the idea, according to a source with direct knowledge.
Around 11 am, a senior White House official told me the internal planning was "too fluid" to report anything that would definitively still be true by 1:30 pm, when Trump was scheduled to make his announcement.
In short: Trump saw a Republican Senate poised to abandon him. Better to cave on his own terms, and in his own words, than watch both parties hang him out to dry.
"I can tell you exactly what happened," one Republican senator texted me. "The mood at Senate Republican lunch on Thursday resembled what the mood must've been on the Union lines at 4 pm at First Bull Run. I'm amazed only six [Republicans] voted for Schumer's bill. The message from that lunch by VP, Shahira [Knight] and Mitch [McConnell] to POTUS was, it's over. They'll be 70 votes within 48 hours."
White House officials told me they knew their momentum was fading.
Behind the scenes: By the day of the vote — Thursday — Jared Kushner and the White House team had an accurate whip count and knew their proposal would go down, but colleagues were still stunned that Kushner was ever optimistic about Trump's offer of short-term relief for some undocumented immigrants in exchange for wall funding.
On Thursday afternoon, McConnell and Trump had two important phone calls. In one mid-afternoon call, McConnell told Trump that Schumer had bluntly rejected Trump's "down-payment" idea for the wall. In that conversation, Trump still sounded resolute about not reopening the government, two sources familiar with the conversation told me.
But by the two leaders' second call, around 7 pm, Trump seemed to have decided he would end the shutdown.
Between the two calls, there were Oval Office meetings involving Mike Pence, Mulvaney and Kushner. They gave the president several options, and he realized there was no easy way out of his self-imposed mess. That evening, he vacillated between reopening the government with a clean funding bill and declaring a national emergency.
The bottom line: What happened was predictable, and it's exactly what McConnell told Trump would happen. In a December conversation, before the shutdown, McConnell warned Trump that shutdowns never end well and never provide more leverage to their instigators, according to a source briefed on the conversation.
Throughout their phone calls over the past four weeks, Trump would sometimes say to McConnell: "I know this isn't your favorite thing, Mitch."
Go deeper:
The NYT's Annie Karni and Maggie Haberman have a well-sourced piece on Jared Kushner's misplaced optimism about an immigration deal.
Go deeper