How Trump can help with Venezuela's debt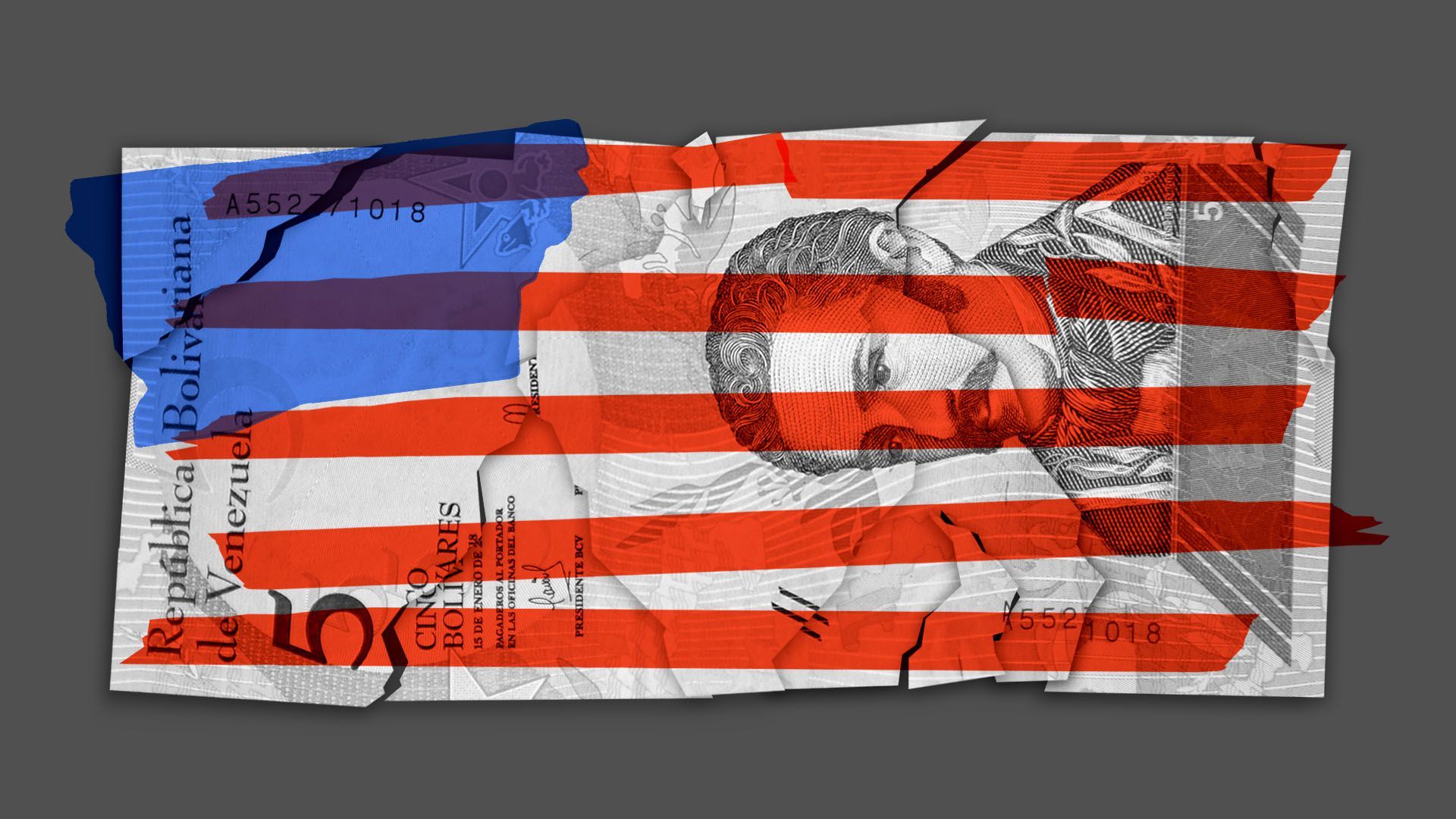 The United States officially recognized Juan Guaidó as the rightful (if interim) president of Venezuela; it has also pledged a paltry $20 million of humanitarian assistance to the country.
The state of play: A top sovereign-debt lawyer has proposed one huge next step the White House (and only the White House) could take. It would be much more effective than $20 million in cash — and it would cost nothing at all.
If Guaidó does take power, he will immediately be faced with more than $90 billion in outstanding debt, the vast majority of which is in default.
Creditors have already begun the rush to the courthouse, trying to turn those debts into judgments that can in turn be used to seize Venezuela's assets around the world. (Among those assets: Citgo, the giant oil refiner.)
Venezuela has an enormous and fractious range of creditors, including not only bondholders but also sovereigns (Russia and China are the two big ones), as well as corporations that have won international arbitration proceedings against the country.
All of those creditors have been waiting for the Nicolás Maduro regime to come to an end. At that point they will start laying claim to Venezuela's assets, which ultimately include some 300 billion barrels in oil reserves. That's the largest store of oil in the world.
If the fight over Venezuela's debts were to be halted for a few years, that would give the Guaidó regime, working with the IMF, time to get the domestic economy back on its feet. The debts racked up by the Hugo Chávez and Maduro administrations will have to be dealt with at some point, but given the scale of Venezuela's humanitarian disaster, court fights in New York should not dominate Guaidó's priorities.
The solution to the debt problem is presented in an important paper by Lee Buchheit and Mitu Gulati. Buchheit, the doyen of sovereign debt restructurings, explains that the U.S. government can unilaterally call an effective standstill to court proceedings by declaring Venezuelan assets temporarily immune from attachment by U.S. courts.
The Obama administration did exactly that for Iraq in 2011, 2012 and 2013. All it took was an executive order from President Obama.
Obama's executive order was a matter of national security. Today, the U.S. foreign-policy and national-security apparatus is focused on the Americas. Trump says that he "will continue to use the full weight of United States economic and diplomatic power" in Venezuela.
The bottom line: It is extremely rare for the U.S. government to prevent established legal mechanisms from running their natural course. But it can be done and has been done in the past. If Trump were to sign an executive order preventing creditors from attaching Venezuela's assets, that would be by far the greatest gift he could bequeath a fledgling Guaidó administration.
Go deeper:
Go deeper