How Saudi Arabia and China could partner on solar energy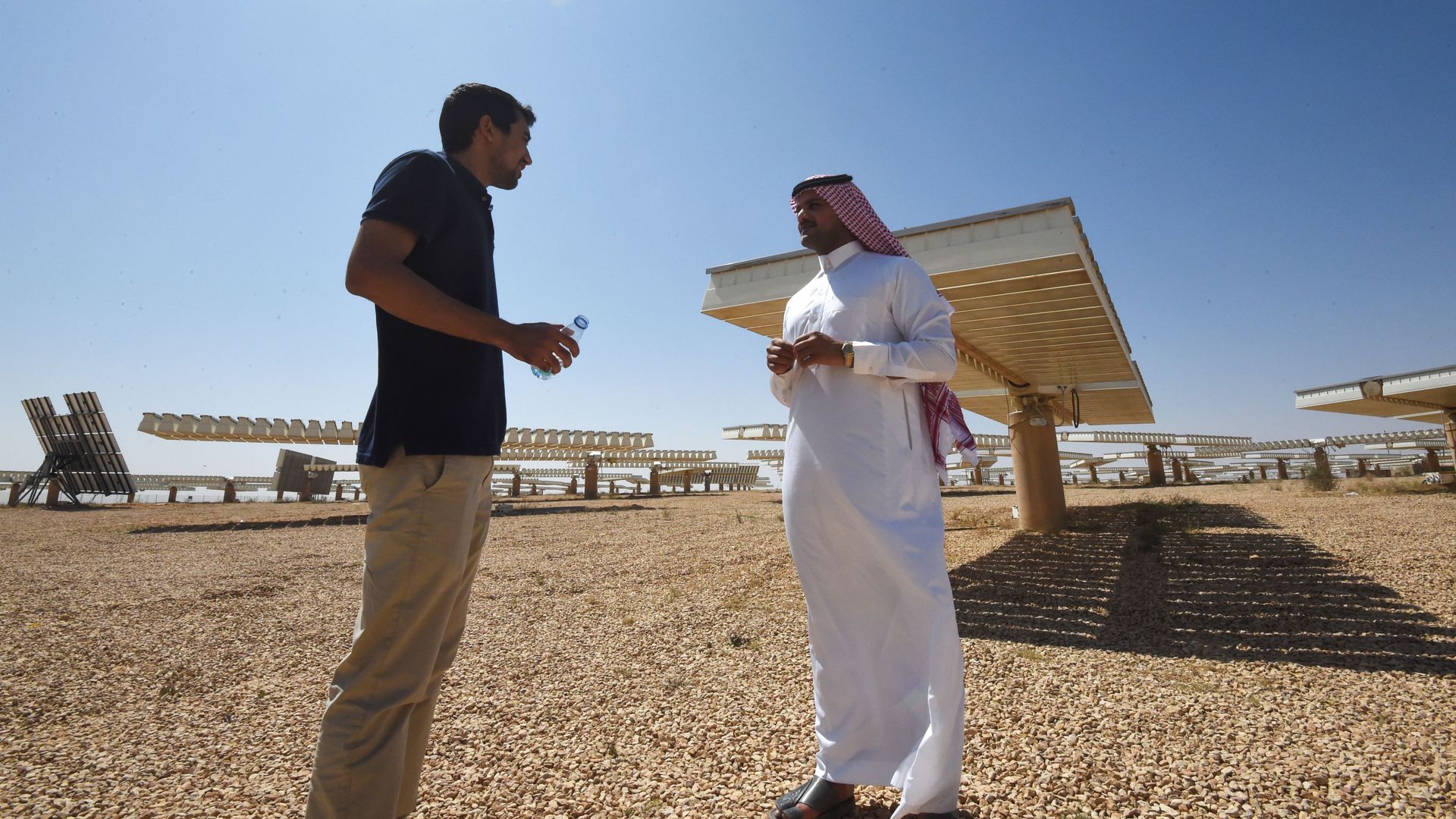 Last May, Chinese solar panel manufacturer LONGi signed an agreement with Saudi trading company El Seif Group to establish large-scale solar manufacturing infrastructure in Saudi Arabia. The deal came several months after the Trump administration's imposition of global tariffs on imports of Chinese solar panels and cells.
The big picture: Uneasy about its oil dependence and lack of domestic manufacturing capabilities, Saudi Arabia has long looked to partner with China to develop its burgeoning green industries. But while the U.S.–China trade war has given the kingdom a chance to fortify that collaboration, it also puts Riyadh in the tough position of choosing between the world's largest solar manufacturer and its most important geopolitical ally.
Background: China laid out its industrial investment policy for the Greater Middle East in a 2016 white paper, highlighting the importance of exporting industrial capacity in nuclear, traditional and renewable energy. Saudi Arabia's goal of developing 60 gigawatts of solar power by 2030, together with its dearth of indigenous competition, makes the country an attractive manufacturing destination for Chinese firms, which have already sought to deepen their cooperation with their Saudi counterparts.
Saudi Arabia seems poised to take advantage. The country aims to become a global trade hub as part of its ambitious Vision 2030 plan, and has already taken action in industrial policy to establish local manufacturing centers.
In addition to streamlining its once-byzantine trade documentation requirements, the Kingdom has established a special economic zone near Riyadh's flagship airport.
With the lure of tax incentives, the zone could serve as a hub for assembling solar components — and, potentially, a destination for Chinese manufacturers seeking to avoid the 10% U.S. tariff.
The potential for domestic job creation might entice Riyadh even further to pursue geopolitically risky economic relations.
Yes, but: The Trump administration is unlikely to approve of China's inroads in the Middle East. While Riyadh may be able to strengthen its domestic solar manufacturing industry by cooperating with China, it risks spurring Washington to impose tariffs on Saudi Arabia, as it has done with other allies.
The bottom line: Saudi Arabia has the opportunity to capitalize on the trade conflict to further its development goals, but must choose its partners carefully to avoid becoming collateral damage.
Juergen Braunstein is a postdoctoral fellow at Harvard Kennedy School's Belfer Center. Oliver McPherson-Smith is a Master's student at Harvard's Center for Middle Eastern Studies.
Go deeper