3. A reckoning for political journalism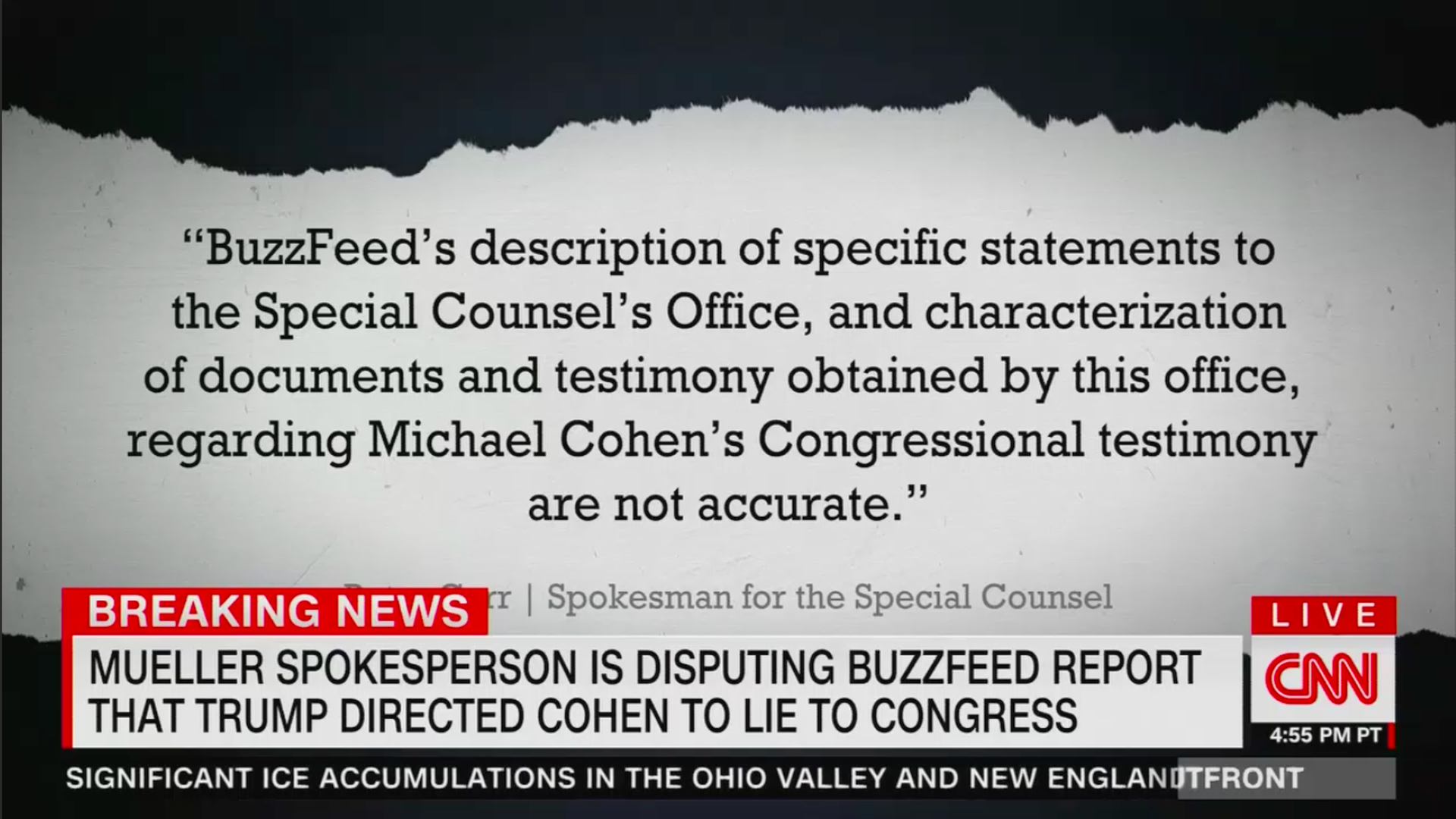 Last night's rare on-the-record statement from the Mueller team is a reckoning that journalism had coming: Amid some of the most impressive reporting of our lifetimes, there's plenty of questionable coverage in this shock-a-minute era.
Why it matters: BuzzFeed's report that President Trump directed Michael Cohen to lie to Congress, if true, would put this presidency at existential risk.
The story, as written, was as clean as it gets: Trump directed Cohen to lie about the Trump Tower in Moscow project, and there's tons of evidence to support that.
Very rarely has a story been so unequivocal — usually there are more hedges and acknowledgments of what isn't known.
And unlike most other reportage in this saga, this accused the president of a felony — a very different bar.
Democrats read the story and began immediately dreaming up articles of impeachment.
Even some conservatives joined the "If true" chorus. Erick Erickson covered his bases: "If this is true, President Trump has committed an impeachable offense. ... [B]ut I would tread cautiously."
The two BuzzFeed reporters —Jason Leopold and Anthony Cormier — have broken important news previously on the Russia beat, which is why major outlets took this report seriously.
BuzzFeed asserted that the accusation was supported by copious documentary evidence that would've cleanly fit attorney general nominee Bill Barr's on-the-record definition of obstruction: internal Trump Organization "emails, text messages, and a cache of other documents."
The WashPost reports: "Mueller's denial, according to people familiar with the matter, aims to make clear that none of those statements in the story are accurate."
The NY Times got similar guidance: "One person familiar with Mr. Cohen's testimony to the special counsel's prosecutors said that Mr. Cohen did not state that the president had pressured him to lie to Congress."
Garrett M. Graff of WIRED, in an email to Axios, pointed out the new political context for journalistic bombshells:
"You have to think that the special counsel's office is thinking through how to respond to press reports in the era of a Democratic House — they need to now set reasonable (and timely) expectations in order to ensure that Congress doesn't [go] off the rails."
Graff told me the statement appears to be very careful, disputing specific — although unspecified — allegations.
Some of the coverage suggested end times for Trump:
But now the "fake news" accusers are dunking on the press. Sean Hannity used a red "BuzzFeed Busted" graphic at the top of his Fox News show.
Trump tweeted last night: "A very sad day for journalism, but a great day for our Country!"
And this morning: "Many people are saying that the Mainstream Media will have a very hard time restoring credibility because of the way they have treated me over the past 3 years (including the election lead-up)."
Ultimately, Buzzfeed is reporting, based on two anonymous sources, that the president committed a felony. That's an enormous claim to hang on two anonymous sources.
Be cautious: This story is moving so fast.
In the next 24 hours, BuzzFeed's sources could retract their claims or corroborate them.
Relevant emails could become public, and other outlets could find more on this — who knows.
Some pundits and lawmakers rushed to call this story the death knell of Trump's presidency. Don't make the same mistake about BuzzFeed — or journalism.
P.S. Axios' email exchange with BuzzFeed editor-in-chief Ben Smith:
"How can you stand fully behind your reporting when Mueller says it's at least partly wrong?"

"We literally don't know what the special counsel is referring to." 

"Should someone lose their job if you or the reporters were wrong in accusing the president of a felony?" 

"And I'm not going to speculate."
Smith said in a phoner with MSNBC's Rachel Maddow: "This is a line of reporting that has been repeatedly vindicated."
Go deeper:
Go deeper