"Zucked" book takes aim at Facebook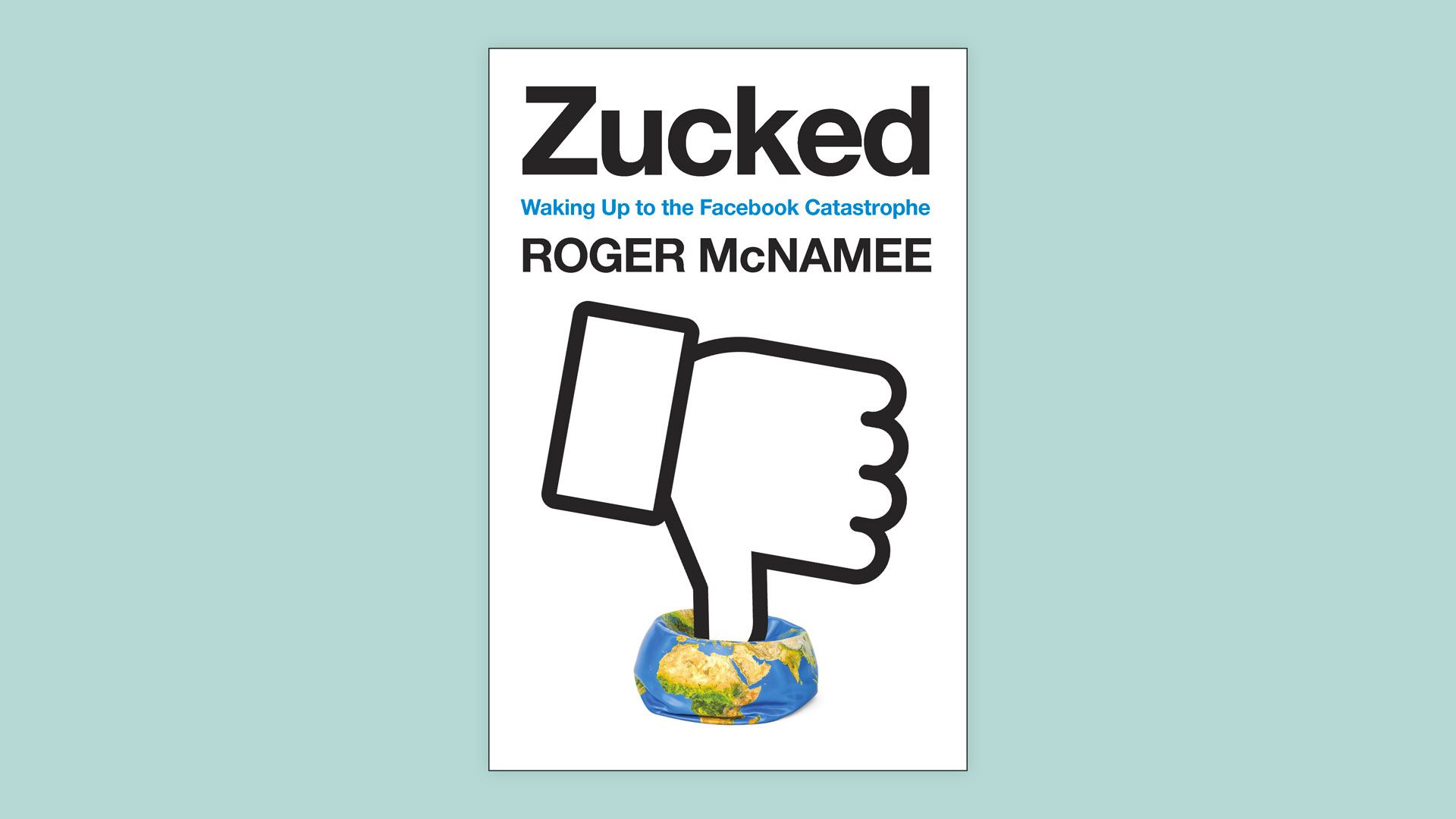 In his new book, due out next month, Facebook investor Roger McNamee reiterates his claims that the social network is bad for society while also offering fresh details on his efforts to bring regulatory attention to the company.
Why it matters: McNamee's status as a one-time adviser to Facebook founder Mark Zuckerberg has made him one of the company's most prominent critics. But Facebook is pushing back: "The reality is Roger McNamee hasn't been involved with Facebook for a decade," said a spokesperson.
What he's saying: "The time has come to accept that in its current mode of operation, Facebook's flaws outweigh its considerable benefits," McNamee writes in one of the final chapters of "Zucked: Waking Up to the Facebook Catastrophe."
He is critical of Zuckerberg and COO Sheryl Sandberg in the book, which is excerpted in the new issue of Time magazine and featured on the cover.
He says that when he once talked to Sandberg about "a failure of judgment that in most companies would have resulted in the termination of the person who made the decision and changes in policy," she at one point said: "Are you saying you want me to fire the entire team?"
The other side: "We take criticism seriously. Over the past two years, we've fundamentally changed how we operate to better protect the safety and security of people using Facebook," said company spokesperson Jonny Thaw.
Former Facebook board member and Washington Post publisher Donald Graham criticized McNamee in another Time magazine piece for not being critical when things were good for Facebook.
The book also offers McNamee's account of his work to bring attention to his criticism.
He says he spent two days with the financier George Soros crafting a speech last year lambasting the tech giants, delivered at Davos, and preparing him for questions he might get about the comments from the press.
"Soros's speech was already great when I first saw it, but he is a perfectionist and thought that it could be much better," he writes. "We spent more than four hours editing it line by line until George expressed satisfaction with the substance."
Facebook consultants later tried to link a campaign to break the company up to Soros, who has been the target of anti-semitic smears for years.
McNamee is a longtime investor who founded his last firm, Elevation, with Bono as a partner; he says he still holds shares of Facebook stock.
His book describes his contacts with Washington lawmakers (many of them previously detailed in a February 2018 Wired article), including new House Speaker Nancy Pelosi, who he says had him brief her staff in 2018.
Our thought bubble: Though he claims to be a neophyte, McNamee is clearly attuned to the rhythms of media and politics — and used them to his advantage.
The book's seven pages of acknowledgments namecheck 15 Senate staffers and eight from the House, as well as a large swath of the media — from the makeup team at MSNBC to some of the outlets that broke Cambridge Analytica.
Some at Facebook responded to McNamee by bluntly saying that he's not as important to the company's story as he claims. "I've worked at Facebook for 12 years and I have to ask: who the fuck is Roger McNamee?" tweeted Facebook executive Andrew Bosworth last year.
"Getting on Boz's radar seemed like progress," McNamee writes of the tweet.
The investor's description of his relationship with Facebook's top duo likely won't endear him to many there: he again describes himself as a "mentor" to Zuckerberg, putting himself in a class that includes Graham and Peter Thiel, and casts himself as instrumental in getting Sandberg hired.
He recounts his first meeting with Zuckerberg, where he told the young entrepreneur that Yahoo or Microsoft would try to buy his company for a billion dollars and he should refuse.
"What followed was the longest silence I have ever endured in a one-on-one meeting. It probably lasted four or five minutes, but it seemed like forever," he writes, before Zuckerberg told him that one of those companies had indeed made an offer. (Zuckerberg famously turned down Yahoo's billion-dollar offer.)
As for Sandberg, McNamee says he recommended her to Zuckerberg and encouraged the two to meet, believing Sandberg would be a better fit for Facebook than for the Washington Post, where she had also been offered a job.
What's next: McNamee is about to blitz the airwaves as part of his book tour.
He'll appear on television and national radio in early February, according to his publisher, as well as Kara Swisher's Recode Decode podcast.
Go deeper