Inside the room: Trump losing patience with Afghanistan war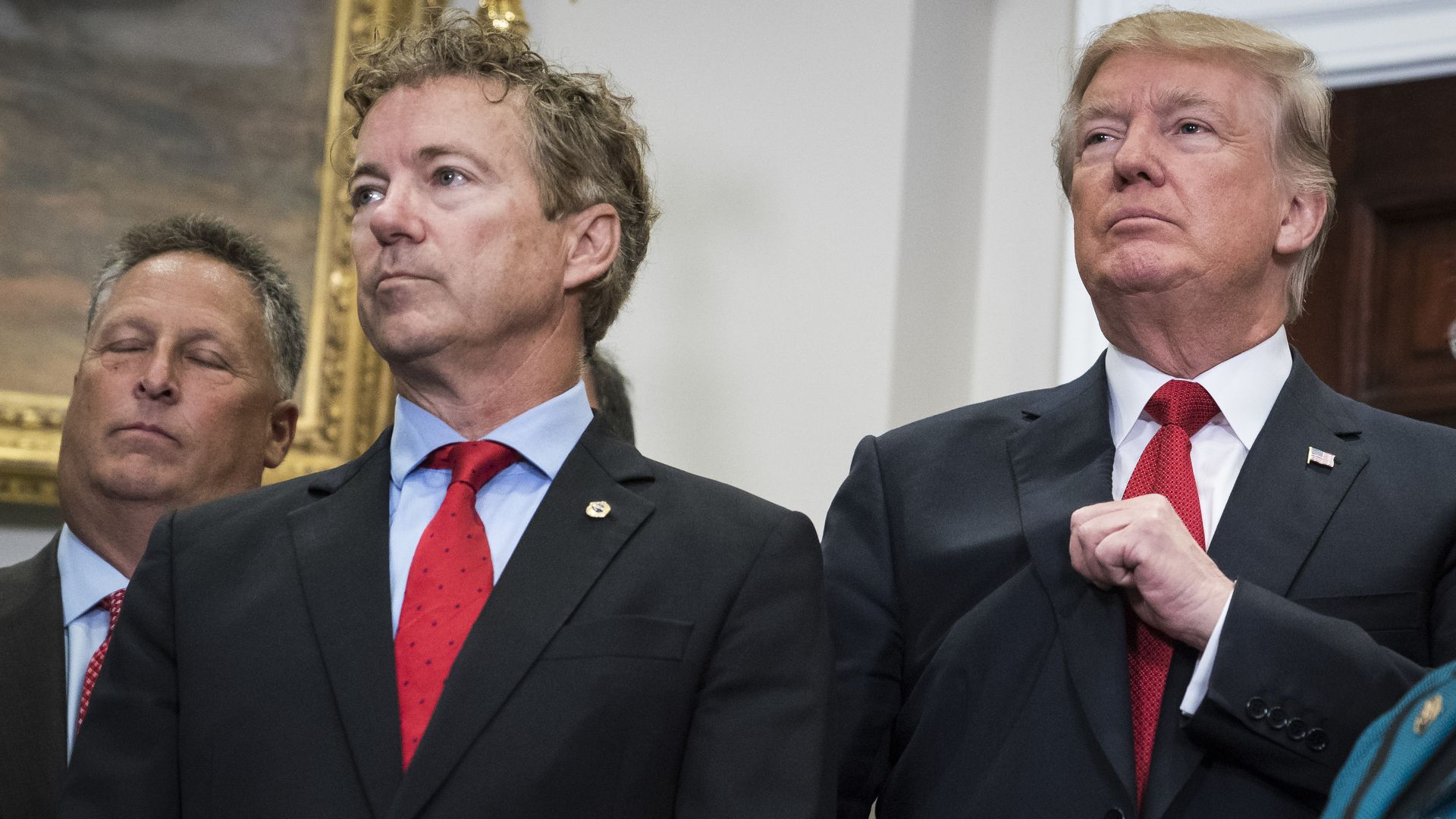 Sen. Rand Paul (R-Ky.) said after leaving a White House meeting yesterday that not only is President Trump "following through with his Syria policy, I really think there will be changes in Afghanistan, as well."
Between the lines: Trump at times has vented frustration and regret that he allowed his national security team to talk him into a plan — which ran against his own instincts — to keep, and even boost, American forces in Afghanistan.
Paul, who wants America to withdraw quickly from foreign wars, told reporters on an evening call that he was "really proud of the president" for arguments he made in the meeting with a small group of senators.
Paul said Trump mentioned in the meeting how much money the U.S. had been wasting in these foreign wars, especially in Afghanistan.
He said Trump mentioned "luxury hotels" there — possibly a reference to plans for a swanky hotel reported by NPR in 2016.
A senior administration official told me that when bad news broke about Afghanistan in the wake of that decision, Trump would vent to his generals that it was "your" plan.
What's next? Paul said he didn't want to talk about timelines for withdrawal from Syria and Afghanistan — he would leave that to the president.
But he conceded that it sounded like Trump "probably will still be there [Afghanistan] longer than I would like to."
Paul was encouraged that Trump seemed to be preparing "to acknowledge success and victory," and not stick to an open-ended commitment.
Paul said the deaths of service members affect Trump: "He's not willing to endlessly go on and on and on ... He wants a different future for our country."
According to a source familiar with the meeting, Sen. Marco Rubio (R-Fla.) argued against Paul's position and told Trump that "the U.S. made big progress, but pulling out too soon" from Syria "will undermine that progress."
Rubio has been making the argument that ISIS "is morphing because of U.S. action from a caliphate to an insurgency," the source added.
"Insurgencies are blending into populations. They are tough to beat, especially by air power alone."
Go deeper:
Go deeper