How the White House is prepping for Democrats' onslaught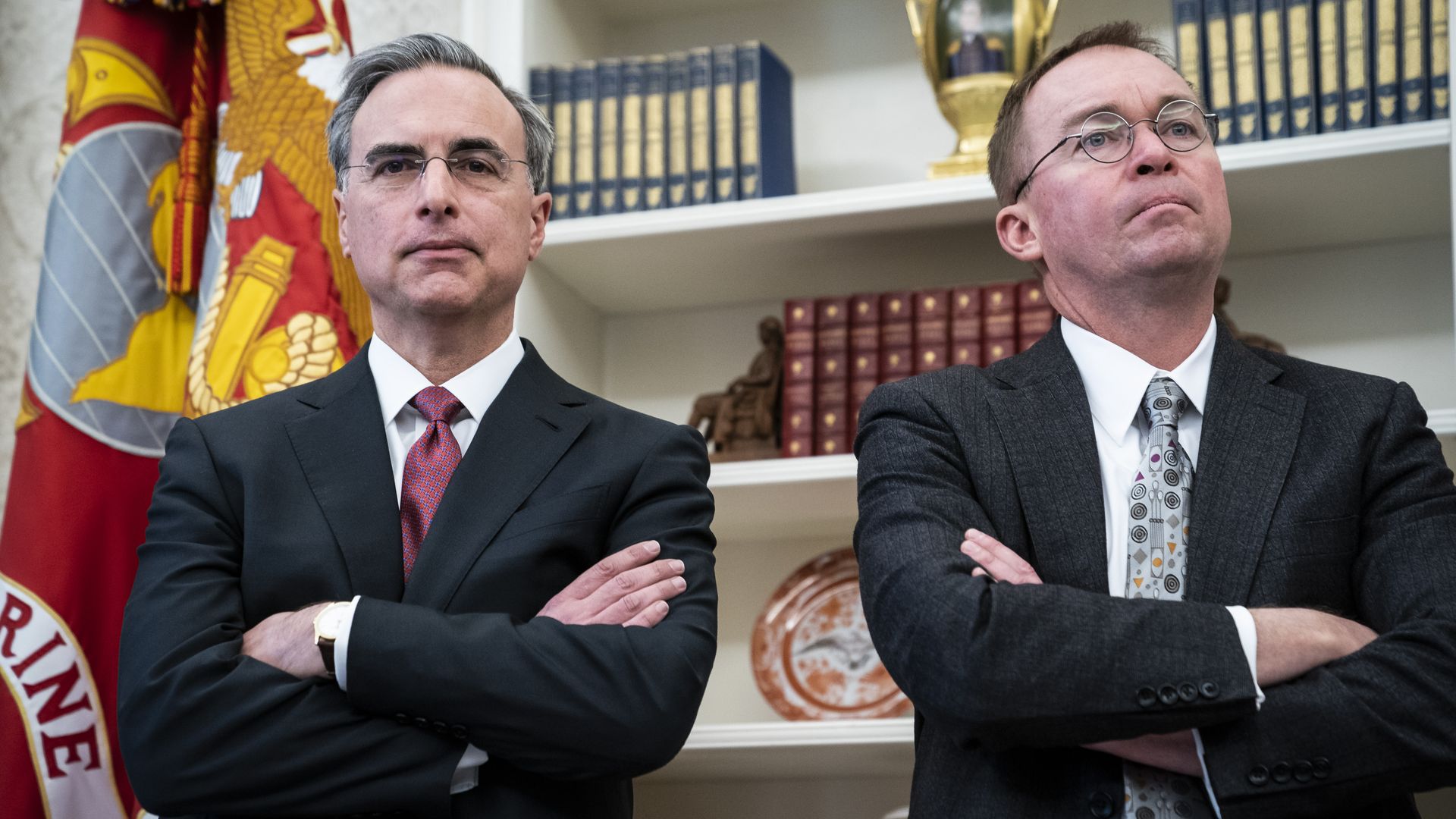 Despite President Trump's lack of personal interest in planning, the White House Counsel's Office is now moving fast to prepare for the twin threats of Robert Mueller and the new Democratic House majority.
The big picture: These threats dwarf anything that any president has faced since Bill Clinton. There's a surge of internal action after a slow start: Planning for Democratic oversight only began in earnest at the senior level in November.
Much of the mid-level White House staff remains oblivious to what's going on behind the scenes. But the new White House counsel, Pat Cipollone, has impressed the officials he's dealt with and Republican legal eminences I have spoken to.
A senior White House official said Cipollone has added 17 attorneys since coming on board after the midterms.
That includes notable talent and experience — especially his deputies: Patrick Philbin, a former Comey staffer, and George W. Bush alumnus Mike Purpura.
Cipollone has already met with new House Oversight Chairman Elijah Cummings, Axios has learned. "It was brief; we're going to meet again this week, or maybe some time next week," Cummings told Axios' Alayna Treene.
A senior White House official confirmed the WashPost report of Cipollone's plan to assert the president's executive privilege to "prevent President Trump's confidential discussions with top advisers from being disclosed to House Democratic investigators and revealed in the special counsel's ... report."
White House lawyer Emmet Flood — who helped Clinton through impeachment proceedings and faced Democratic investigators when he worked for George W. Bush — has been coaching some White House staff on what to expect and how to prepare, according to sources with direct knowledge.
Flood, who has told colleagues he plans to leave the White House when the Mueller probe ends, has briefed staff from legislative affairs, communications, the staff secretary's office and other parts of the building on what to expect from, and how to handle, congressional investigators.
While the new counsel has hired experienced lawyers from the George W. Bush era, Flood is the only lawyer on staff who — from his time with Bill Clinton — fully appreciates the scale and intensity of what's about to hit them.
In previously unreported conversations, a small senior staff group has been discussing oversight — including meetings between Cipollone and top communications and press officials.
The White House Counsel's Office has been meeting with general counsels from Cabinet agencies to prepare for what's ahead, according to a senior administration official.
And Cipollone's team has "studied and closely reviewed past precedent of how previous administrations have handled [oversight]," the official said.
The official told me there's "aggressive lobbying" to convince Flood to stay on beyond Mueller.
Go deeper:
Go deeper