1 Brexit thing: Second referendum looks more likely than ever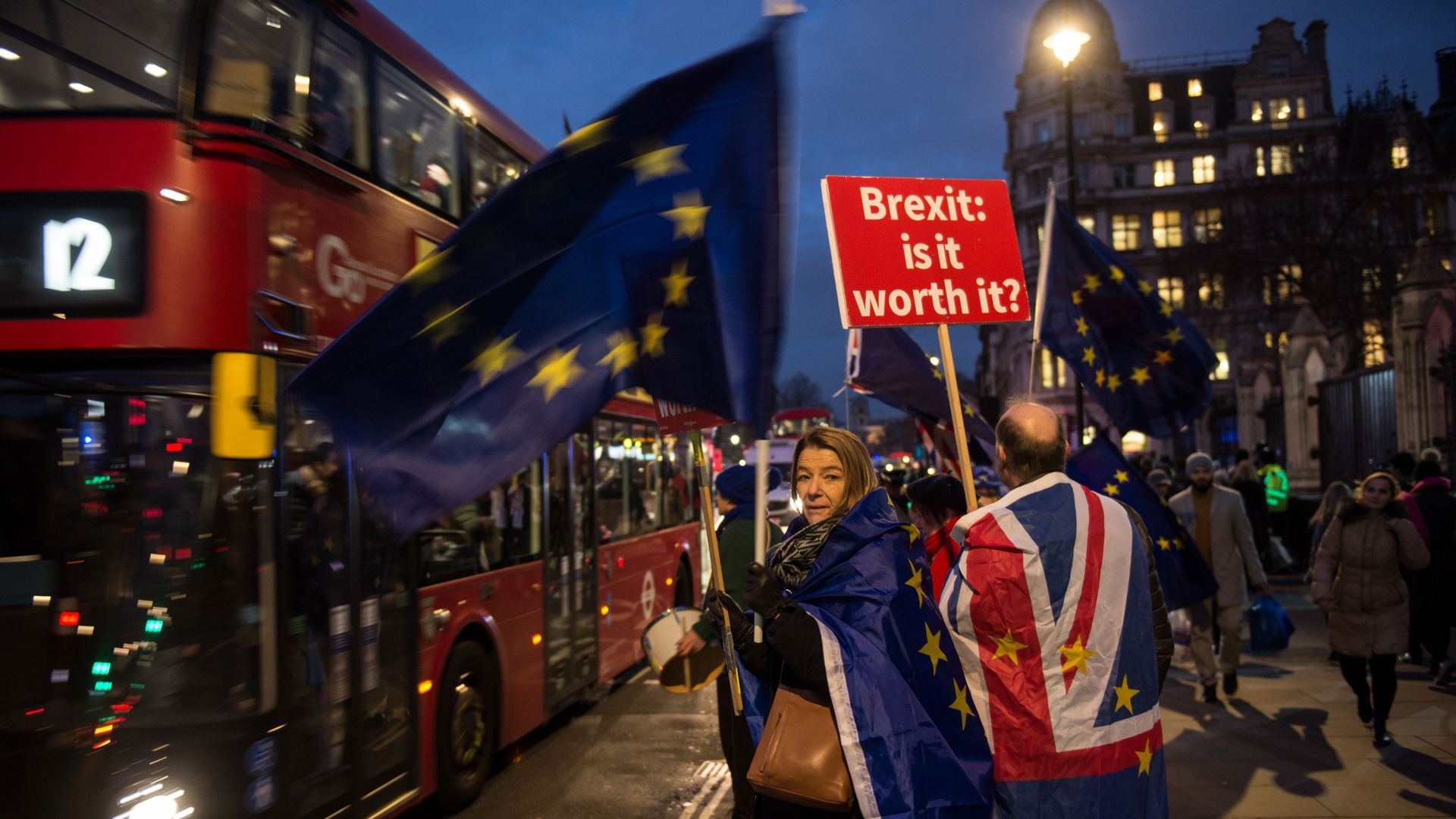 Prime Minister Theresa May's historic defeat in the House of Commons yesterday has emboldened those in Westminster and around the country who argue a second referendum is needed to decide whether the U.K. goes ahead with Brexit or reverses course.
The big picture: A second referendum now looks at least as likely as the other scenarios: a tweaked version of May's deal, a softer Brexit, a "no deal" exit or a general election.
The Economist Intelligence Unit put the likelihood of a second referendum at 30% in a new report, and that was before the Brexit deal May struck with the European Union was defeated by the largest margin in modern British political history.
The backstory: "Leave" beat "Remain" by a 52-48 margin in June, 2016. The major parties all said they'd respect the results and move ahead with Brexit. However, they never agreed on what form Brexit would take.
May argues that reversing course now would betray the will of the people and erode trust in politics for a generation. But some, including European Council President Donald Tusk, argue a second referendum is the only remaining course of action that makes any sense.
Tusk tweeted: "If a deal is impossible, and no one wants no deal, then who will finally have the courage to say what the only positive solution is?"
The catch: Just about every aspect of Brexit is far more complicated than it seems, and that's also true of a second referendum.
The question
Parliament would have to approve the idea, and would also have to sign off on the question posed to voters. That's particularly tricky here, because there are three broad options: leave with May's deal, leave with no deal (the preferred choice for hardline Brexiteers), or remain in the EU.
Simply offering those three choices "would split the Leave vote into two camps whilst handing Remain a huge advantage," the Telegraph's Harry Yorke points out.
Instead, voters would likely have to be asked to rank their first and second choices, or whether they'd prefer no deal or May's deal in the event that Leave beats out Remain.
The timing
Brexit Day, March 29, is fast approaching. In order to hold a second referendum, the U.K. would have to extend or revoke the "Article 50" provision that put Brexit into motion.
"A fair estimate is that the whole process would take a minimum of 21 weeks, but this would be much shorter than other recent referendums," the Institute for Government notes.
The controversy
The objections to a second referendum from pro-Brexit Members of Parliament and activists are fierce. They claim the elites are out to undermine democracy because they didn't like the people's decision.
May is also firmly against it. She has said the people of the U.K. gave their leaders a "solemn responsibility to deliver Brexit," and not doing so isn't an option.
Remain now leads Leave by a 46 to 39 margin (or 54-46 once undecideds are removed) according to a YouGov poll released earlier this month.
But one scenario that's been raised is the possibility that Remain defeats Leave this time around, but by a margin that's similar to or smaller than Leave's victory in 2016. What then?
The bottom line: There have only been three nationwide referendums in U.K. political history. Another referendum on Brexit has never been the likeliest course. But it has also never looked as likely as it does now.
Go deeper