Walmart to pull pharmacies from CVS networks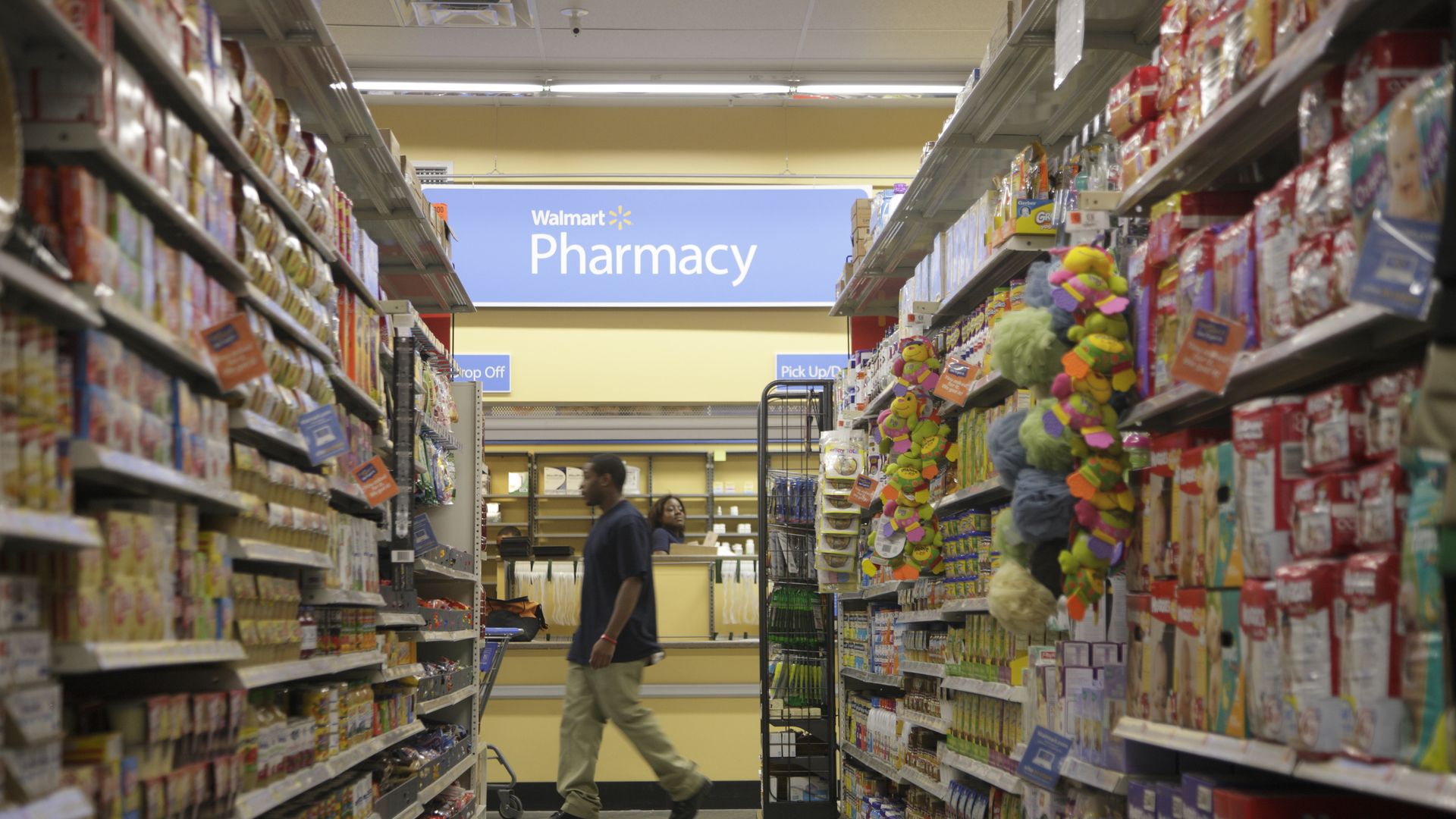 Walmart is prepared to remove its pharmacies from the drug benefit network owned by CVS Health, as the two retail giants spar over drug pricing terms.
Why it matters: If a new agreement isn't reached by May, millions of people who fill their prescriptions at Walmart may have to find new pharmacies, and some of them inevitably will find their way to CVS' own drugstores.
Details: The decision, first reported by the Wall Street Journal, would affect people who have CVS drug benefits through their employer or Medicaid. It's worth remembering how CVS' corporate structure works:
CVS operates almost 10,000 pharmacies, but its bigger business is the pharmacy benefit manager, called Caremark. The PBM negotiates drug prices and sets up networks of pharmacies for insurance plans, and in this case, the PBM would no longer include Walmart's pharmacies as in-network options.
What they're saying: Both sides are willing to reach a new agreement, but neither side is particularly happy.
CVS said it "could not agree to [Walmart's] recent demands for an increase in reimbursement" and is preparing to move on without Walmart in its PBM networks.
Walmart's statement was more pointed: "This issue underscores the problems that can arise when a PBM can exert their unregulated power to direct members on where to fill their scripts. ... Walmart is standing up to CVS's behaviors that are putting pressure on pharmacies and disrupting patient care."
What they're not saying: A CVS spokesperson did not immediately respond to questions about how many Walmart shoppers it expects would go to CVS pharmacies. Both sides also would not disclose anything related to financial terms.
Between the lines: This spat could have a far bigger negative effect on Walmart than CVS, and it shows how much market power CVS has with prescription drugs.
Walmart leaving CVS' networks is not expected to hurt CVS financially, considering those people likely would move to other nearby, in-network pharmacies.
Some of the most valuable retail customers are the people who pick up prescriptions, since they shop more frequently and often make other in-store purchases when they get their drugs. That's what Walmart is losing and what CVS is potentially gaining.
Go deeper