Canada faces Saudi Arabia and China on its own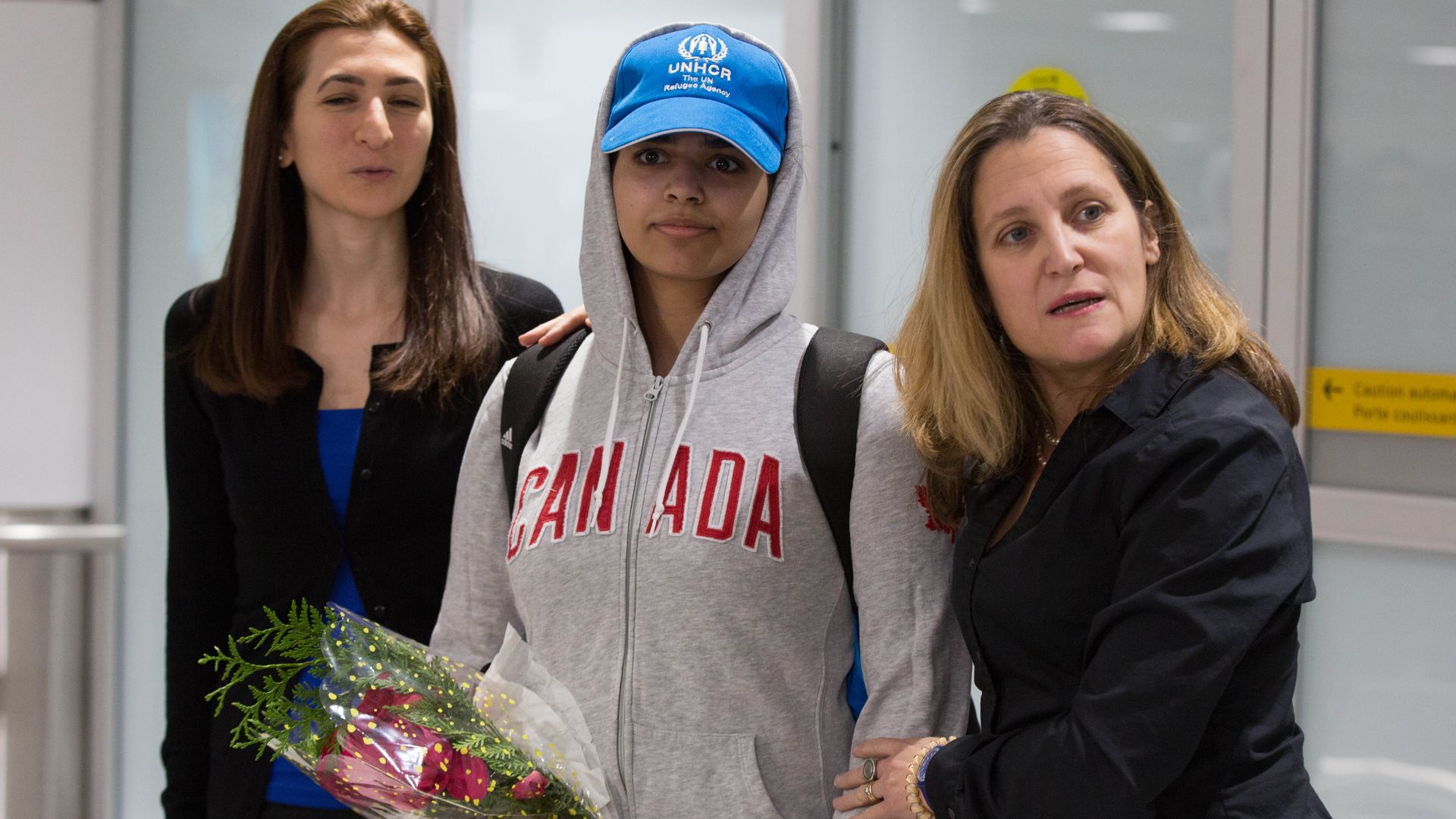 Canada is embroiled in escalating disputes with two authoritarian powers, without the U.S. to lean on for support.
The big picture: Ferry de Kerckhove, a longtime Canadian diplomat now at the University of Ottawa, says the disputes put Canada in a "profoundly unusual" position. "We live in an entirely different world," he says, where the Chinese and Saudis know the U.S. won't stand behind Canada.
In the past three days:
1. A Chinese court sentenced Canadian Robert Schellenberg to death today for drug trafficking, a move almost certainly tied to Canada's arrest last month of Meng Wanzhou, CFO of Chinese tech giant Huawei.
Schellenberg had appealed his 15-year sentence, only to have it increased to death. Canadian Prime Minister Justin Trudeau condemned that move and said "all countries around the world" should be concerned that China is refusing to comply with international norms.
Two other Canadians were detained days after Meng's arrest. She's facing U.S. charges tied to the alleged evasion of Iran sanctions, and is under house arrest while courts decide whether she will be extradited. Trump, meanwhile, suggested her case could be lumped in with trade talks.
2. Canadian Foreign Minister Chrystia Freeland greeted Rahaf al-Qunun — an 18-year-old Saudi who made international headlines last week after barricading herself in a hotel room in Thailand — Saturday night at an airport in Toronto.
Al-Qunun, who said she'd be killed if deported after renouncing Islam, was attempting to reach Australia. Instead, Canada granted her immediate asylum.
David Chatterson, a former Canadian ambassador to Saudi Arabia, told CBC that the scene will infuriate the Saudis, who "will look upon this as Canada interfering in what they view as a family dispute and in their internal affairs."
It was Freeland who sparked a diplomatic crisis with Riyadh last August with her tweet calling for the release of imprisoned Saudi activists. The Saudi response was startlingly fierce, and relations remain strained.
There has been "very little support" internationally as this has all unfolded, de Kerckhove says.
"The rest of the world that loves to have Canada doesn't like to come to our defense. If the U.S. drops Canada the way Trump has, you don't expect them to rush in."
Since Trump took office, de Kerckhove says, 90% of Canada's foreign policy has been focused on managing relations with the U.S.
Still, Trudeau and Freeland have garnered considerable attention in their defenses of human rights, democracy and multilateralism. That growing profile is not because Canada is charging forward, de Kerckhove argues, but because others have stepped back.
The bottom line: "Canada can do very little to protect the liberal international order unless we have strong leaders in Europe pulling in that direction," he says, noting the diminished political statures of Emmanuel Macron in France, Theresa May in the U.K. and Angela Merkel in Germany. "We don't have much clout and there's very little Trudeau can do."
Go deeper: The new age of hostage diplomacy
Go deeper