In Detroit, automakers curb their enthusiasm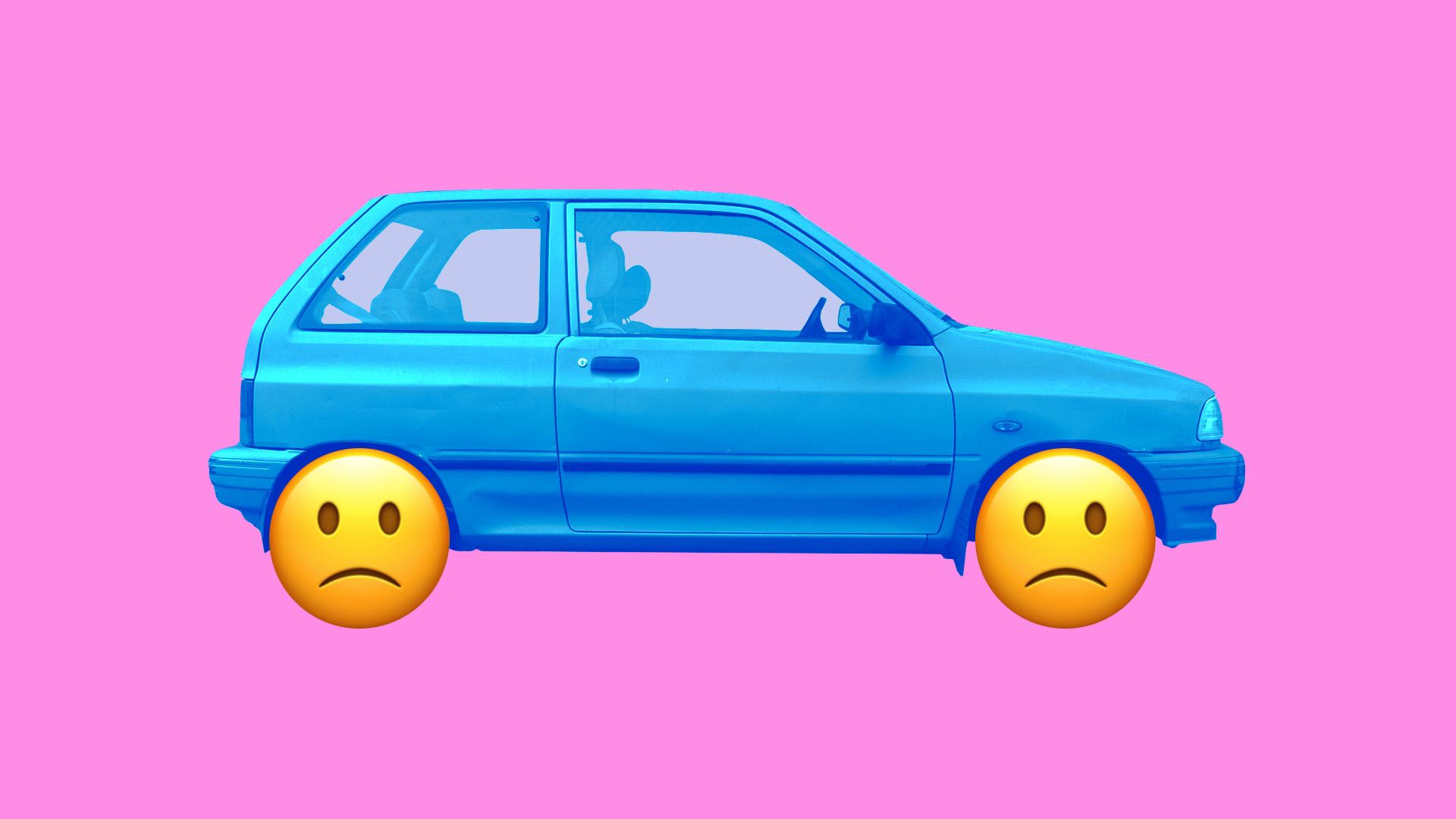 The mood in Detroit is gloomy on the eve of next week's North American International Auto Show, and — for once — it has (almost) nothing to do with Michigan weather.
The big picture: Automakers are bracing for a cyclical downturn, exacerbated by the Trump administration's trade policies, rising interest rates and consumer rejection of 4-door sedans. While tightening their belts, they're still trying to fund massive investments in electric and self-driving cars they say are needed to secure their long-term survival.
Why it matters: The auto industry is undergoing an awkward transition, caught between the decline of trusted business models and the lure of an uncertain future in which cars run on electrons (not gasoline), are shared (not owned) — and where driving is optional.
The pressure has already resulted in GM plant closings and layoffs in North America and Ford cutbacks in Europe, with more bad news likely as the industry grapples with excess factory capacity worldwide.
Some companies are pooling their efforts on AVs and electric vehicles, like GM and Honda. Ford and Volkswagen are expected to announce such an alliance next week.
But that future isn't getting any closer. Bold predictions by Tesla and others that cars would be able to drive themselves by now have evaporated in the face of technology challenges and market realities.
The timeframe for commercializing driverless cars is now said to be 2020–2021, but even that is unclear.
"It seems like we're kind of stuck where we are," says Eric Paul Dennis, who's been tracking AV promises made — and broken — since 2013 as a senior transportation systems analyst at the Center for Automotive Research.
Investors don't like uncertainty, which helps explain why GM, Ford and Fiat Chrysler stocks are down substantially. And for the time being, Wall Street is likely to focus on troubles confronting their core business (Auto 1.0), not the sexy stuff (Auto 2.0).
"Autonomous vehicles will take time and investors may need to rein in their enthusiasm in 2019/2020."
— Adam Jonas, automotive analyst, Morgan Stanley
What's happening: The annual Detroit auto show is looking to be the quietest since the depths of the 2009 recession, with fewer exhibitors and a shorter media preview.
European luxury carmakers Audi, BMW and Mercedes-Benz aren't even showing up, following Jaguar-Land Rover and Porsche, which pulled out years ago.
Audi and Mercedes had splashy car reveals last week in Las Vegas at CES, the tech show that has been siphoning attention away from Detroit for years.
That competition — and the lousy weather in January — prompted show organizers to move the event to June starting in 2020. That lame duck status may be contributing to this year's blah-ness.
Yes, but: There will still be some notable vehicle debuts in Detroit next week, including new sports cars like the Toyota Supra and Mustang GT500, and crossover SUVs including the new Cadillac XT6, Kia Telluride and Ford Explorer.
Future mobility tech is still relegated to the basement of Detroit's Cobo Center, where the Automobili-D conference and exhibition will be held for the third year.
65 startups from 10 countries — 20% more than last year — will participate, showing tech on everything from AVs to smart cities.
Go deeper