School shootings have united Gen Z and young millennials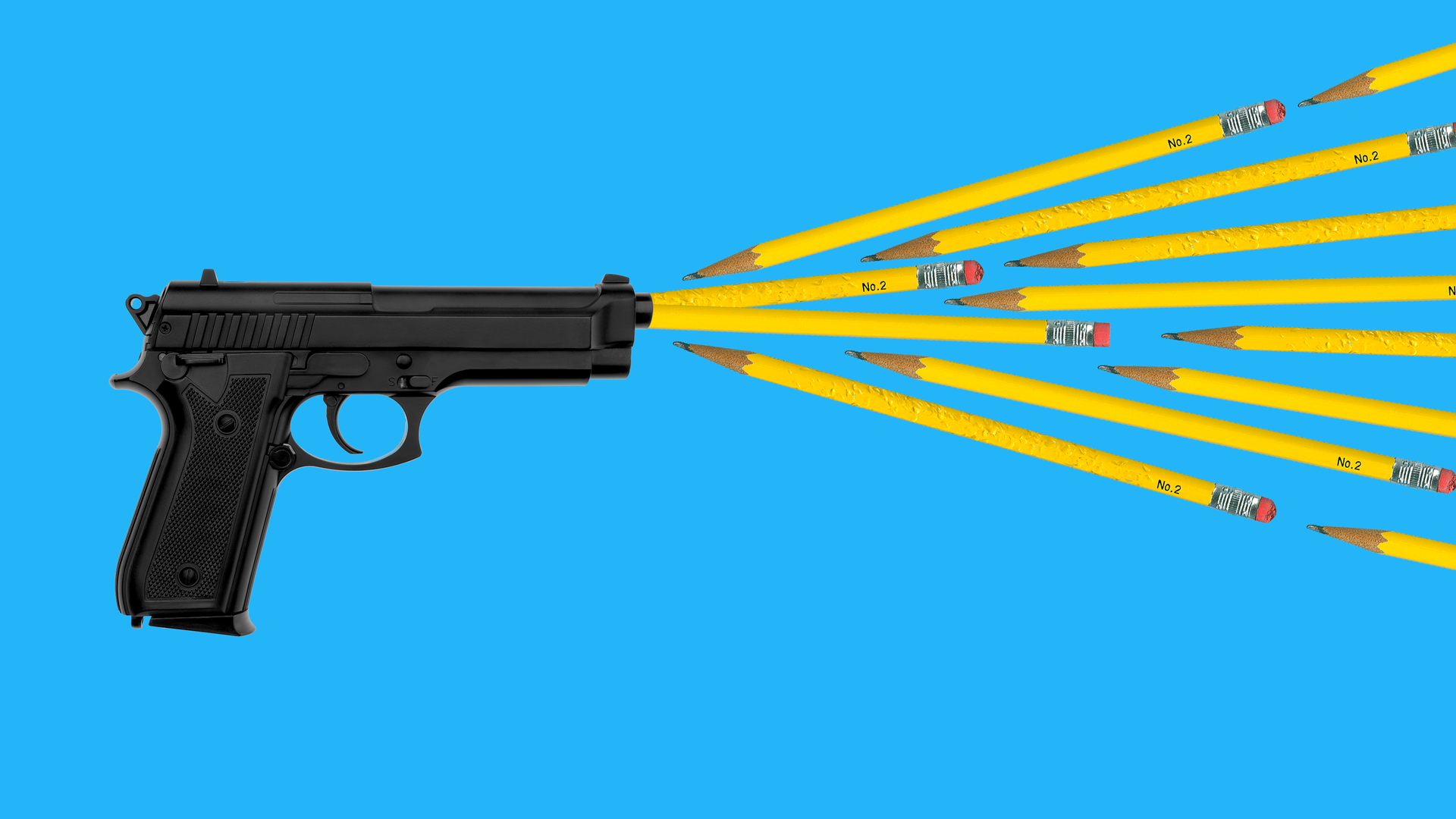 To a degree not entirely fathomable to older Americans, the defining issue for today's youth aged 14–29 — crossing race, age, gender and political affiliation, whether rural or urban — is the long wave of deadly school shootings.
The big picture: That's according to new polling suggesting a stark new generational divide that may influence U.S. politics for years to come.
"An older generation would not understand walking into a classroom ... and thinking, 'This could be a really easy room for someone to shoot up.' The same daily weight on an adult's shoulders over bills or taxes is what children feel about living or dying," said a student at Ohio State University, speaking with John Della Volpe, CEO of SocialSphere and polling chief at the Harvard Kennedy School's Institute of Politics.
Their crucible differs sharply from the prior generation's, Della Volpe tells Axios: "The issue connects young Americans unlike anything except 9/11 in the last 20 years."
What's happening: Over the last several months, Della Volpe conducted a series of conversations in person and by phone with 14- to 29-year-olds in five cities — Atlanta, Chicago, Columbus, Los Angeles and Parkland, Florida. Then he did a poll of 2,235 people from the same age group (data here).
Among his findings:
68% said school shootings are the most important issue facing the U.S. And 70% advocated stricter gun control. That included 46% of Republicans and 47% of gun owners.
79% said they support issuing gun licenses under the same regime governing driver's licenses.
But, but, but: 67% said having a gun at home makes them safer, and 53% said it is at least possible they will own a gun in the future for personal safety.
Pay attention to this: For coming-of-age youth, students being killed in school shootings has been formative in their thinking. They blame the older generation for not keeping them safe, and they vote. Della Volpe estimates that 31% of those polled voted in the midterms, nearly double the 2014 midterm turnout for this age group.
"I was personally struck by the heaviness of the trauma they are dealing with every day," Della Volpe said. "This is something you don't see in older millennials."
"This connects to stress. They don't feel it's going to get better."
"But they are beginning to see there is a way out of it by increasing their political voice."
Go deeper