Jerome Powell's attempts to please everyone have backfired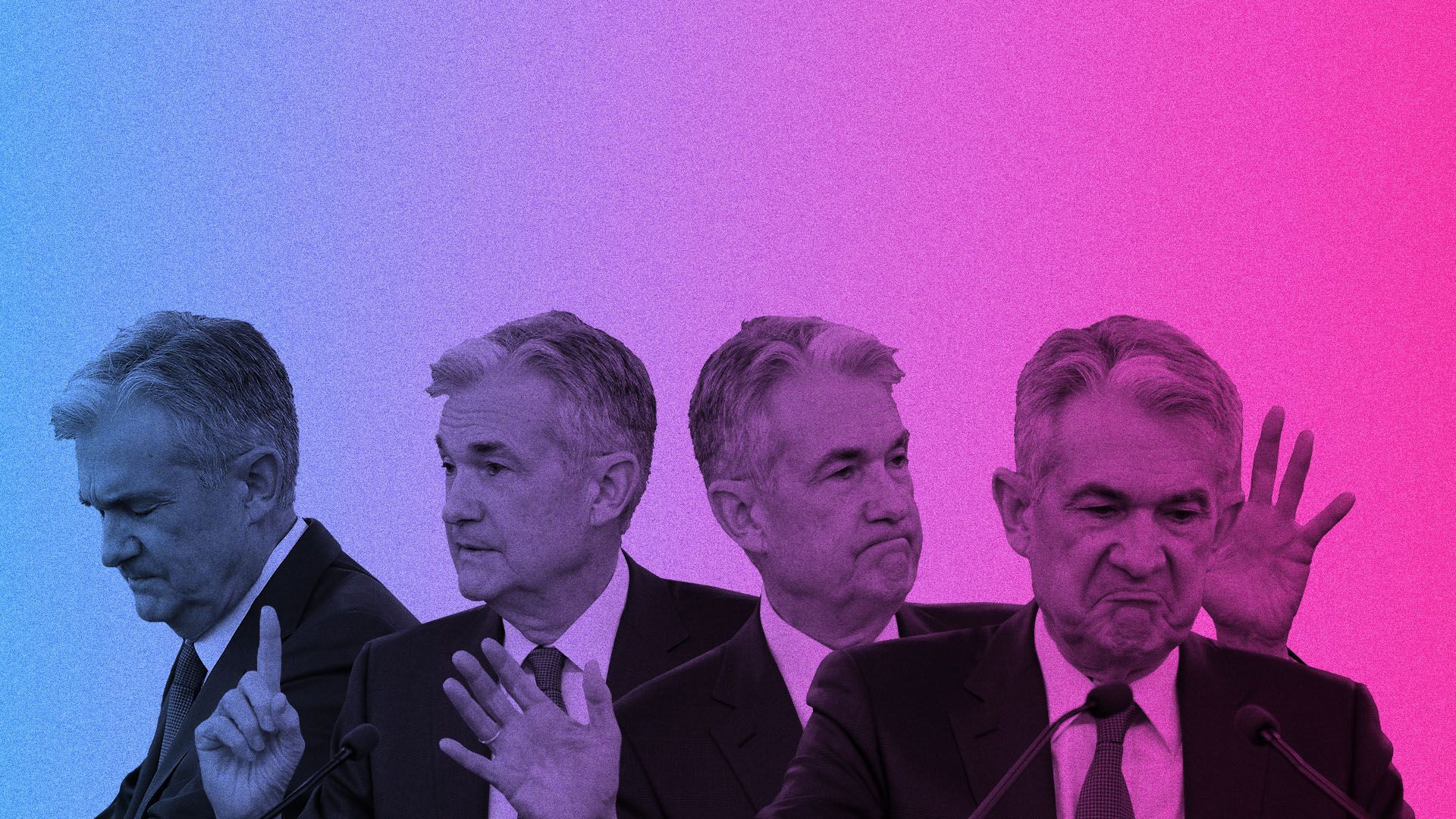 Jerome Powell's goal since he became chairman of the Federal Reserve has been to keep a low profile and rebuild trust and confidence in the U.S. central bank — among lawmakers and the public.
Why it matters: Though his goal has been to make the public think that the economic data is steering the economy rather than the Fed, he's done just the opposite.
He's sought to win friends on Capitol Hill, taking seemingly as many meetings with lawmakers in his first months on the job as former chair Janet Yellen did in four years, and he's upped the number of Federal Reserve press conferences and made a point to speak more plainly.
Thanks to his pronouncement on Friday that the Fed would be "patient" with future interest rate hikes and ready to change course "significantly if necessary," — a reversal of his previous stay-the-course message after the Fed raised U.S. interest rates in December — Powell has lost credibility in the eyes of many market watchers.
"The Fed is backing down as we expected. This is the policy mistake we awaited," said Yves Lamoureux, president of behavioral research firm Lamoureux & Co., who predicted both the February equity market peak and December swoon in 2018. "Stocks get hammered next week."
"I am flummoxed by this man I once had faith in," said Danielle DiMartino Booth, a former adviser to Dallas Fed President Richard Fisher and current CEO of Quill Intelligence.
Powell certainly had help getting into this precarious situation — he's had to dodge a fight with President Trump at every turn and negotiate a monetary tightening cycle amid a stock market that has been its most volatile in years and that last year delivered its worst performance since the financial crisis.
The bottom line: Powell's attempts to please everyone predictably have gone awry. The market will be fully on edge and ready to dissect his every word as he speaks on Thursday at the Economic Club of Washington, which is exactly what he didn't want.
Flashback: Remember two days ago when we wrote "No one believes the Fed."
What's next: Minutes from the Fed's Dec. 18–19 policy meeting are due out at 2 pm today. Powell's Friday comments may have erased the memory of that meeting, but the market will still peruse it for details.
Go deeper