1 big thing: Trump's new shutdown urgency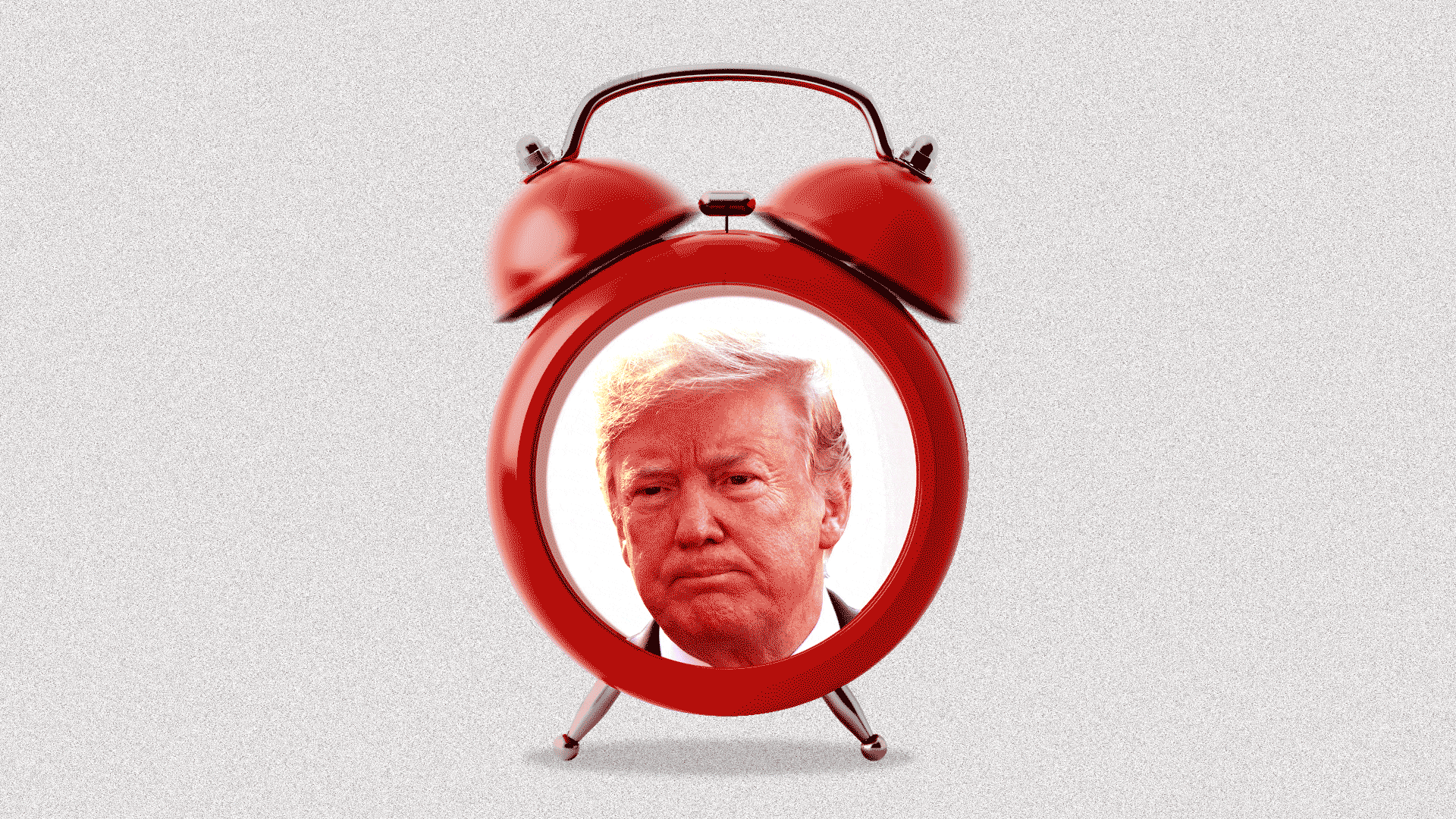 White House officials are increasingly concerned that the impending real-world effects of the shutdown could swamp Republicans if they don't find a way to make a deal fast.
The big picture: Trump's prime-time address at 9:00 ET tonight, his first from the Oval Office, is part of an urgent P.R. strategy designed to make up for what some Republican officials feel was a languid use of the president's bully pulpit over the holidays.
Trump aides realize the situation could slip away from them politically as the impact is felt by taxpayers and federal workers across America.
So the urgency is in putting pressure on Dems, and trying to make them own a "crisis" at the border.
"I have no idea how this ends. I really don't," a senior White House official said.
According to conversations with multiple sources familiar with speech prep, the White House plan is for Trump to ditch his fiery campaign rhetoric and hot partisan attacks on Speaker Pelosi and Senate Democratic Leader Chuck Schumer.
But nobody will say so on the record.
One reason: It's Trump. And there's never quite a 0% chance that he scrunches up Stephen Miller's script, ignores the advice, and does what he does.
Inside the strategy: West Wing officials plan to spend the next 72 hours hammering Democrats and trying to make them feel pain for the shutdown.
You'll hear the word "crisis" a lot, and the assertion that Democrats refuse to negotiate.
Vice President Pence has repeatedly mentioned a front-page Washington Post storythat referred to "a bona fide emergency on the border."
A group of reporters, during a briefing in the Eisenhower Executive Office Building, was given a slide deck with statistics about border crossings. The point of the briefing — by Pence, Jared Kushner, Homeland Security Secretary Kirstjen Nielsen, OMB's Russ Vought and others — was to document a crisis.
Fact check: "U.S. Customs and Border Protection encountered only six immigrants on the U.S.-Mexico border in the first half of fiscal year 2018 whose names were on a federal government list of known or suspected terrorists," according to CBP data obtained by NBC News' Julia Ainsley.
But news coverage from the border makes it clear that agents are overwhelmed: A separate WashPost article last month said arrests along the border were exceeding 2,000 a day, and that smugglers were depositing "hundreds of rural Guatemalan families [in] remote areas of the U.S. border."
The numbers are pretty big, and both sides agree it is a problem, even though they disagree vehemently on the solution. Humanitarian care for these people is a big issue.
Behind the scenes: Trump aides have deliberately held back on an Oval Office address — one of a president's most potent weapons. There was some internal discussion about doing one to sell tax reform, but it never got very far.
So the fact that officials turned to the Oval now shows how much political weight they want to throw behind this.
An important point to remember: Ordinary people, and in some cases vulnerable people, may soon be harmed by this shutdown.
Food stamps and federal housing, among other things, are about to be hit.
The White House Office of Management and Budget is scrambling to find ways to avoid these scenarios.
But it's unclear whether enough money and enough legal latitude can be found.
Another factor that the Trump administration is getting worried about: the damage for POTUS if House Republicans start to lose members on individual bills related to the shutdown this week, which is likely to happen.
"Several dozen House Republicans might cross the aisle this week to vote for Democratic bills to reopen shuttered parts of the federal government," Politico's John Bresnahan and Sarah Ferris report.
And the WashPost's Dave Weigel tweets: "Dems gained forty House seats in an election that Trump was trying to turn into a border referendum, sending troops and everything. The new Dems have zero fear about how the 'border crisis' plays."
Be smart, from a well-wired Republican: "Interestingly, Ds are doing exactly what Rs did during the Obamacare shutdown — trying to open popular pieces one at a time."
"I do not understand the Trump strategy: Why not let them open everything but Homeland? Don't they want this fight to be about the wall and not parks?"
Go deeper:
Go deeper