With withdrawal walk back, Bolton scrambles Trump's Syria policy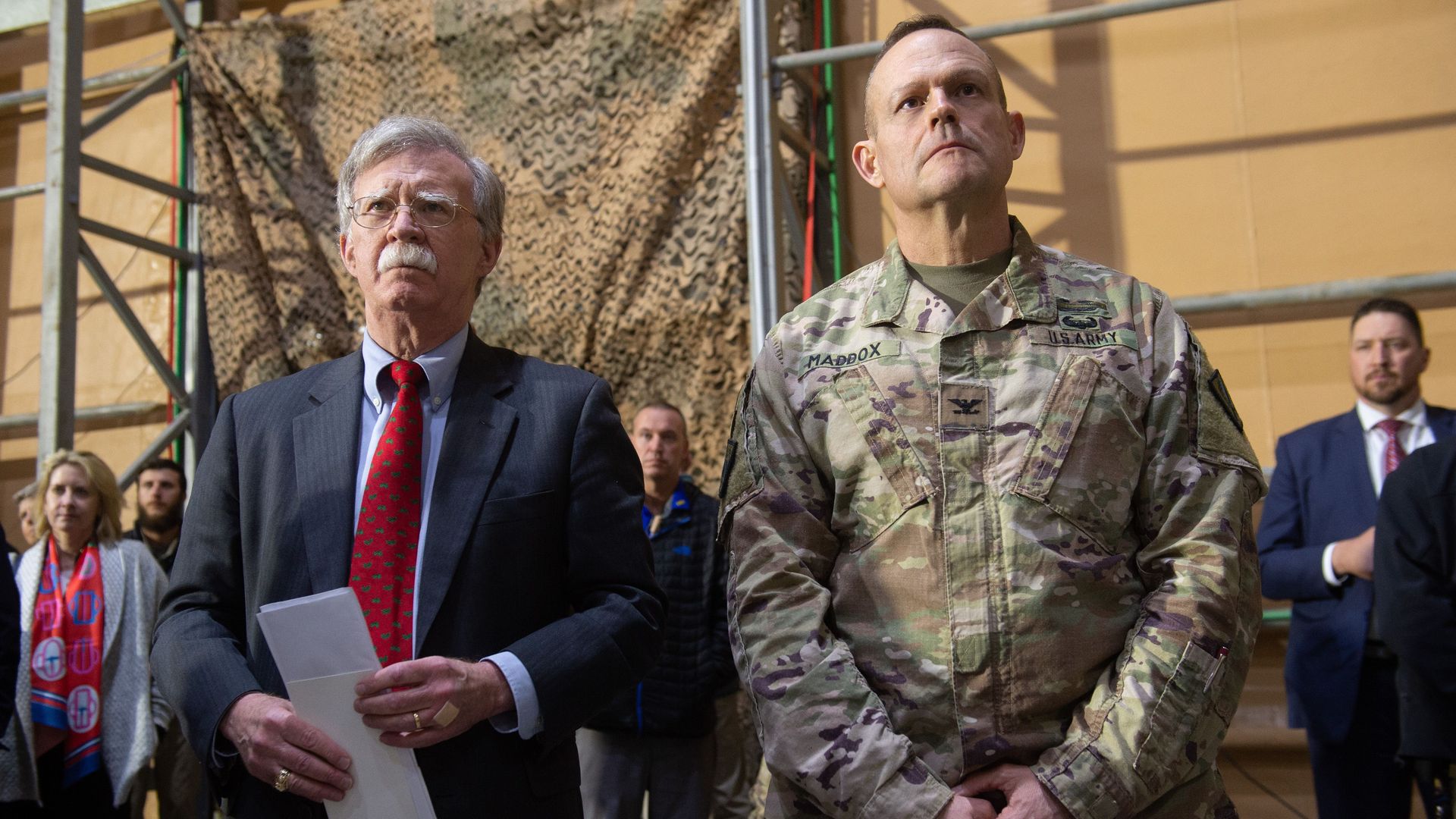 National security adviser John Bolton is in the Middle East this week attempting to sell President Trump's Syria withdrawal policy, which Bolton opposed only several weeks ago. And it appears that he still opposes it, based on reports that he told Israeli and Turkish officials that the U.S. won't be leaving Syria until the Islamic State is defeated.
Why it matters: It would be tough enough for Bolton to convince Israel to support Trump's proposal to leave Iran to "do what they want" in Syria; the Kurds that they are safe, despite public concern that the Turks will slaughter them; and Jordan and Iraq that ISIS is defeated, as the president claims, despite their battling ISIS nearly every day. The discrepancies are amounting to incoherent policy.
The danger of such inconsistency is that America's word becomes meaningless, leading allies to doubt Washington's promises and adversaries its resolve. Because Trump has neither responded to Bolton's statements nor clarified his position, it's unclear how committed he is to the Syria withdrawal.
Between the lines: Congress has not authorized the U.S. military presence in Syria. Neither Obama nor Trump sought authorization, knowing that it would likely not be granted, despite Congressional concerns about withdrawal.
The only time that authorization for military activity aimed at Syria was sought — by Obama, in August 2013, against chemical weapons facilities — it garnered too little support to be brought to a vote.
Bolton's plan to keep U.S. troops in Syria would therefore defy both the president's and Congress' wishes. Without official support from either, there is no clear mandate or coherent policy for the U.S. to stay in Syria.
What to watch: Bolton will aim to assuage U.S. allies concerned about a troop withdrawal as well as both the president and Congressional critics of the U.S. presence in Syria — a difficult needle to thread.
Joel Rubin is the president of the Washington Strategy Group and the former deputy assistant secretary of state for the House of Representatives.
Go deeper