2018 was Earth's fourth-warmest year, EU scientists find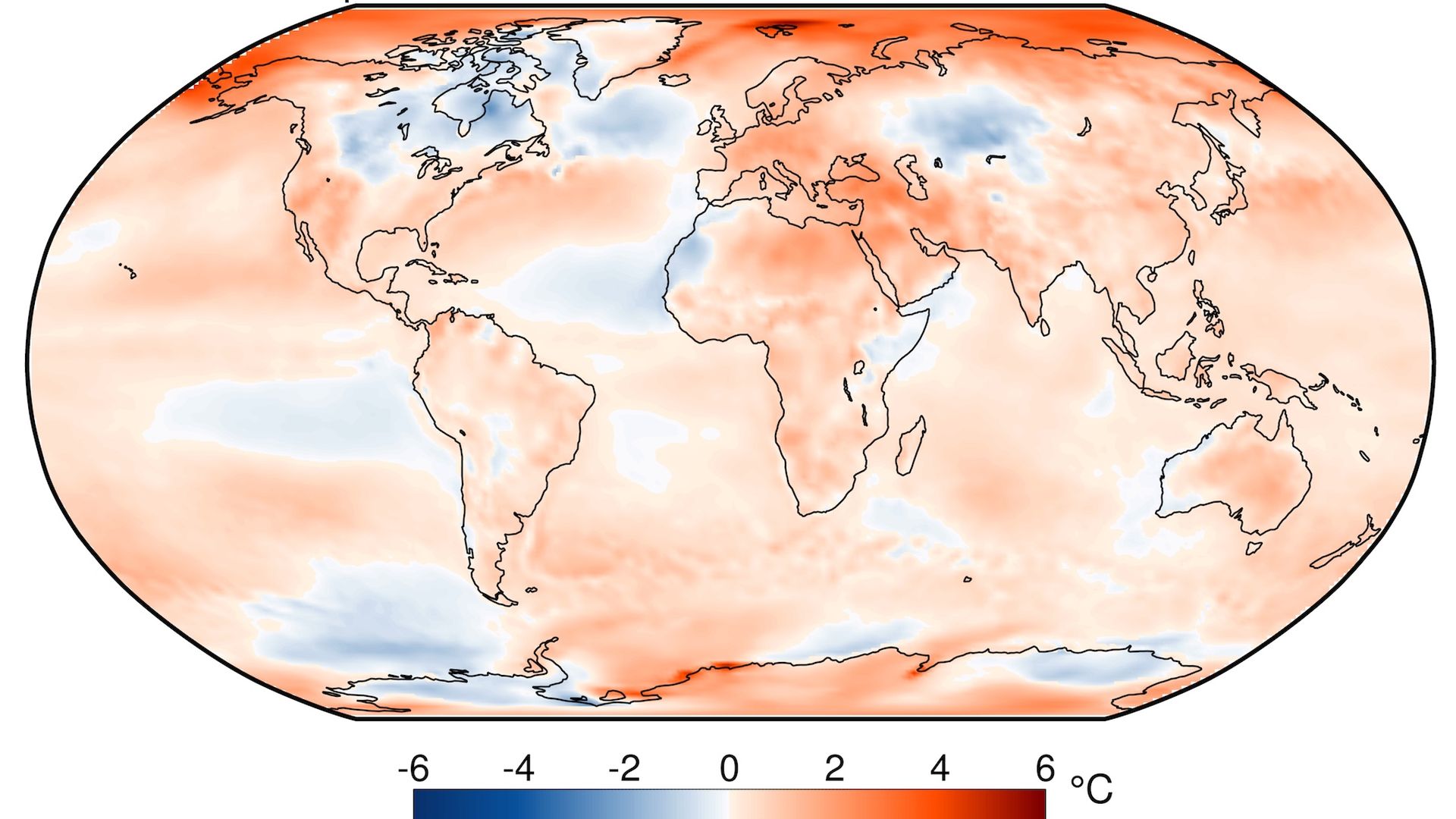 The Copernicus Climate Service (C3S), an EU-funded program, has concluded that 2018 was Earth's 4th-warmest year on record — with the past 4 years serving as the hottest years the planet has seen since instrument records began in 1880 (and likely well before that).
The big picture: With U.S. science agencies hobbled by the partial government shutdown, the new findings are the first to provide a global perspective on 2018's temperatures and greenhouse gas emissions. While they're in line with projections, they still underscore how severe the climate change problem is becoming.
The details: Last year had a global average surface temperature that was 0.2°C, or 0.36°F, colder than 2016, which was the warmest year in Copernicus' dataset, but more than 0.4°C, or 0.72°F, above the 1981-2010 average. Scientists at C3S also found:
The average temperature of the last 5 years was 1.1°C, or 1.98°F, higher than the pre-industrial average.
This is significant since temperatures are edging closer to the 1.5°C aspirational warming target contained in the Paris climate agreement, which many low-lying island nations see as key to their survival.
Using satellite measurements, the climate service reported that carbon dioxide concentrations increased by about 2.5 parts per million per year in 2018 — and are at a record high. Previous studies have found that CO2 levels are higher now than they have been in more than 800,000 years.
According to C3S, the Arctic saw the most unusual warmth in 2018, particularly north of the Bering Strait between U.S. and Russia. Europe, the Middle East, and western North America were warmer-than-average for the year, while parts of the globe, including central Asia, had a cooler-than-average year.
But, but, but: Unlike NASA and the National Oceanic and Atmospheric Administration (NOAA) in the U.S., C3S uses a different mathematical model to combine millions of land, ocean, airborne and satellite observations. Based at the European Centre for Medium-Range Weather in England, C3S has the advantage of providing temperature measurements in areas that are data sparse, such as the Arctic and over the oceans.
The C3S data is especially useful for comparing other groups' long-term surface data that also track global warming, such as NASA, NOAA and the Hadley Center in the U.K.
The bottom line: No matter which data you look at, the story is the same: The planet is warming rapidly, while the amount of greenhouse gases in the air continues to increase, overwhelmingly due to human activities such as burning fossil fuels for energy.
Go deeper: Key global warming target slipping out of reach, UN scientists warn
Go deeper