Democrats pursue packed agenda in first few days of new Congress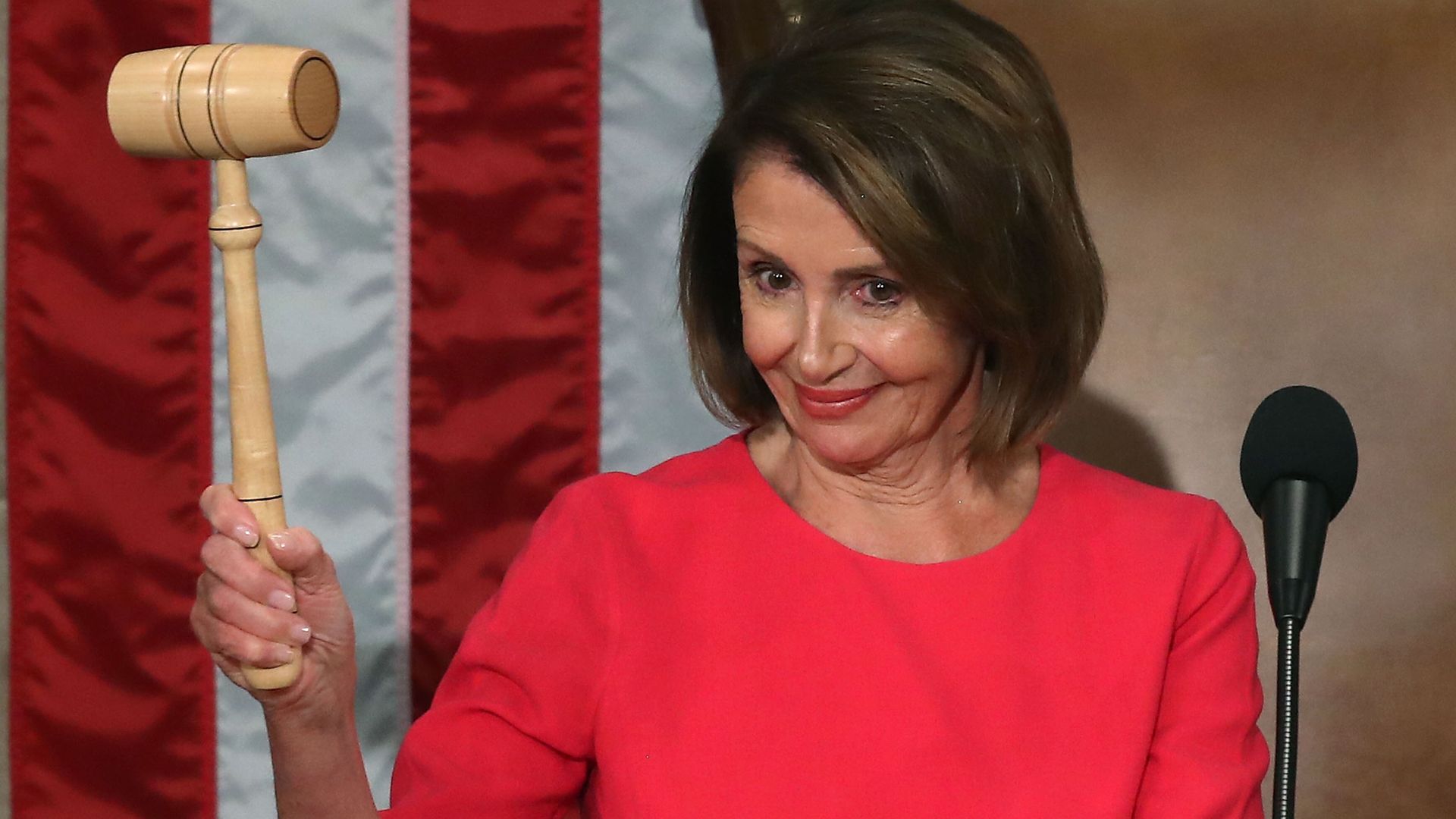 Democrats didn't waste any time this week after taking the majority in the House, electing Nancy Pelosi as speaker, passing several high-profile bills and driving some spirited news cycles beyond just the chamber floor.
Yes, but: While Democrats are energized in the House, Republicans still hold the Senate and the White House, which is sure to derail much of Pelosi's aggressive agenda.
What Democrats did in their first few days
Introduced their first bill, H.R. 1: "For the People Act," which Axios' Joe Uchill describes as an "anti-corruption grab bag."
Pelosi said Democrats are aiming "to clean up corruption and restore integrity to government," The Hill reports.
The bill would require presidents to release their tax returns, form a Supreme Court code of ethics, strengthen election security and more.
It's unlikely the bill can pass the Republican-held Senate and White House, but it has certainly made a statement about the Democrats' intentions to "drain the swamp" through meaningful legislation.
Passed a sweeping rules package.
House members are now permitted to wear religious headwear on the floor.
Members and committee staffers are prohibited from having sexual relationships with each other.
A select committee on climate change was created.
Tucked into the rules package was a provision that authorizes the House counsel to intervene in the Texas lawsuit that struck down the Affordable Care Act in an effort to protect people with pre-existing conditions.
Passed spending bills to reopen the government.
Two bills were passed on Thursday to reopen the government, which is in its second week of a partial shutdown.
Because the bills didn't include funding for Trump's border wall, the White House formally threatened to veto them.
Talked impeachment.
Freshman Rep. Rashida Tlaib (D-Mich.) made waves with an expletive-laced call to impeach Trump. She earned some pushback from Pelosi, who urged her younger, more trigger-happy colleagues to tread carefully.
Rep. Steve Cohen (D-Tenn.) introduced two constitutional amendments.
One would get rid of the Electoral College altogether, while the other would prohibit presidents from being able to pardon themselves, members of their administrations or family.
New House Committee staff took their places.
Among the subpoena-ready chairmen to look out for: Rep. Adam Schiff (Intelligence), Rep. Elijah Cummings (Oversight), Rep. Jerrold Nadler (Judiciary) and Rep. Maxine Waters (Financial Services).
And finally, Pelosi invited Trump to deliver a State of the Union address before a joint session of Congress on Jan. 29.
Go deeper: Democrats debate how to face "the existential threat of our time"
Go deeper