SCOTUS takes up gerrymandering cases in North Carolina and Maryland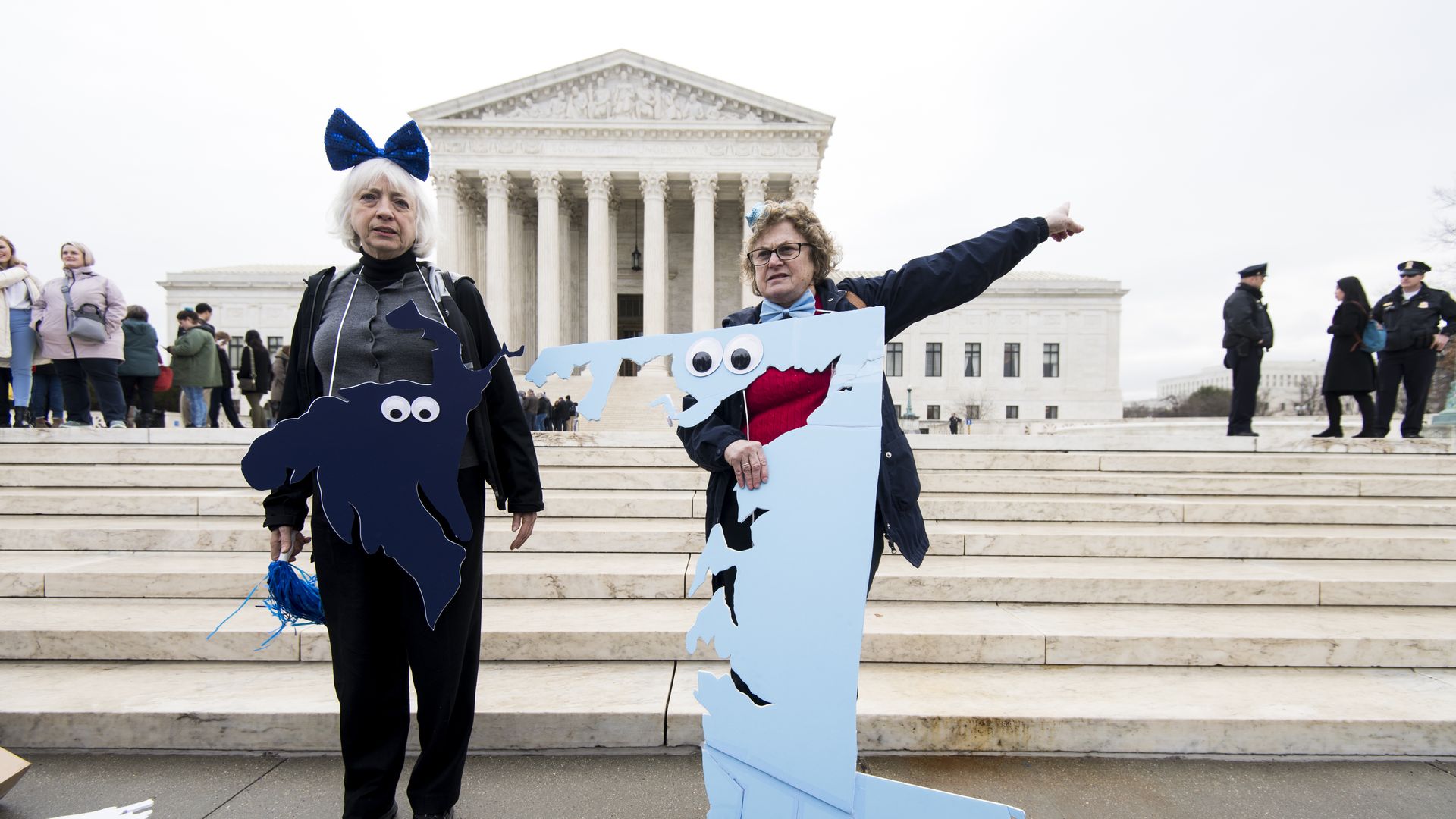 The Supreme Court added partisan gerrymandering cases in North Carolina and Maryland to its docket on Friday, giving the justices yet another opportunity to determine whether electoral maps warped by politics may cross a constitutional line.
Why it matters: The high court has never struck down a gerrymandered election map as unconstitutional, and it punted on opportunities to do so last this year. A ruling against the practice of lawmakers drawing maps to unduly favor one political party would reshape American politics and play a crucial role in determining future control of the House.
Details: The high court's decision to hear an appeal by North Carolina Republicans comes after a panel of federal judges in August — for the second time last year — struck down the state's congressional map as unconstitutional. It ruled that the Republican-controlled legislature had drawn it to maximize the party's electoral advantage.
But the federal panel eventually allowed the state to use the same map in the 2018 midterms, which handed Republicans at least 9 of the 13 U.S. House seats despite a relatively close statewide margin. It concluded there was "insufficient time" to draw a new map, but said no other elections will be held using the current lines.
In the Maryland case, state Attorney General Brian Frosh (D) is challenging a November court ruling that asked lawmakers to redraw the 6th congressional district map before the 2020 election.
A federal court panel ruled that the Democratic-controlled state legislature intentionally designed the district in 2011 to their benefit by including the heavily Democratic Montgomery County, costing a Republican incumbent his seat.
The Supreme Court has set arguments for both cases in March. This means a decision will likely come by the end of June, and it raises the possibility of a court-ordered redrawing of new districts before the 2020 elections.
The big picture: This news comes amid a growing national movement to curb partisan gerrymandering. Election reformers are hoping that the Supreme Court will issue a landmark ruling against excessive partisan gerrymandering before the next round of redistricting begins after the 2020 census.
"Whether it is Democrats or Republicans manipulating the election maps, gerrymanders cheat voters out of true representation. The Supreme Court has the opportunity to set a clear standard that will restore a meaningful vote to millions of Americans disenfranchised by gerrymanders in Maryland, North Carolina and across the country."
— Karen Hobert Flynn, president of Common Cause, in a statement
What to watch: The retirement of Justice Anthony Kennedy will have an impact on the case. Unlike his conservative colleagues, Kennedy was seen as the swing vote on the issue. His replacement, Brett Kavanaugh, has solidified the court's 5-4 conservative majority.
But observers and some election law experts say Chief Justice John Roberts is the most likely conservative justice to cast a deciding vote against partisan gerrymandering.
Go deeper:
Go deeper