The global disasters that have been deferred to 2019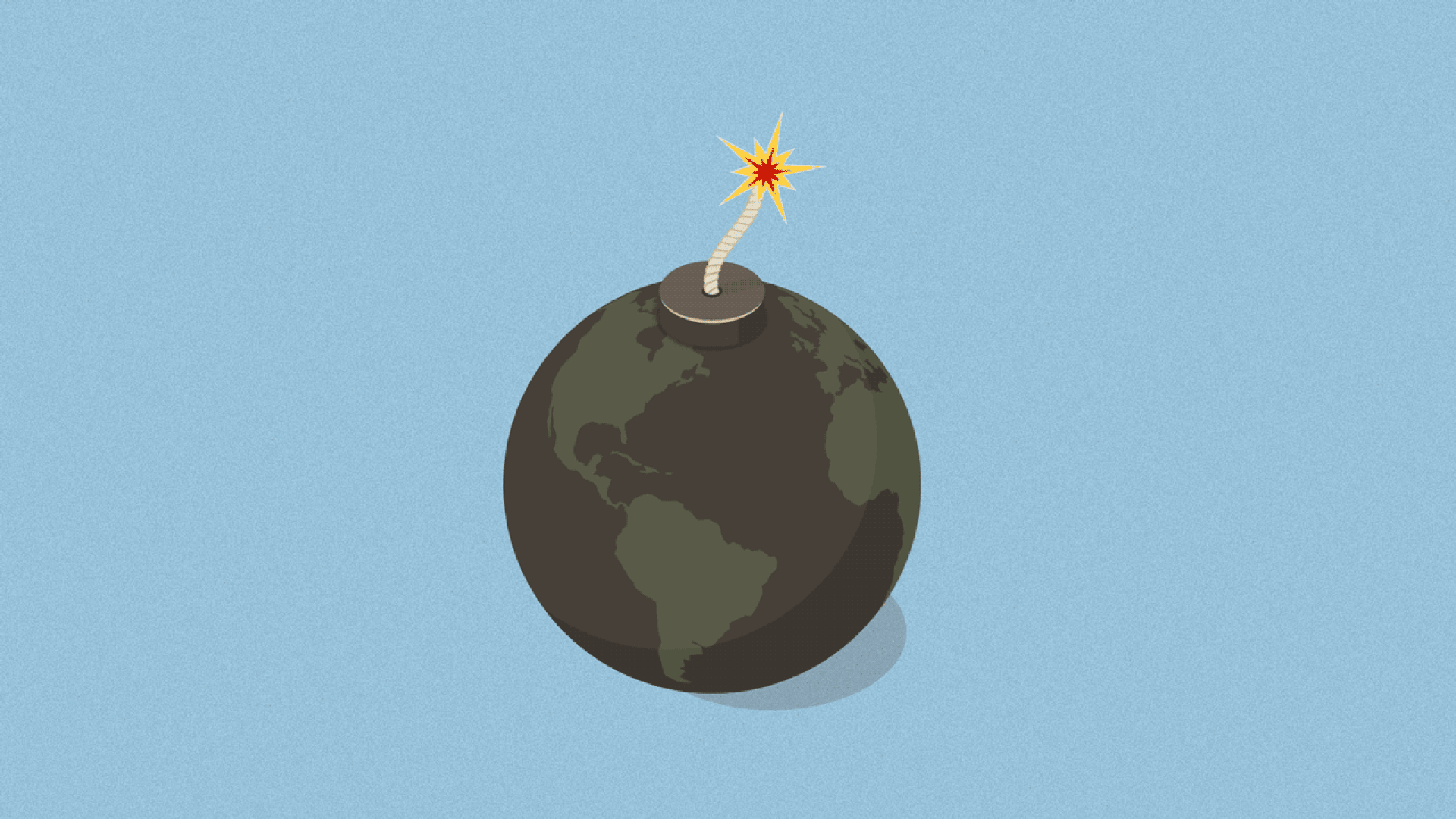 This year was largely spent in a protective crouch, with disaster looming in a number of global hot spots — and all of them are still looming in 2019.
Why it matters: The major calamities we feared in 2018 didn't get resolved — they've merely been deferred. North Korea still has nuclear weapons. The trade war isn't over. The post-World War II global order is crumbling under threat from populism, adversaries like China and Russia, and a failure to solve systemic problems. Economic recession, a threat multiplier, is looking increasingly likely.
North Korea: Pyongyang recently signaled that it will not give up its nuclear stockpile until "the American nuclear threat to North Korea" is eliminated. The North Koreans have skipped or postponed several meetings with the U.S., and made sporadic warnings of escalation.
President Trump insists there's "no hurry," but the direction of travel seems to be backwards.
After the Singapore summit, a well-wired North Korea watcher told me his prediction was that Trump would go along with the process until he sees enough commentary that he was being "played," and lashes out. That scenario remains possible.
As Van Jackson, a former Pentagon strategist and author of the new book "On the Brink: Trump, Kim, and the Threat of Nuclear War," told me: "You are not in a stable situation if you rely on the whims and the caprice of individual leaders to prevent nuclear war."
Iran: When Trump announced in May that he was unilaterally withdrawing from the Iran nuclear deal, there were concerns of an arms race, or even a war. So far Iran has stayed in the deal, along with America's European allies.
But with crippling sanctions again taking hold, and the U.S. hinting at a desire for regime change, there's always the possibility that Iran will change tack — and that the U.S. and Israel will respond if it does.
Another worrying scenario is the possibility of escalation between Israel and Iran over Iran's presence close to Israel's borders in Syria.
Europe: The leaders of Europe's three powers — Germany's Angela Merkel, France's Emmanuel Macron and the U.K.'s Theresa May — have been battered, but are still standing. They all look set for more troubles in 2019.
Brexit Day is just three months away, and there's no deal in sight. Migration continues to rattle the establishment (just look at Belgium, where the government fell this month). The nationalist bloc is growing, and the liberal vs. populist divide on the continent will only intensify around European Parliament elections in the spring.
What to watch...
Trade: We're one-third of the way through Trump's 90-day trade ceasefire with China. If he follows through on his threats to more than double existing tariffs and add new ones, the economic impacts would be extreme. That's not to mention potential flashpoints in Taiwan and the South China Sea, or the existential question of what China's rise means for the West.
Ukraine: The confrontation between Russia and Ukraine continues to simmer following Russia's seizure of three naval vessels and 24 sailors last month. Upcoming elections in Ukraine make the situation dicier still.
Middle East: Trump's decision to pull troops from Syria could further embolden Bashar al-Assad, or lead to fighting between Turkey and America's Kurdish allies. His planned Afghanistan withdrawal also poses risks. Now, Trump has lost a steadying presence in Defense Secretary James Mattis as well.
The bottom line: The worst-case scenario is rarely the likeliest, and there's cause for optimism out there as well. But these crises-in-waiting bubbled up during a pretty good year for the global economy. Imagine what happens if and when recession hits.
Go deeper