Amid struggling economy, Cuba advances constitutional reform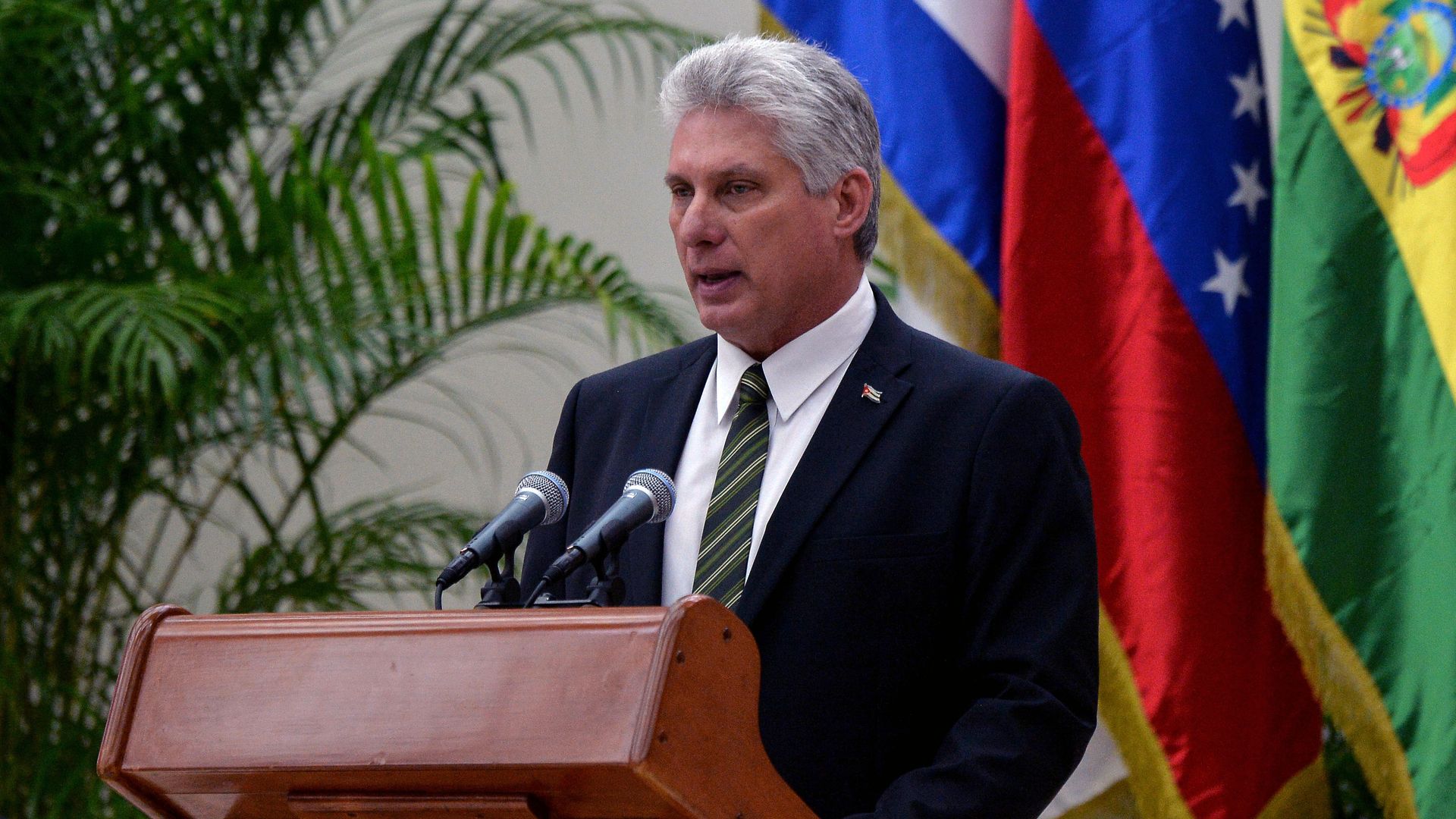 On Saturday, Dec. 22, Cuba's National Assembly approved a new constitution for a national referendum on Feb. 24, which would mark the country's biggest political overhaul in a generation.
Why it matters: As popular frustration persists over Cuba's struggling economy and lackluster 1.5% growth, President Miguel Díaz-Canel, who entered office in April 2018, needs to show loyalty to the country's old guard while modernizing its political and economic structures.
The big picture: In June, Cuba began the process of updating the Soviet-style constitution it adopted in 1976 — though still pledged to uphold the "irrevocable nature of socialism," as codified by a previous constitutional revision in 2002.
A 33-person constitutional reform commission, headed by Raúl Castro, approved a draft in July and then initiated a three-month consultation.
Official press reported that more than 8.9 million Cubans gathered at over 133,000 meetings across the country, resulting in 783,000 proposals. However, some Cubans boycotted or ignored the consultation and others have questioned its validity, given the Communist Party's control of the process.
Where it stands: While the new constitution would not mark a political transformation, it proposes noteworthy changes:
A 10-year presidential term limit, consisting of two 5-year terms
Minimum and maximum ages for the presidency as 35 and 60, based on the beginning of the first term
A new role of prime minister in addition to the president, separating the heads of government and state
Governors for each of the island's 15 provinces, which would potentially devolve more authority away from Havana
A more formally recognized role for non-state actors in the economy, including small private businesses, worker-owned cooperatives, private property and foreign direct investment. However, the extent of this opening has yet to be determined.
Yes, but: The process has not been without controversy.
The committee ignored calls to allow direct elections or opposition parties.
Language assuring commitment to "advancing toward a communist society," which went missing from the original draft, was reinstated in the final version.
A proposed amendment to recognize same-sex marriage — though championed by Raúl Castro's daughter Mariela Castro — sparked a groundswell of religious protest and was ultimately omitted.
The bottom line: Even if approved on Feb. 24, the constitution will do little to buy goodwill among frustrated Cubans unless Díaz-Canel takes bolder steps to revive the economy.
Daniel P. Erikson is managing director at Blue Star Strategies, senior fellow at the Penn Biden Center for Diplomacy and Global Engagement, and the author of "The Cuba Wars: Fidel Castro, the United States, and the Next Revolution."
Go deeper