Robots wander retail aisles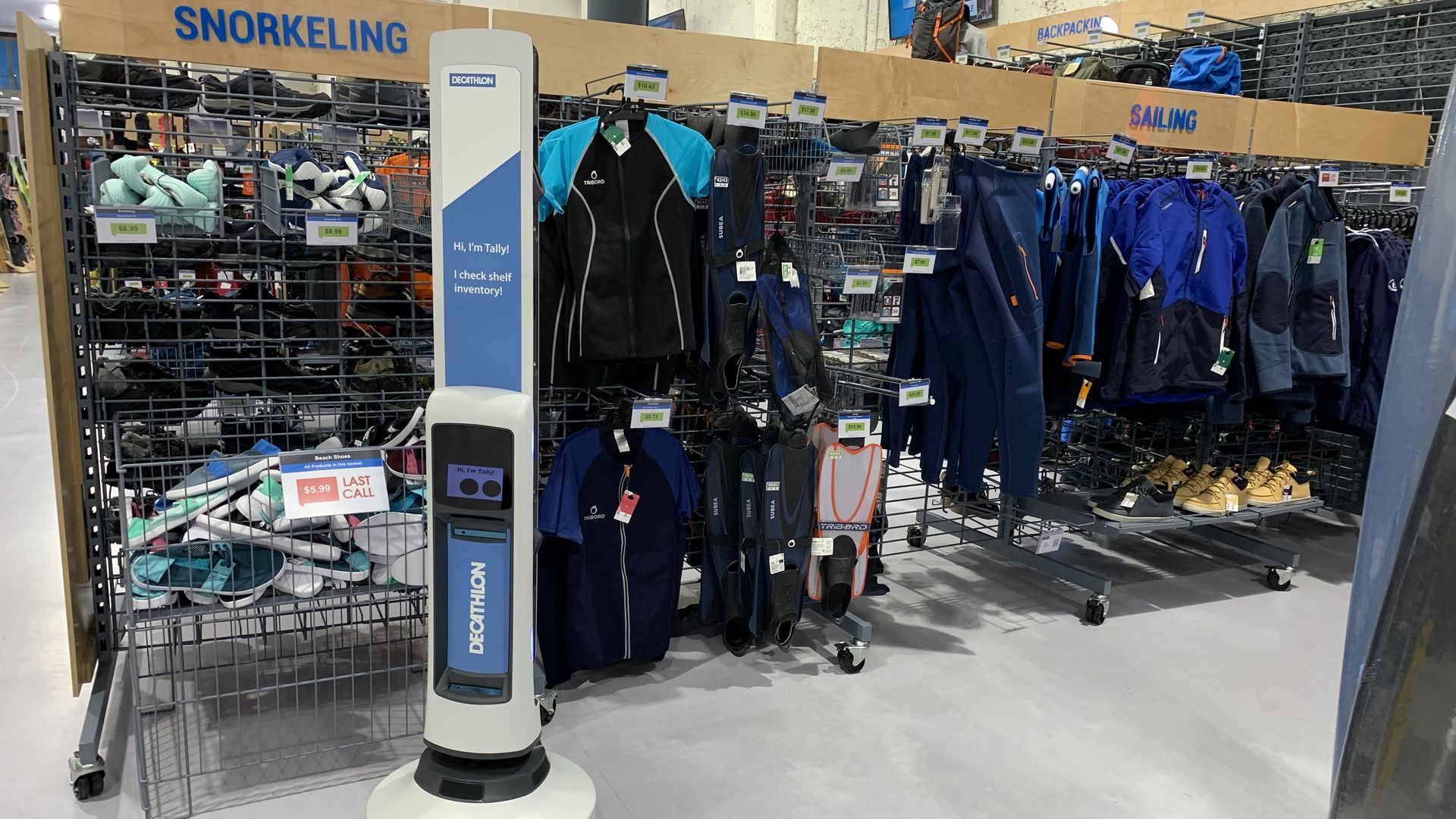 Bleeping and whirring through the aisles of a sporting goods store in downtown San Francisco, Tally — a tall, wheeled robot bristling with sensors — was doing what it promises: It was counting. The bot, made by Simbe Robotics and trundling through a Decathlon store, uses its sensors to read electronic merchandise tags, twirling this way and that to pinpoint products.
The big picture: Robots have long helped to assemble cars and move products around enormous warehouses. But Tally is the latest in a slow bot invasion into increasingly visible spaces, like sidewalks, malls and restaurants.
They're taking up the roles of delivery workers, security guards and waiters.
Their makers insist, in a familiar line, that they're not stealing jobs as much as freeing up humans to do better or more interesting work. That may be the case now, as the bots are tested, but not for long if they're taken up in droves.
On a recent Friday in San Francisco, Tally checked up on water-sport gear during its daily round of Decathlon's only U.S. location.
Tally is also used in grocery stores, where it generally roams the floor three times a day. Shelf-checking bots help store managers keep track of inventory — gathering sales data and preventing shelves from going empty.
Simbe CEO Brad Bogolea said the robot requires little in the way of support — just over 1.5 feet of clearance in the aisles and a charging dock that it can track down itself when it needs juice.
When first deployed, the robot uses lidar and 30 high-res cameras to map the new space, then it relies on smartphone-quality cameras and RFID readers for stock checks.
"Our customers love Tally," Bogolea told me at Decathlon. Soon after, a pair of shoppers jumped when they turned around to notice Tally waiting to pass. "That's creepy," one shopper said. "You guys should know that."
Go deeper: Walmart's shelf-scanning bots (ZDNet)
Go deeper