The Fed gets the Trump treatment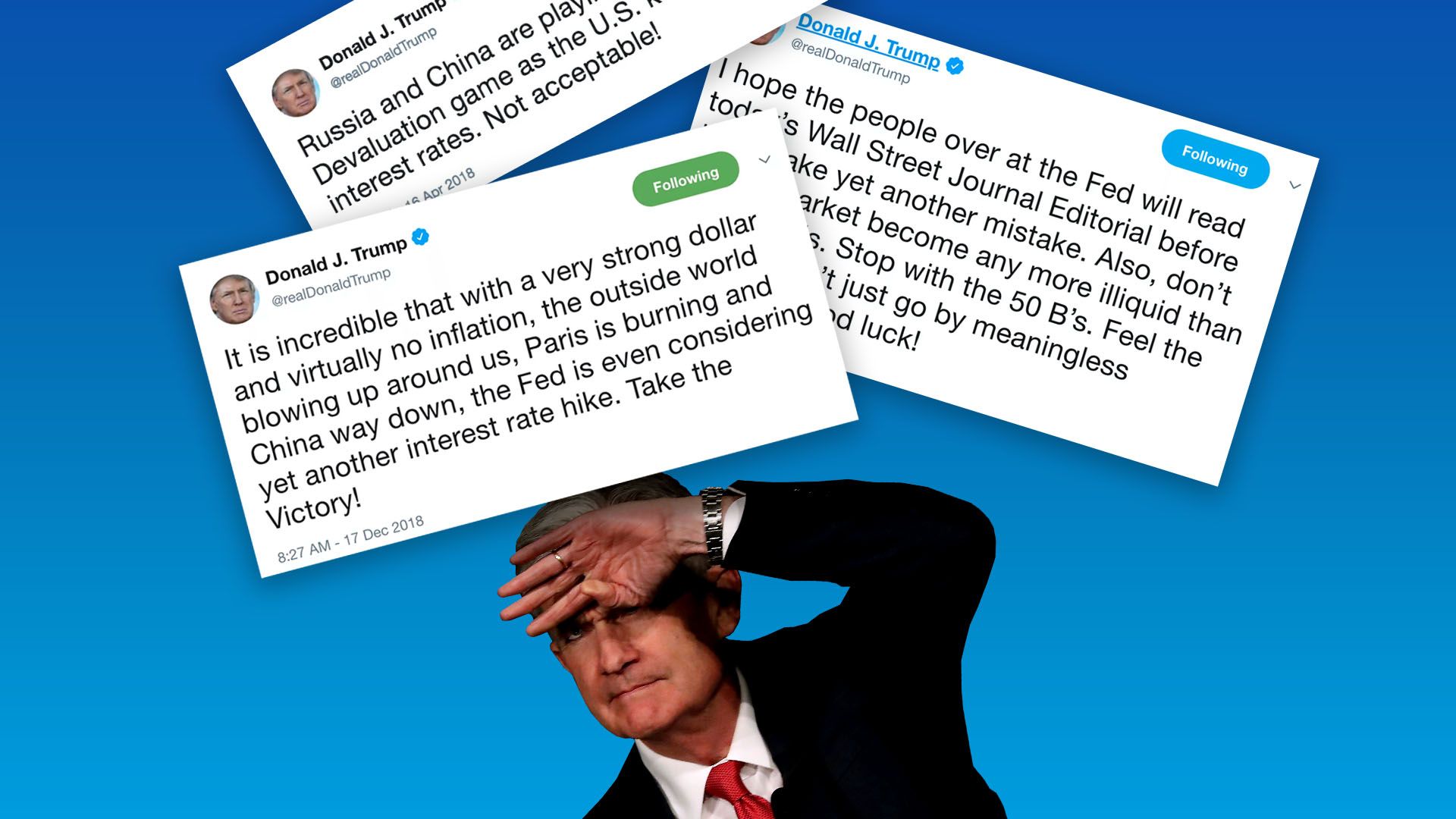 There's never been a Federal Reserve interest-rate decision quite like this, with the central bank facing public criticism from the president and a whipsawing stock market.
Why it matters: Market watchers agree that one of the greatest threats to the smoking economy is a misjudgment by the Fed on how to manage the record-breaking economic expansion. Trump's response to any rate hike is likely to be angry, losing the Fed's precious credibility among the president's supporters.
Later today, Jerome Powell will likely announce the fourth rate hike since he took over the Fed in February. The new target rate, 2.25–2.50%, will be the highest in a decade.
Flashback: Trump slammed Powell hours after the Fed announced a rate hike in September.
No other president has commented on monetary policy as much as Trump. Don't be surprised if there's a similar reaction from him this time.
Powell has taken pains to emphasize that his decisions are data-dependent. Trump, by contrast, would rather trust his gut on monetary policy, telling Powell yesterday to ignore "meaningless numbers" and "feel the market."
After Powell softened his rate hike stance last month, some economists expect a "dovish hike" — or a rate hike coupled with a more cautious tone about the economy, hinting that the Fed may hike rates fewer times in 2019 than previously indicated.
This is the best-case scenario for the stock market, which responds positively to a less aggressive Fed.
The odds: There is a roughly 31% chance that the Fed doesn't raise rates at all. That wouldn't necessarily be better news than a "dovish hike."
A rate pause would jeopardize the Fed's credibility. It would leave the central bank wide open for a victory lap from Trump and raise questions about whether the Fed has become politicized.
The move could also spook the markets. "Investors would assume the Fed had knowledge of some impending crisis about which they are unaware," says Nicholas Colas, co-founder of DataTrek Research.
The bottom line: No other Fed chairman has faced a challenge like the one Powell is facing. When Powell fields questions from reporters after the policy decision this afternoon, expect him to defend the Fed's political independence, maintain an upbeat (but not too upbeat) tone about the economy, and assure investors the Fed is not on a fixed path to hike interest rates even more.
Go Deeper:
Go deeper