Stockholm deal brings partial peace to Yemen, but fraught with risks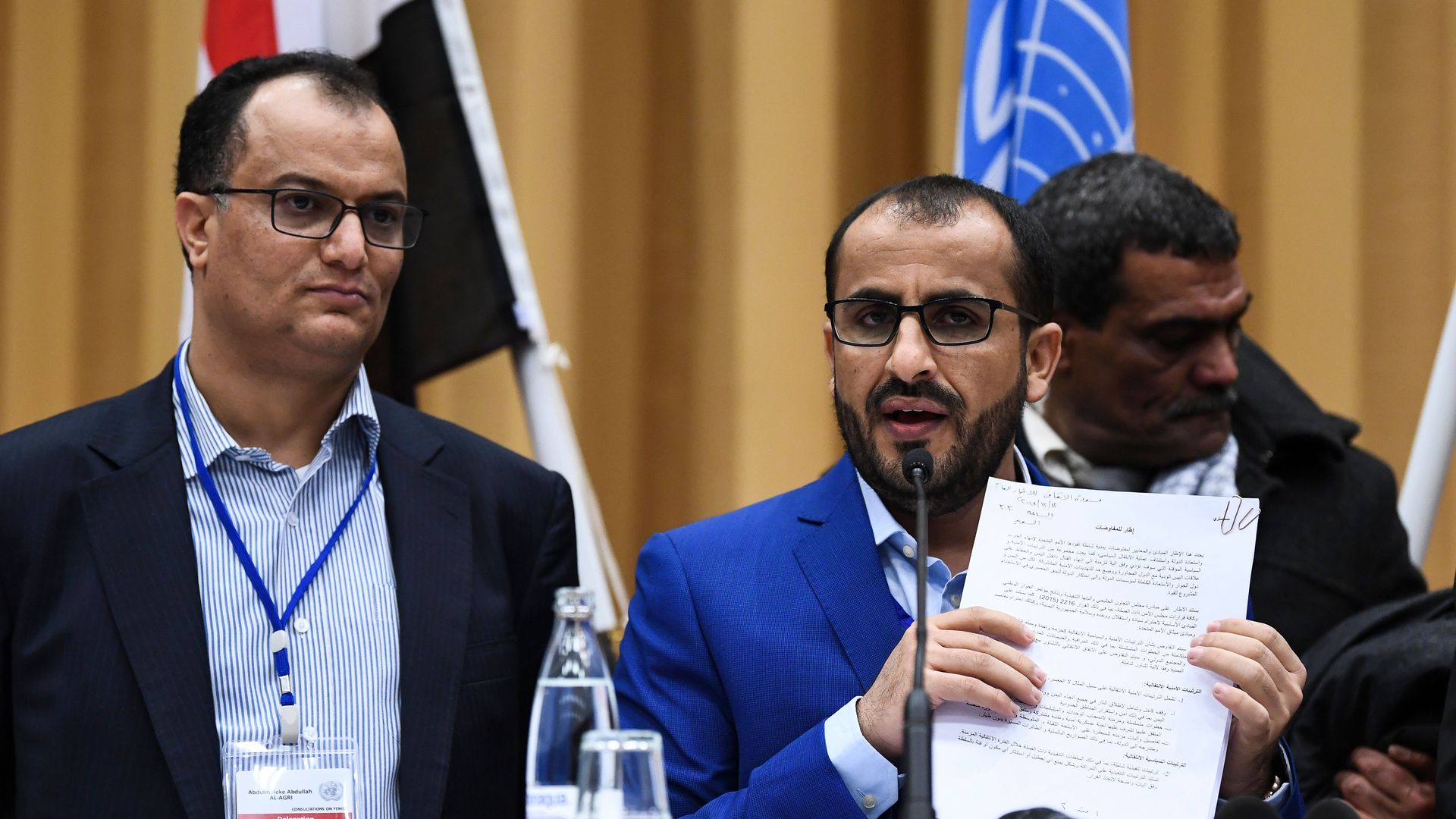 The UN-backed discussions in Stockholm between Yemen's internationally recognized government and Houthi rebels ended on Dec. 13 in a series of agreements that, if successfully implemented, will help alleviate Yemen's humanitarian crisis and may ultimately pave the way for a negotiated peace.
Why it matters: The two sides have been fighting since September 2014 in a conflict that has entangled regional powers, along with the U.S., and created a humanitarian catastrophe. The results of the Stockholm meeting could herald the war's first real breakthrough, but both sides will need to quickly make good on their commitments, or the positive momentum could stall.
Where it stands: Expectations for the talks were low, but they yielded several key agreements — on building confidence, reducing violence, and preparing for peace negotiations — and a commitment to take up outstanding issues in 2019.
Both sides can claim victory:
By getting the government to agree to a prisoner exchange, the Houthis shore up their manpower and their credibility. In agreeing to turn control of Hodeidah's seaport over to the UN, they also ensure that critical humanitarian aid and commercial goods will continue to flow into North Yemen.
By securing the withdrawal of Houthi militias from the city of Hodeidah, the government recovers a key strategic location from Houthi control and avoids a costly offensive that could have claimed thousands of civilian lives.
Yes, but: Sticking points remain. The Yemeni government did not show flexibility on an agreement that would have ensured the payment of civil servants' salaries in Houthi territory, while a tentative agreement to reopen Sana'a's airport, another key Houthi demand, fell apart at the last minute. The Houthis also refused to lift their siege of Ta'iz city (although they did agree to establish a joint committee to explore the issue) or provide locations for tens of thousands of landmines.
Additionally, despite an eagerness to begin peace negotiations on the Houthis' part, the government, mistrustful of Houthi intentions, deferred them until the Stockholm agreements are implemented.
The bottom line: The Stockholm agreements can improve Yemen's humanitarian situation, but Houthi failures to abide by past agreements, the government's belief that it's winning the war and that time is on their side, and the fact that the cease-fire applies only to Hodeidah will make implementation a formidable challenge.
Fatima Abo Alasrar is a senior analyst at the Arabia Foundation.
Go deeper