Expert Voices Live: The Impact of the Digital Divide
On Tuesday morning, Axios business editor Dan Primack hosted a roundtable discussion in Boston on how technology, and access to it, will impact the future of work and education.
Why it matters: Over 20 educators, innovators and employers from across the city dissected the digital divide's biggest trends, problems and potential solutions.
Problems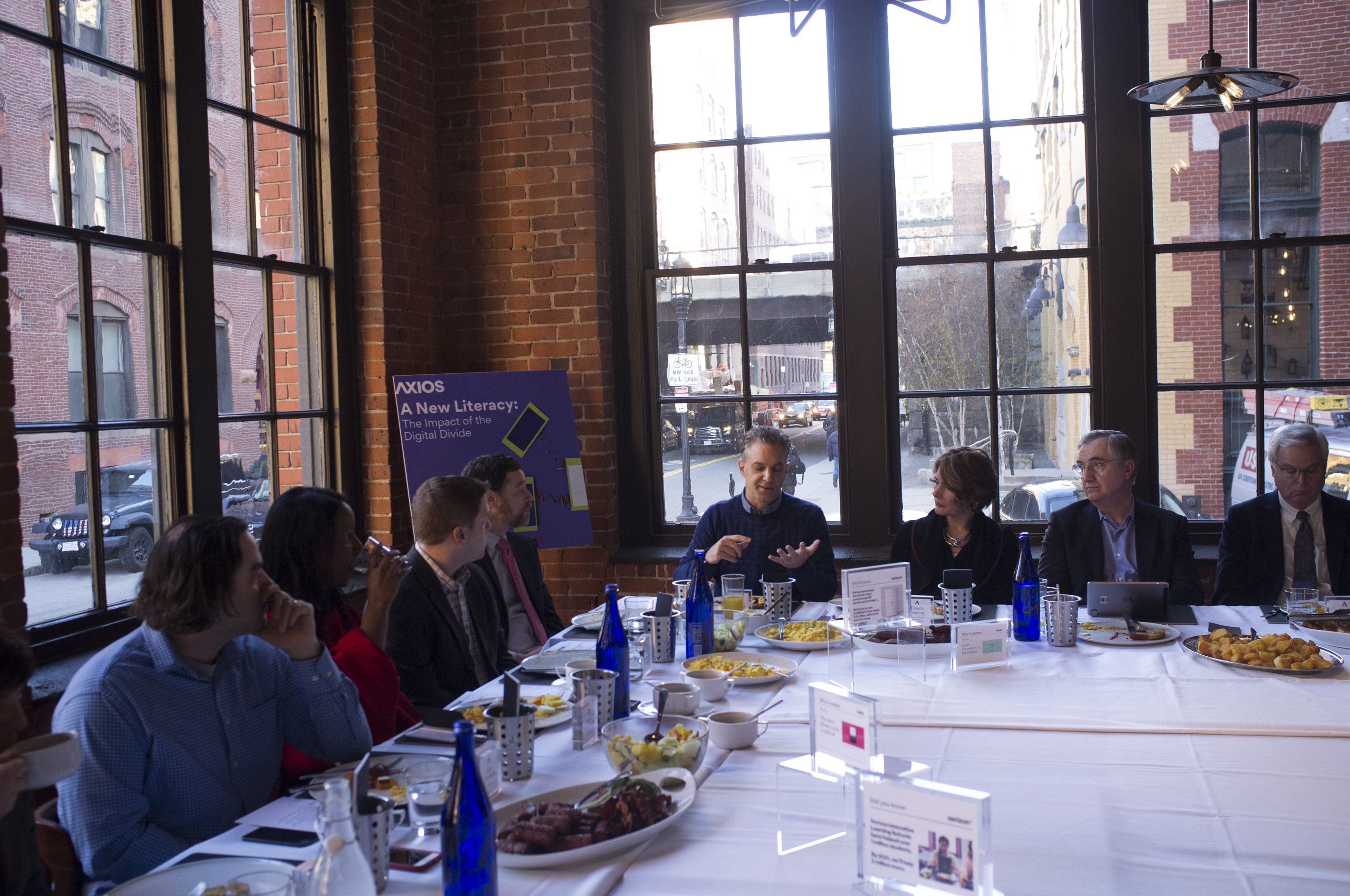 Over the course of this hour-long conversation, these experts unpacked some of the deepest-seated issues we face when it comes to effectively integrating technology into our schools and workforce.
The access problem:
Many students don't have access to technology. Justina Nixon-Saintil, who oversees Corporate Social Responsibility at Verizon, spoke about one of the company's initiatives to bring digital literacy training programs to schools across the country: "On average, across our 100 schools, superintendents say that 25%–75% of their students don't have reliable broadband at home."
Access alone isn't the full solution. "If you present a connected device to a student in a home where the parents don't know how to use it, there can be negative effects," said Stockton Reece, the head of Community Boat Building — an experiential learning after-school program in Boston. "It's designed to be addictive. How do we teach kids to use these amazing little devices to extract something of value from it?"
The teaching problem:
The most tech-savvy among us get snapped up by high-paying jobs in Silicon Valley — not our school system — creating a learning gap among educators, according to Adam Medros, the president of edX.
The framing problem:
Internet access isn't commonly considered a utility — the way we think of electricity or running water — which reduces the business motivation to invest in it, a point that was stressed by both Primack and Tiziana Dearing, co-director of the Center for Social Innovation at Boston College.
The employer problem:
The incentive to invest in the future. Kate Gulliver, who is the head of Global Talent at Wayfair, discussed the company's desire to invest in on-the-job training and general talent development, but underlined the difficulty young companies have in thinking 20 years in the future when the business itself hasn't been around that long.
Solutions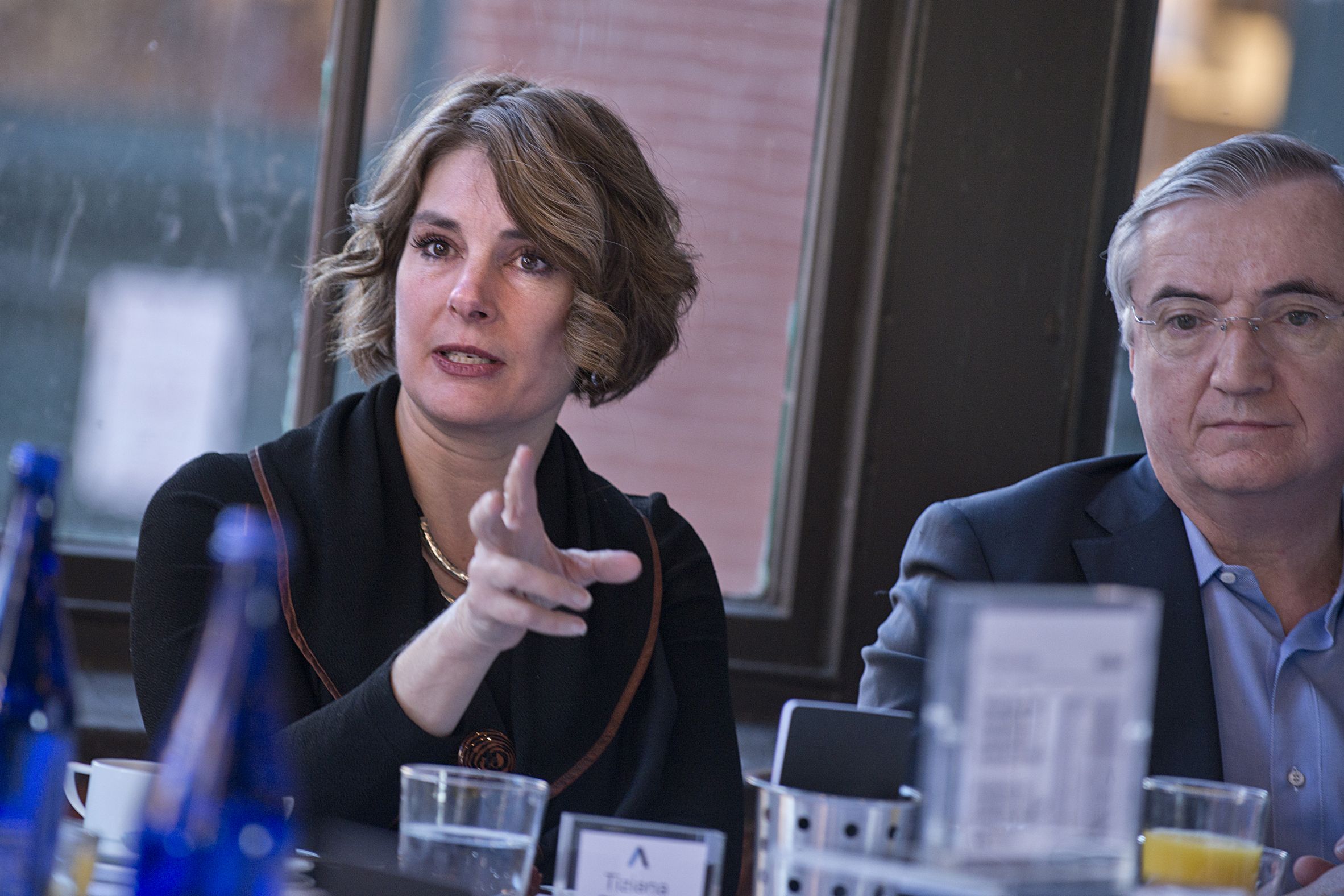 While the digital divide presents many issues, these experts also dug into the many possible solutions — both big and small — that could make a difference in closing the gap and expanding opportunity.
The teaching solution:
Making tech less scary. "We need to Debunk the myth that an educator needs all these complicated skills to be competent at teaching digital literacy," said Dan Pickett, the co-founder of Launch Academy, explaining that a teacher doesn't need a master's in computer science in order to teach students how to be resourceful online.
Teaching adaptability. "The teachers need the kind of training — not to teach to any specific existing device — but to teach the skills and knowledge needed to adapt to things that haven't been invented yet," said Linda Noonan, the executive director of the Massachusetts Business Alliance for Education.
The framing solution:
The competitive-edge angle. Dearing touched on framing again to argue that the narrative shouldn't be "people are being left behind," but that by leaving behind 50% of our country's human potential, we are pushing all of us further behind on a global scale.
The education solution:
Learning for life. Medros, whose company offers online courses from universities around the world, advocated for "marrying industry with education, turning it into a process of lifelong learning and credentialing," adding that, "the moral obligation on companies is that they will have to re-skill their workforce as [their employees] are automated out of jobs."
Thank you to everyone who joined us for this informative conversation and thank you Verizon for sponsoring this event.
Go deeper