Behind the scenes of Trump's trade wars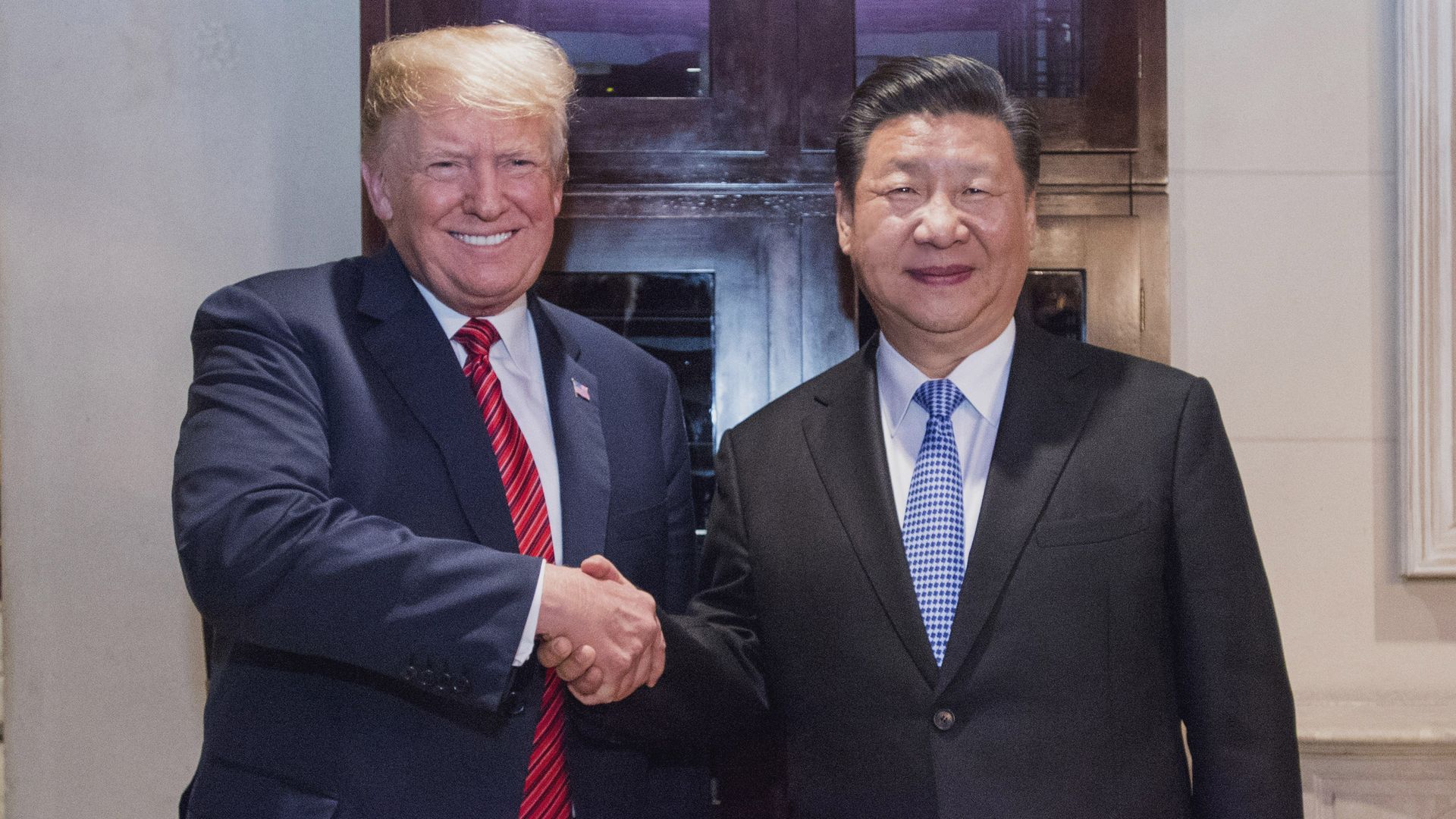 Last Saturday night, after his dinner with China's President Xi Jinping in Buenos Aires, President Trump rode to the airport in his armored limousine. The first lady, Treasury Secretary Steven Mnuchin and Press Secretary Sarah Sanders joined the president in "The Beast."
What happened: Inside the car, Trump dictated a statement to Sanders listing the concessions he said China made during the dinner, according to two sources familiar with their private conversation. The statement, which was circulated to principals, was all Trump. Since then, we've seen a mess of competing and confusing statements from the Chinese and American sides, throwing U.S. stock markets into a spiral.
Behind the scenes: On Monday, John Kelly emailed staff saying Robert Lighthizer would head the China talks. Some speculated that hawkish Lighthizer is warring against moderates Larry Kudlow and Mnuchin. The reality, though, is that this is Trump's show.
Sources with direct knowledge told me that even the small, senior group that joined Trump at the Xi dinner didn't know beforehand what Trump would say. One source with direct knowledge called it a "jump ball."
What's next: While the last week of market mayhem might've seemed crazy, we haven't reached peak uncertainty. That could come in February or March when three of Trump's most audacious trade battles simultaneously crescendo.
First: Trump has been threatening to issue a withdrawal notification for NAFTA, which would make Congress choose between backing his new deal with Canada and Mexico — the USMCA — or withdrawing altogether. (Trump has come extremely close to notifying NAFTA withdrawal multiple times over the past year, according to sources with direct knowledge.)
Second: In March, Trump may ratchet up tariffs against $200 billion worth of Chinese products if Beijing doesn't keep the promises he claims Xi made, like making serious moves to stop their theft of U.S. intellectual property.
Third: Trump will have to decide whether he follows through on his threat to impose 20% or 25% tariffs on automobile imports. The Commerce Department has until February to deliver Trump its report on auto tariffs, which would force a decision from the president. (Almost everyone on Trump's team, besides his hawkish trade adviser Peter Navarro, thinks car tariffs are a terrible idea. And Congress would likely revolt. But as Trump said, he's a "Tariff Man." He loves them, is furious about foreign treatment of U.S. automakers, and thinks car tariffs, specifically, are his most powerful threat in negotiations with foreign leaders.)
The bottom line: Just one of these trade wars would be enough to consume a normal president. One senior adviser told me he worries Trump has bitten off more than he can chew. Trump's obsession with the stock market makes all this even more fraught. Sources close to Trump tell me he knows these trade conflagrations could make last week's stock market volatility the new normal. We'll soon learn whether this molds any of these high-stakes decisions.
Go deeper:
Go deeper