We're still relying on Trump-Kim chemistry to prevent nuclear war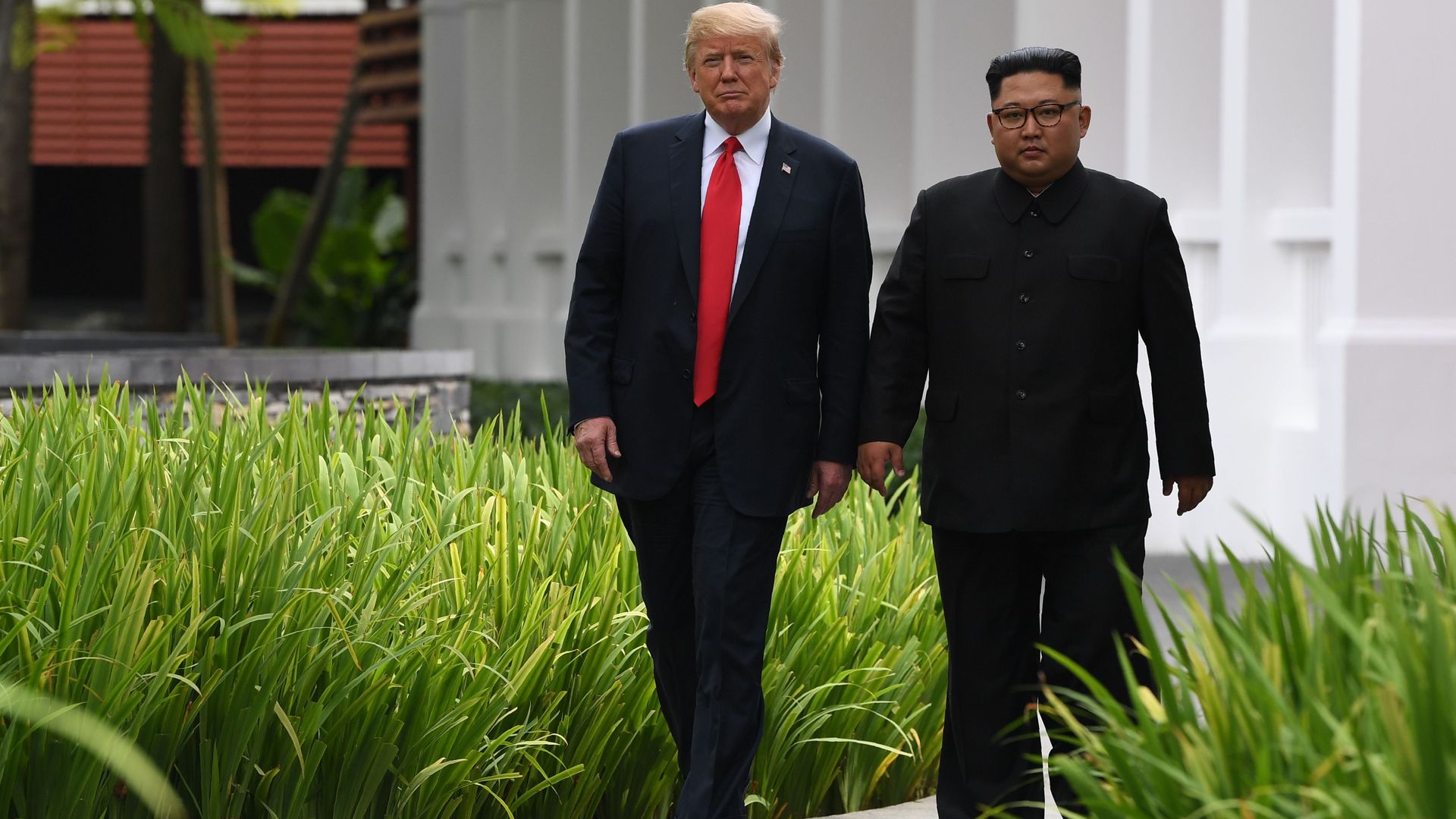 President Trump is staying the course on North Korea despite the lack of any tangible progress toward denuclearization, canceling another round of military exercises with South Korea and moving ahead with plans for a second summit with Kim Jong-un in the new year.
Where things stand: Van Jackson, a former Pentagon strategist and author of the new book "On the Brink: Trump, Kim, and the Threat of Nuclear War," contends there is a "close to 0% chance" of denuclearization while Trump is president, and the situation remains "as dangerous or more dangerous" than it was last year.
"You are not in a stable situation if you rely on the whims and the caprice of individual leaders to prevent nuclear war," Jackson told Axios.
"Trump and Kim have personalized this nuclear confrontation in such a way that their personal chemistry holds all the rest of us hostage, because the underlying situation hasn't changed."
One of the central arguments in Jackson's book is that "maximum pressure" did not bring Kim to the table. He says maximum pressure precipitated the crisis, and North Korean nuclear breakthroughs ended it by essentially ruling out preventative war.
"The crisis really started at the end of the Obama administration, because the more we ratcheted up sanctions and targeted them specifically against his regime's elites," Jackson says, "he matched that with pressure of his own, to move ahead full force to develop a nuclear capability that could reach the U.S."
"He crossed the nuclear threshold before we could stop him," Jackson says. "Kim ended the crisis with a charm offensive, from a position of strength."
Jackson argues that the aim now should be "maximum stability."
"What needs to happen is what's politically hardest to do, which is to acknowledge that North Korea's not going to give up nukes, and therefore pursue dialogue aimed at arms control. So you're focused explicitly on capping and rolling back the nuclear arsenal."
The belief among Korea watchers that Kim would be a reformer because he went to school in Switzerland was "a theory based on hopes or desires," Jackson says. He says Kim understands that North Korea has "endured a hell of a lot over decades to get to this point" and would have to make itself "existentially vulnerable" to move ahead with denuclearization.
Even if Kim was willing to do so, Jackson says, he wouldn't strike a deal with an "anomalous" and erratic president who couldn't possibly "ensure continuity" into future administrations. More likely, Jackson argues, Kim will play for time "because he knows Trump is playable."
What to watch …
Jackson says Trump and Kim both "reaped massive benefits personally" from the Singapore summit, but "didn't actually agree to anything." Now, "at the working level there's just no movement."
He says the North Koreans aren't even passing the lowest possible bar: "There are facilities that we know about, that North Korea knows we know about … and yet they don't admit they exist." The Trump administration's recent decision to significantly restrict access to North Korea intelligence, he adds, is a pretty clear sign the intelligence isn't pointing in a positive direction.
Bottom line: "Kim can be a reformer in the inter-Korean sense and not a reformer in the nuclear sense. That might be the most likely outcome of all of this — that North and South Korea move closer together and the U.S.-Korean alliance becomes more tenuous, and nothing changes on the nuclear side. That seems to be where momentum is heading right now."
Go deeper