America says goodbye to George H.W. Bush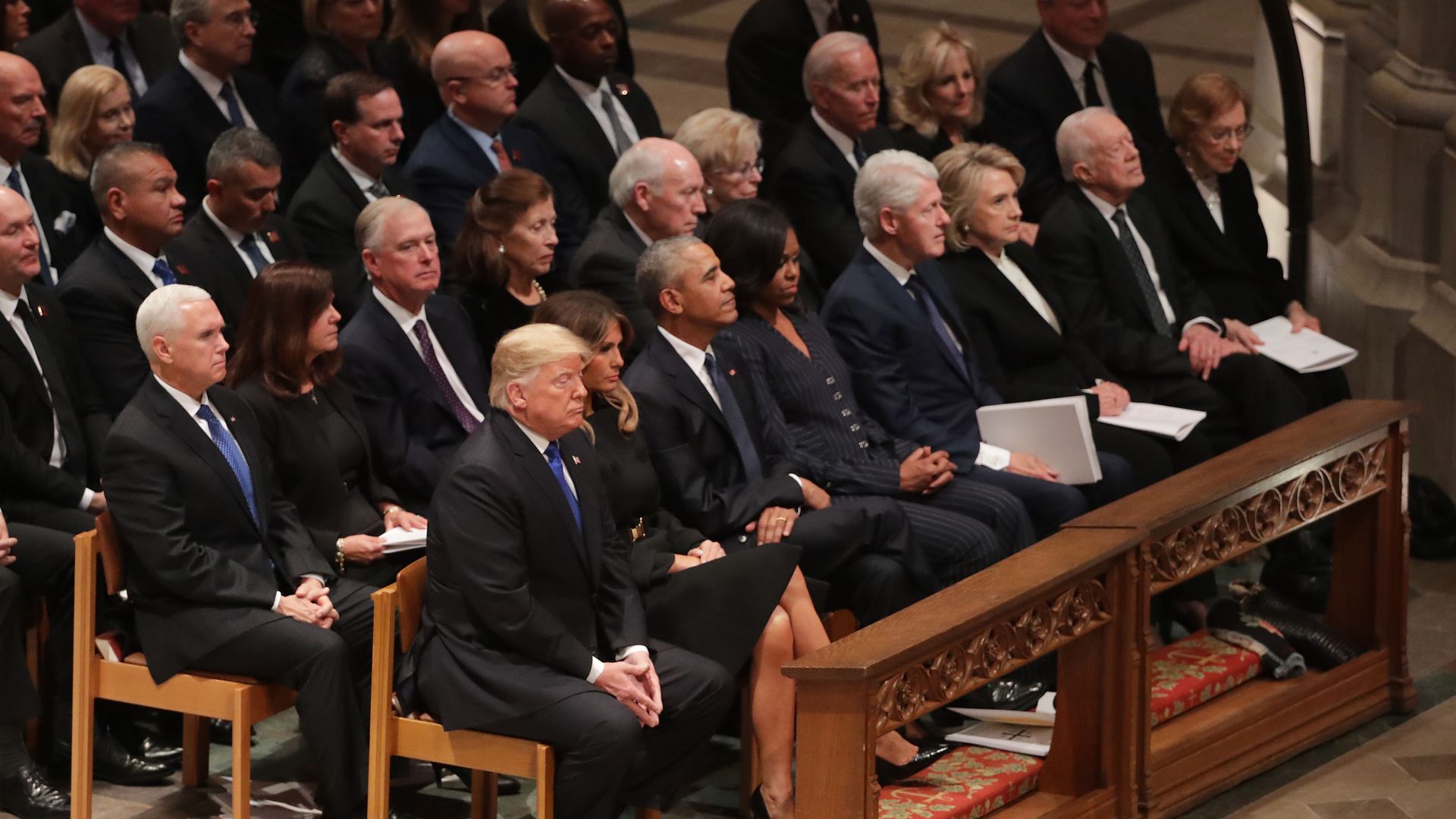 President George H.W. Bush's funeral service is being held now at the National Cathedral in Washington.
His son, former President George W. Bush, said when he spoke to his father for the last time, "I said 'Dad I love you, you've been a wonderful father.' And the last words he would ever say on Earth were, 'I love you too.'"
Details: The late president will be flown to Texas after the service and buried at his presidential library in College Station on Thursday. President Trump designated Wednesday as a National Day of Mourning, shutting down the federal government.
Bush is wearing "socks adorned with planes flying in formation," the Washington Post reports, in recognition of his military service during World War II, during which he was shot down over the western Pacific.
His spokesperson Jim McGrath told the Post that the president will not travel in a horse-drawn wagon like President Ronald Reagan did: "As with his boating, skydiving, golf and just about everything else, speed was his focus for this necessary series of events."
The ceremony is being attended by Trump and first lady Melania and former Presidents Barack Obama, Bill Clinton and Jimmy Carter.
A number of foreign leaders also plan to be present, per CNN, including:
German Chancellor Angela Merkel
Prince Charles of the United Kingdom
Polish President Andrzej Duda
Former Mexican President Carlos Salinas
Jordan's King Abdullah II and Queen Rania
What they're saying
Scheduled speakers include, per the Boston Globe, former President George W. Bush; former Canadian Prime Minister Brian Mulroney; former Sen. Alan Simpson, a longtime friend of the Bush family; and Jon Meacham, historian and author of the biography, "Destiny and Power: The American Odyssey of George Herbert Walker Bush."
Jon Meacham
"The George Herbert Walker Bush who survived that fiery fall into the waters of the Pacific three-quarters of a century ago made our lives and the lives of nations freer, better, warmer and nobler. That was his mission, that was his heartbeat, and if we listen closely enough, we can hear that heartbeat even now. For it's the heartbeat of a lion."
Former Canadian Prime Minister Brian Mulroney
"50 or 100 years from now, as historians review the accomplishments and the context of all those who have served as president, I believe it will be said that in the life of this country ... no occupant of the Oval Office was more courageous, more principled and more honorable than George Herbert Walker Bush."
Former Senator Alan Simpson
"He loved a good joke, the richer the better, and he'd throw his head back and give that great laugh. But he never, ever could remember a punch line. And I mean never. So the punch line for George Herbert Walker bush is this: You would've wanted him on your side. He never lost his sense of humor. … He never hated anyone."
Former President George W. Bush
"We're going to miss you: Your decency, sincerity and kind soul will stay with us forever. ... The best father a son or daughter could have. And in our grief, let us smile knowing that Dad is hugging Robin and holding Mom's hand again."
Go deeper