Congress' wave of women wants to modernize Capitol Hill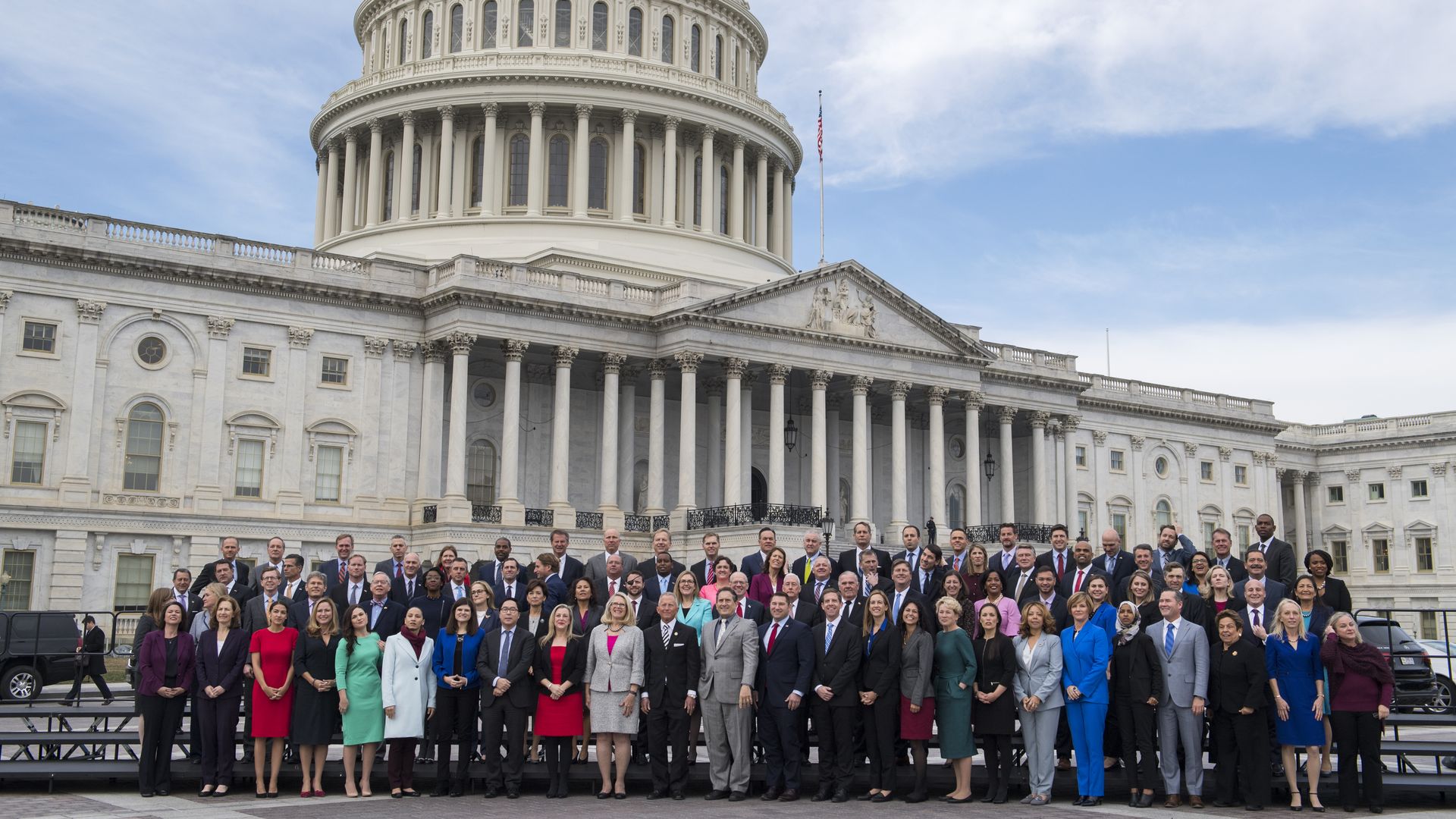 A record number of women will take Capitol Hill by storm in January, and they're pushing Congress to better adapt to its shifting demographics.
The big picture: As Politico's Rachael Bade reports, while some of the desired changes are physical, like additional lactation rooms, women in Congress also want to shape it into a more modern workplace, eyeing a flexible floor schedule for working parents, child care tax credits and anti-harassment legislation.
Flashback: Women lawmakers in the past have already fought for and won lactation and changing rooms in the House, ladies' restrooms that are similarly convenient to the House floor as men's, the ability to bring a newborn on the Senate floor, and the ability to wear sleeveless tops in the House.
Driving the news: The effort is being spearheaded by a fledgling bipartisan caucus called "Moms in the House," spearheaded by Rep. Debbie Wasserman Schultz of Florida, a mom of three, who began reaching out to candidates who were also moms during the buildup to the midterms this year.
"Its main purpose will be to serve as a network and a sisterhood that will allow moms in Congress to be able to make sure we have the ability to support one another," Wasserman Schultz said.
What to watch:
Child care: One incoming lawmaker, Katie Porter, told Axios she's found encouragement from the "Moms of the House" group as she anticipates the high cost of child care as a single mom in Congress. She is eyeing the current child care tax credit cap of $2,000 per child to better "reflect the reality" of high child care costs in the U.S., adding that she expects to have to dole out about $1,500 per month for each of her three children for just daytime care. Congress should look at "some kind of fund or stipend…that could help defray costs" of child care, Wasserman Schultz told Axios.
An orientation for lawmakers' children on what to expect from their parent's position as a lawmaker, comparable to the session for spouses, is under discussion.
A bipartisan summer camp for lawmakers' and staffers' children which operated when Democrats were in majority may make a comeback, Wasserman Schultz said.
Flexible work weeks: A limit on late-night votes has been announced by House Democratic leadership to allow members to spend more time with their families. Some women are also discussing whether they can clinch a 4-day work week.
Religious headwear: Presumptive Speaker Nancy Pelosi is working with the House Rules Committee to allow religious headwear on the House Floor, which could accommodate the hijab of Rep.-elect Ilhan Omar, one the first Muslim women to be elected to Congress.
Pelosi hopes legislation that fights sexual harassment on the Hill could pass by the end of the year, per her office.
Go deeper:
Go deeper