A win for diplomacy at the G20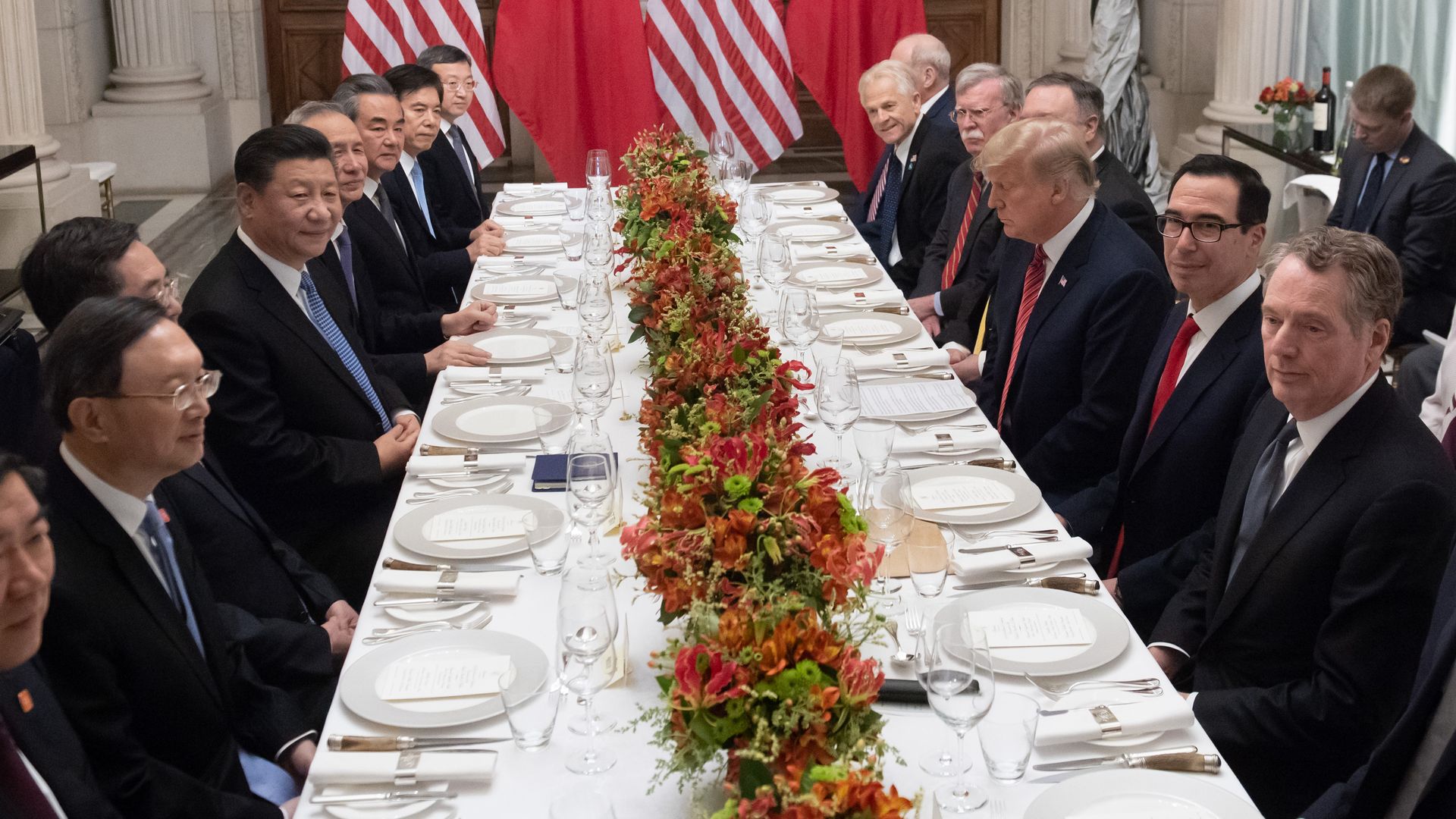 The G20 summit in Buenos Aires exceeded all expectations. No one thought Donald Trump had prepared for his dinner with Chinese President Xi Jinping, but somehow an agreement was hashed out that calls a 90-day truce to the trade war between the two countries. The planned tariff hike on Chinese goods from 10% to 25% will no longer happen on Jan. 1 as scheduled. Instead, a more normal set of trade negotiations will commence.
Why it matters: Score one for the globalists: This is a win for NEC Director Larry Kudlow and Treasury Secretary Steven Mnuchin; it's a loss for White House trade hawk Peter Navarro. But "90 days is a short time," says Axios' Jonathan Swan. "Trump has hedged and could easily reverse."
Background: The G20 was created in 1999 by Sheryl Sandberg's then-boss Larry Summers. It expanded the G7 democracies to include countries like Russia, China, Indonesia and Saudi Arabia. Rich, yes, but also places where it is far from self-evident that all men are created equal.
Agreeing on the final communiqué wasn't easy. The G20 is no bastion of liberalism, as is evidenced by the viral video of Vladimir Putin gleefully high-fiving the crown prince of Saudi Arabia. Still the G20 ended up commending "an agenda that is people-centred, inclusive and forward-looking." Among other pieties in the official statement from the likes of China and Saudi Arabia:
"Gender equality is crucial for economic growth and fair and sustainable development."
"We remain committed to prevent and fight corruption and lead by example."
The bottom line: The purpose of creating the G20 was to bring the world's biggest powers together, and this year's installment has shown how effective that can be. Liberal values might be under threat, but at least everyone in Argentina continued to pay lip service to those values — and to cooperate where they could.
Go deeper:
Go deeper