Mexico's AMLO poised to reshape government as he assumes presidency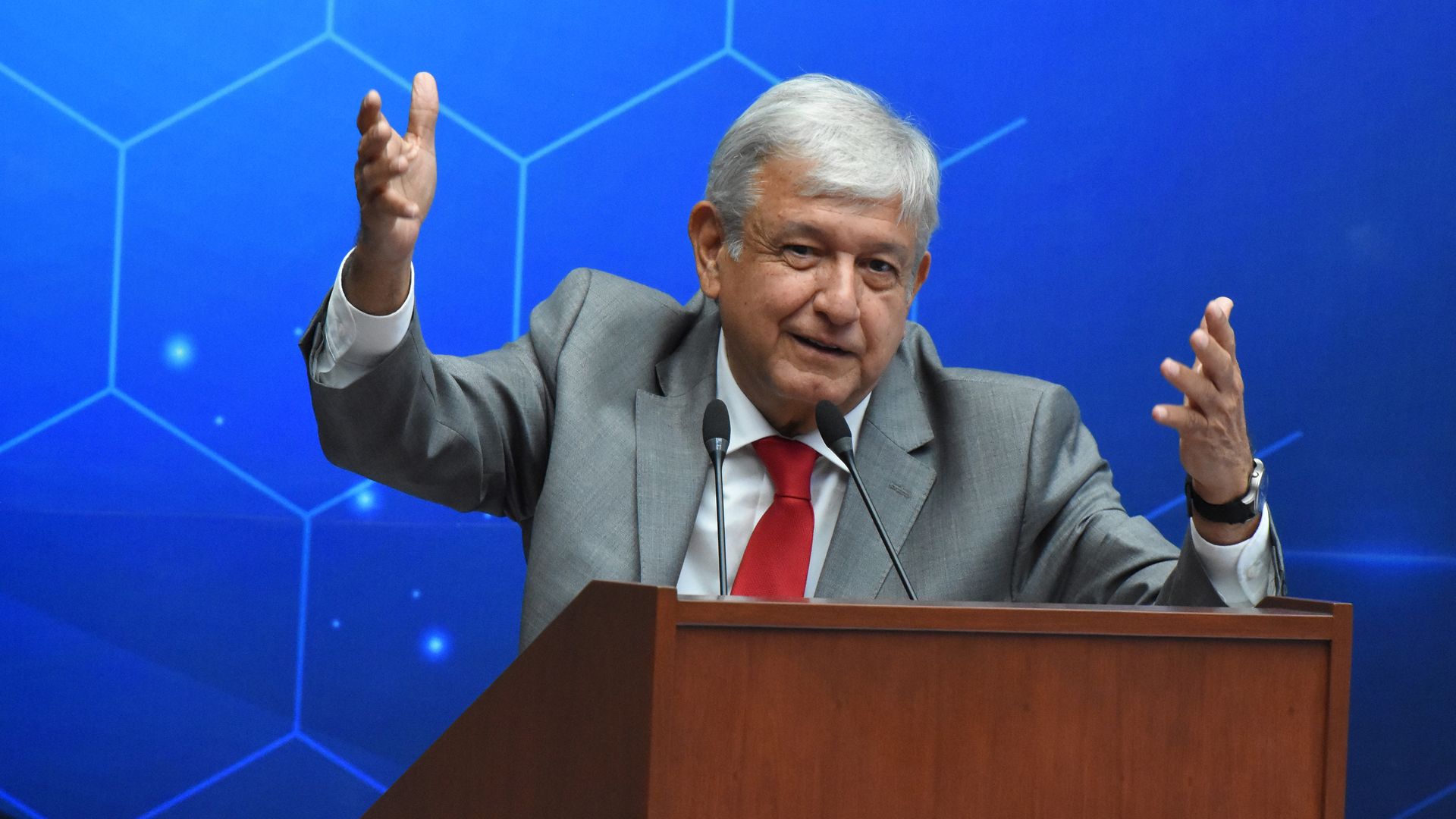 Andrés Manuel López Obrador, the leftist former mayor of Mexico City known popularly as AMLO, was inaugurated today for a six-year term as president of Mexico.
Why it matters: The U.S. will face an abrupt change of governing style in Mexico, its third-largest trading partner and the southern neighbor with whom it's confronting an ongoing flow of Central American migrants and asylum seekers.
Background: The presidency has been a long-sought goal for AMLO, who came within 300,000 votes of winning in 2006 and competed again in 2012, placing second to outgoing President Enrique Peña Nieto.
His July 2018 victory was resounding. He won 53% of the vote, more than twice his closest competitor, and became the first Mexican president to win an outright majority since Mexico's full transition to democracy in 2000.
AMLO's political party, the National Regeneration Movement, and its allies now control 70 of 128 seats in the Senate and more than 300 of 500 seats in the Chamber of Deputies — majorities that will grant him ample leeway to pursue his agenda.
What to watch: AMLO ran on an anti-corruption platform and has promised a "fourth transformation" of Mexico through ambitious reforms, infrastructure projects and a raise in the minimum wage.
He has vowed to consult frequently with the public via referendums and to shake up government by trimming top positions, reducing salaries and benefits (including pensions for former presidents) and keeping a watchful eye on the public purse.
A longtime critic of NAFTA, López Obrador has expressed support for the newly signed United States–Mexico–Canada Agreement (USMCA).
What they're saying: Despite relief in the Mexican business community that AMLO will not reject the USMCA, other moves have spooked investors and sent the stock market to its lowest levels since 2014.
Concerns that he may revisit energy reforms (and contracts signed by foreign companies) have prompted uncertainty amid a sliding currency, now trading at more than 20 pesos to the dollar.
In October, before taking office, AMLO successfilly organized a referendum rejecting a new Mexico City airport that was already 30% completed, a signal that he will not hesitate to overturn decisions by the prior administration.
Apart from economic and anti-corruption reforms, curbing insecurity and violence will be key to López Obrador's success. To advance those goals, he plans to create a new "National Guard" to fight crime and focus more on development and youth engagement.
Daniel P. Erikson is managing director at Blue Star Strategies and a senior fellow at the Penn Biden Center for Diplomacy and Global Engagement.
Go deeper