Trump-Xi dinner puts billions of dollars on the table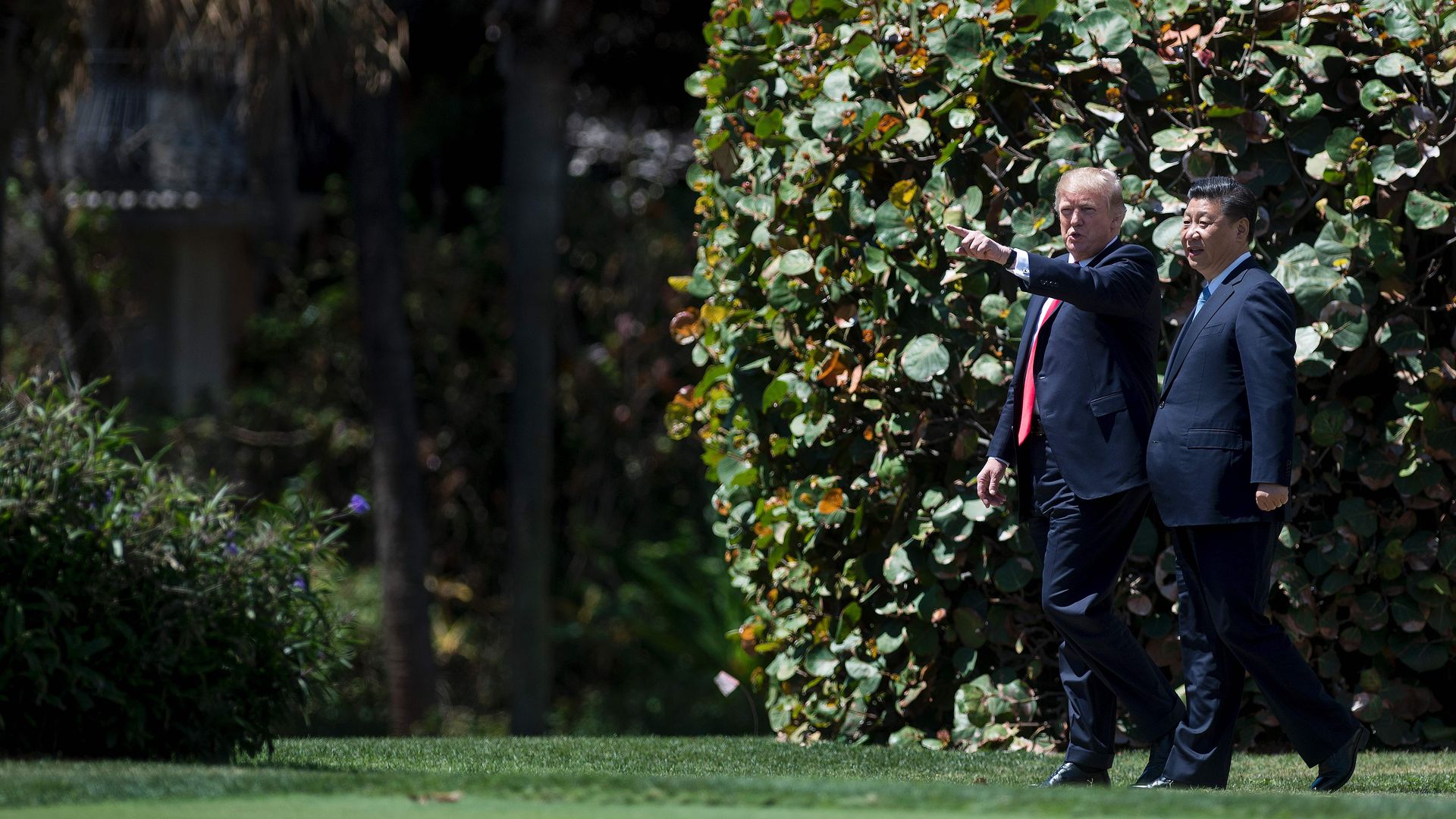 If President Trump's dinner with Chinese President Xi Jinping on Saturday at the G20 summit is make-or-break, Trump is giving every indication he's prepared for, or even prefers, the latter option.
Between the lines: Trump told reporters before taking off for Argentina that while China is interested in striking a deal, "I don't know if I want to do it" because "I like the deal we have now." He says he's already planning to raise existing tariffs from 10% to 25% on Jan. 1 — and impose a huge swathe of new ones if the meeting doesn't go well. Absent a breakthrough, this trade war is about to get brutal.
On the one hand: This is the best chance for a reset in months. The stage has been set by weeks of behind-the-scenes talks, and fears over slumping markets offer plenty of incentive.
On the other hand: As Axios' Jonathan Swan reports, Trump believes to his core that tariffs work and isn't anxious to change course. Meanwhile, according to Axios contributor Bill Bishop, the Chinese still "don't seem to understand that the tactics that worked in the past in D.C. no longer do."
If they don't reach a truce in Argentina, David Dollar of Brookings says it's "really hard to see an exit ramp, a real opportunity to get off of that trade war situation over the next couple of months."
Politico's Ben White writes, Trump's trade war is "slamming parts of the American economy, especially in Midwestern and farm belt states that helped propel him to the White House."
"Soybean crops are rotting in fields with China's market now closed. Dairy farmers hit by retaliatory charges are selling family businesses. And blue-chip American companies from Whirlpool to Caterpillar and Stanley Black & Decker Inc. have cited higher prices generated by Trump's tariffs."
What a deal looks like …
Bob Davis and Lingling Wei report in the Wall Street Journal that the sides have discussed potential "partial agreements," like those reached with the EU and Japan to stave off auto tariffs. It's unclear if Trump is prepared to sign such a deal. 
Ely Ratner argues in Foreign Affairs that "any agreement in Argentina will be a tactical pause at best, providing short-term relief to jittery stock markets and beleaguered U.S. farmers, but having no material or long-lasting effect on the slide toward a high-stakes geopolitical competition between the United States and China."
His grim conclusion is that "The days when the world's two largest economies could meet each other halfway have gone. … On most issues of consequence, there is simply no overlap between Xi's vision for China's rise and what the United States considers an acceptable future for Asia and the world beyond."
Go deeper: A great read from Davis and Wei on how we got here
Go deeper