Trump's move toward Atlantic drilling could hurt marine mammals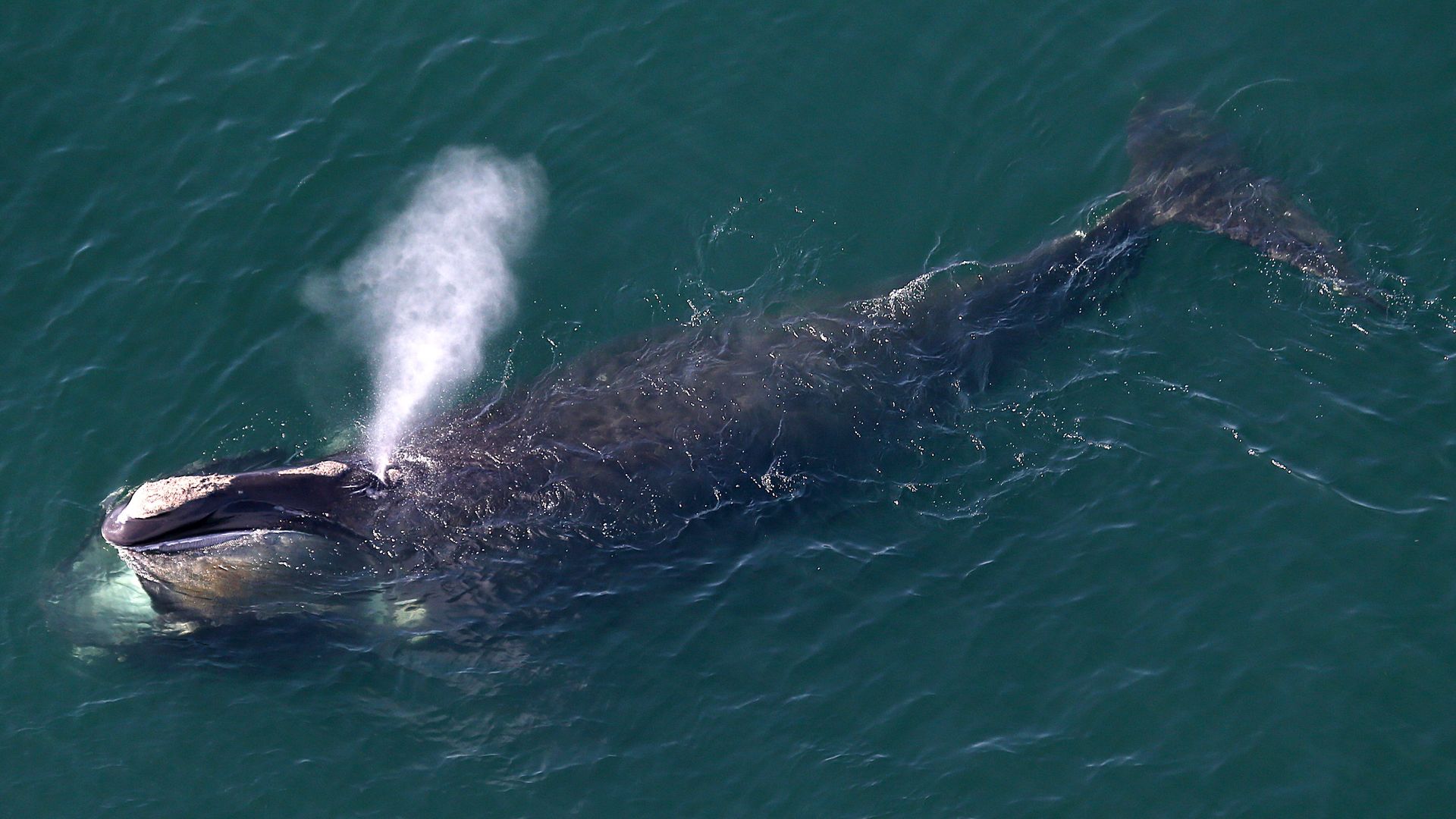 The Trump administration is set to allow companies to conduct seismic tests for oil-and-gas resources in the Atlantic Ocean — a process that uses powerful air-gun blasts that could harm whales, dolphins and other marine life.
Why it matters: The surveys will help gauge the size of hydrocarbon resources off coastal areas that are now off-limits to drilling, but would become available under draft federal offshore leasing plans. However, environmental groups say the tests could harm or even lead to the death of sensitive ocean mammals. The Obama administration had thwarted similar industry requests.
Where it stands: The National Oceanic and Atmospheric Administration (NOAA) on Friday announced approvals for five companies to "incidentally harass" marine mammals in a region that spans from Delaware to Cape Canaveral, Florida.
The companies are ION GeoVentures, Spectrum Geo Inc., GGG, WesternGeco (which is part of oilfield services giant Schlumberger), and TGS-NOPEC Geophysical Company.
They still need separate Interior Department permits to undertake the testing. But Friday's move likely signals plans by the administration — which supports expanding regions made available for fossil fuel development — to let the tests proceed.
What they're saying: Multiple environmental groups bashed the move Friday.
"President Trump is essentially giving these companies permission to harass, harm and possibly even kill marine life, including the critically endangered North Atlantic right whale — all in the pursuit of dirty and dangerous offshore oil."
— Diane Hoskins of the group Oceana in a statement
Yes, but: NOAA officials, in their approval and comments to reporters, said the "incidental harassment authorizations" contain a suite of provisions aimed at protecting marine life.
"While NMFS does not take lightly the potential effects of surveys on marine mammal populations, these surveys, with the robust suite of required mitigation and monitoring, are expected to have a negligible impact on the affected species and stocks," states the decision from NOAA's National Marine Fisheries Service.
Details: One example is a requirement that activities cease if a North Atlantic right whale is spotted within 1.5 kilometers of the testing. These whales are listed under the Endangered Species Act, and NOAA estimates there are only about 430 of them left in the wild. They transit areas off the East Coast, where the seismic blasting is set to take place.
Studies have shown that military sonar and other loud underwater noises can disrupt marine mammals' feeding and other behavior, possibly leading to mass strandings.
The big picture: While the seismic testing is likely moving ahead, oil and gas drilling and production is not allowed off the Atlantic Coast. However, there's industry interest in sizing up the amount of hydrocarbons in the region.
In January, the Interior Department issued a draft plan than envisions leasing offshore drilling blocs off the Atlantic Coast beginning in 2020.
Still, it's not clear to what extent energy companies will pursue drilling there, thanks to large acreage already available Gulf of Mexico, the onshore shale boom, and other opportunities.
Go deeper