Exclusive: Juul employees upset over possible Altria deal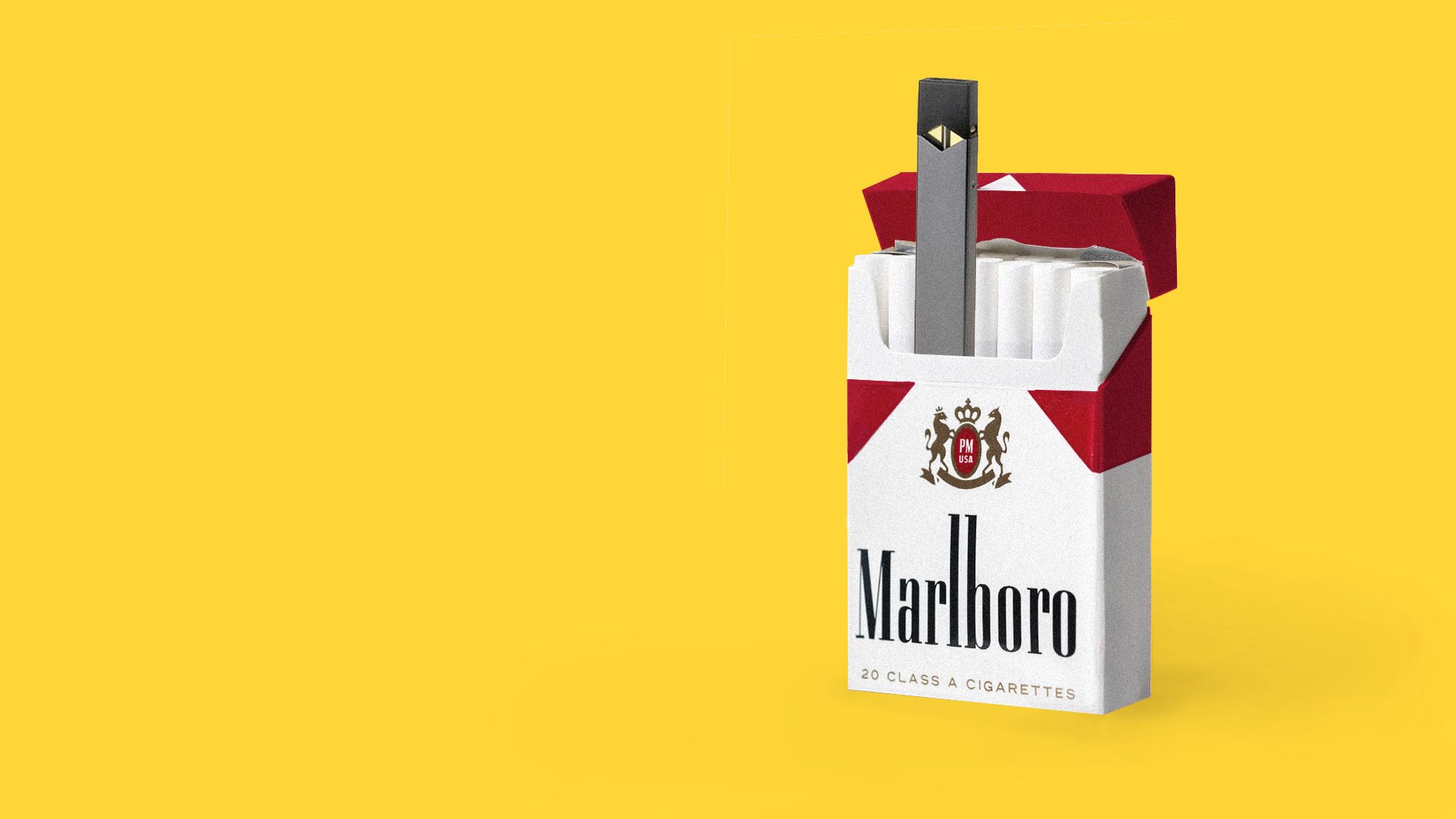 Vaping giant Juul is facing employee resistance to a proposed investment by Altria Group, the maker of Marlboro cigarettes, according to internal messages obtained by Axios.
Why it matters: The deal could value Juul at around $30 billion, and be a big first step toward cigarette sector consolidation.
Details: Axios has learned that Altria first approached Juul near the beginning of 2018, offering to invest in the company or even buy it outright for around $5 billion.
Juul rebuffed the initial interest, but Altria remained persistent, regularly coming back with higher price points.
In July, Juul raised $1.2 billion at a valuation of around $15 billion, in a round led by Fidelity Investments. Axios reported that revenue had jumped from $60 million in 2016 to $245 million in 2017, with expectations of getting close to $1 billion this year.
In September, the Food and Drug Administration said it was considering new regulations on the sale of e-cigarettes, due to their use by teenagers. Juul at the time was quietly in talks to raise a new funding round at a valuation of at least $20 billion — most likely from hedge funds and similar types of investors — but put those discussions on hold until the FDA situation was resolved.
The FDA earlier this month banned most retail sales of "flavored" e-cigarette pods, including Juul's most popular product (mango), and also required increased online age verification.
Discussions with Altria remain fluid, and may not result in a transaction. The $30 billion valuation is said to be a "ballpark" figure.
Juul might have appeared to be less valuable after the FDA rules, but a source says that the FDA's action created less regulatory risk going forward without affecting basic product design or margins. Thus the price premium being discussed with Altria.
The opposition: Many Juul employees were surprised to learn about the talks with Altria, which was first reported on Wednesday by The Wall Street Journal, according to screenshots of internal Slack messages that were obtained by Axios.
Some employees initially doubted the veracity of the news reports, with one suggesting it was a phony leak concocted by Altria to boost its stock price.
Among those who believed the reports, concerns mostly revolved about how Juul would be making a "deal with the devil." It would be antithetical to Juul's mission of helping smokers quit combustible cigarettes, they argued, thus making it more difficult to retain existing employees and recruit new ones.
Juul CEO Kevin Burns sent a company-wide email Wednesday confirming "significant interest" from prospective investors, but declining to comment on what he referred to as media "speculation" over Altria.
A Juul spokesman declined comment.
Go deeper