Jeff Flake frustrates Senate GOP by hindering Trump's judicial nominees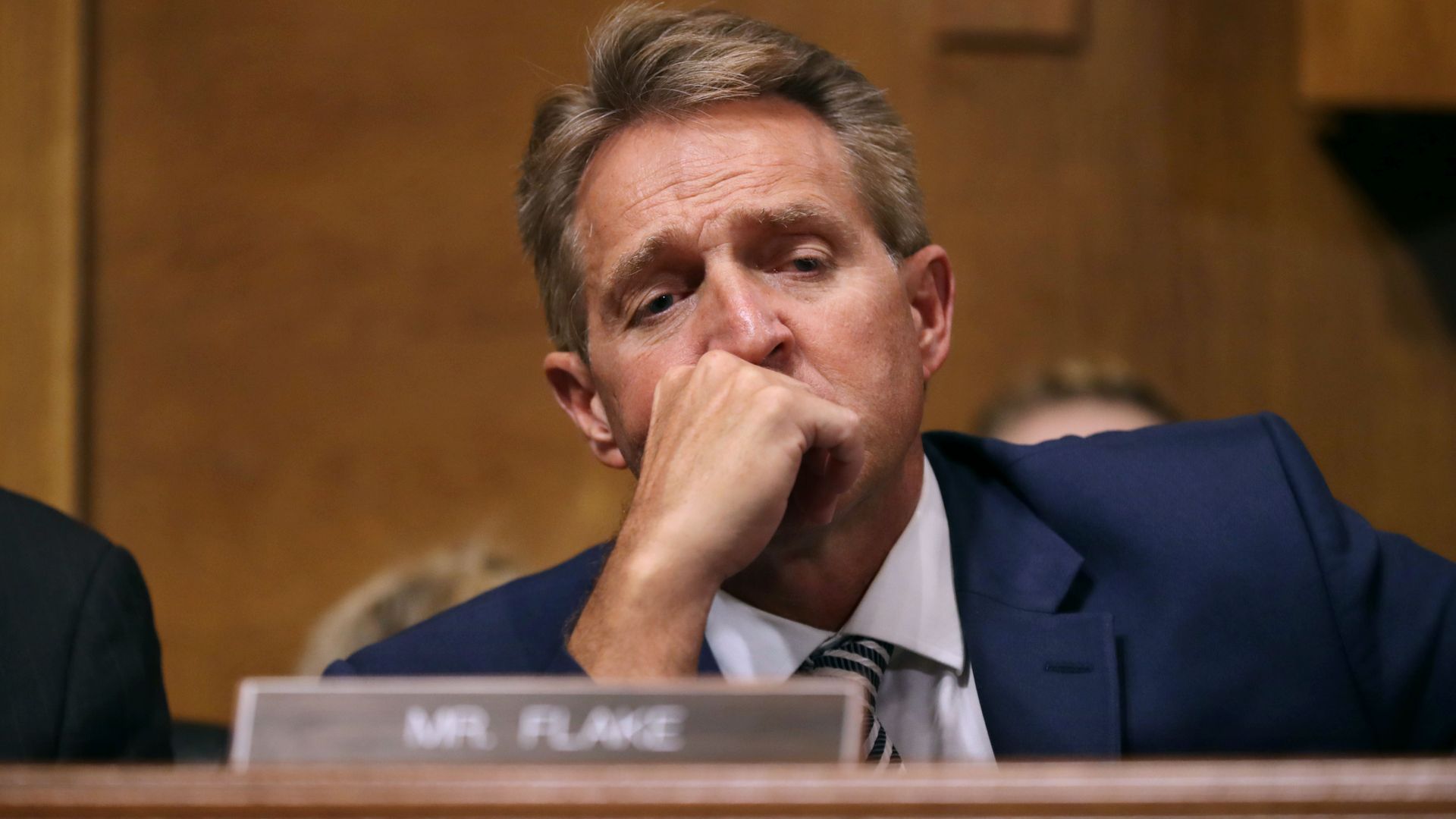 Jeff Flake is ending his Senate tenure with a bang, potentially stymieing a number of President Trump's judicial nominees until the next Congress convenes by withholding his support unless a vote is held on a measure designed to protect special counsel Robert Mueller.
The big picture: The Arizona senator, retiring at the end of this year, has not been quiet about his contempt for Trump or the Republican Party's continued support of him — even saying on the Senate floor earlier this year that the GOP "might not deserve to lead."
What's happening
Flake — along with Democratic Sens. Chris Coons and Cory Booker — are vocally in favor of a vote on legislation to protect Mueller's investigation, per USA Today.
The legislation first surfaced in April, when Senate Judiciary Chair Chuck Grassley said his committee would move forward with it despite Majority Leader Mitch McConnell saying he wouldn't bring it to the floor.
McConnell maintains that the legislation is unnecessary: "This is a solution in search of a problem. The president is not going to fire Robert Mueller."
The Judiciary Committee cancelled a hearing on almost two dozen nominees earlier this week because of Flake's refusal to confirm.
What they're saying
Flake's Republican colleagues have not been shy with their criticism, per Politico:
Sen. Orrin Hatch: "I don't think that was a smart move. It's starting to irritate people. ... He's a good guy. But I think he's carrying it a little bit far."
Sen. Ted Cruz: "It is not productive. One of the greatest substantive victories that we have delivered for the American people the last two years is nominating and confirming strong constitutionalist judges. For a Republican senator to be blocking that is frustrating the promises we made to the voters."
Sen. Thom Tillis: "[Y]ou can't not be frustrated when you see nominees that were voted out of committee with Senator Flake's support now being held up. ... I just don't see any path to success."
Sen. Lindsey Graham: "That's the road he's going down. He's using his leverage. ... I wouldn't do [what Flake's doing]. But in the Senate you've got to use your leverage to get the things you think are important. Rand Paul does this all the time."
Sen. Chuck Grassley: "I have not had any conversation with Flake, because I respect senators' right to do what they think is necessary. If we had a conversation, I would tell him I'd prefer him not to do it."
And the Wall Street Journal editorial board wrote: "Mr. Flake's stunt will have zero effect on President Trump or Mr. Mueller, and he's compromising a substantive principle to make a futile political gesture. ... Mr. Flake's self-indulgence is another example of how hostility to Mr. Trump has caused so many people to lose their own political bearings."
Go deeper
Go deeper