At L.A. auto show, carmakers are pushing their tech, not their cars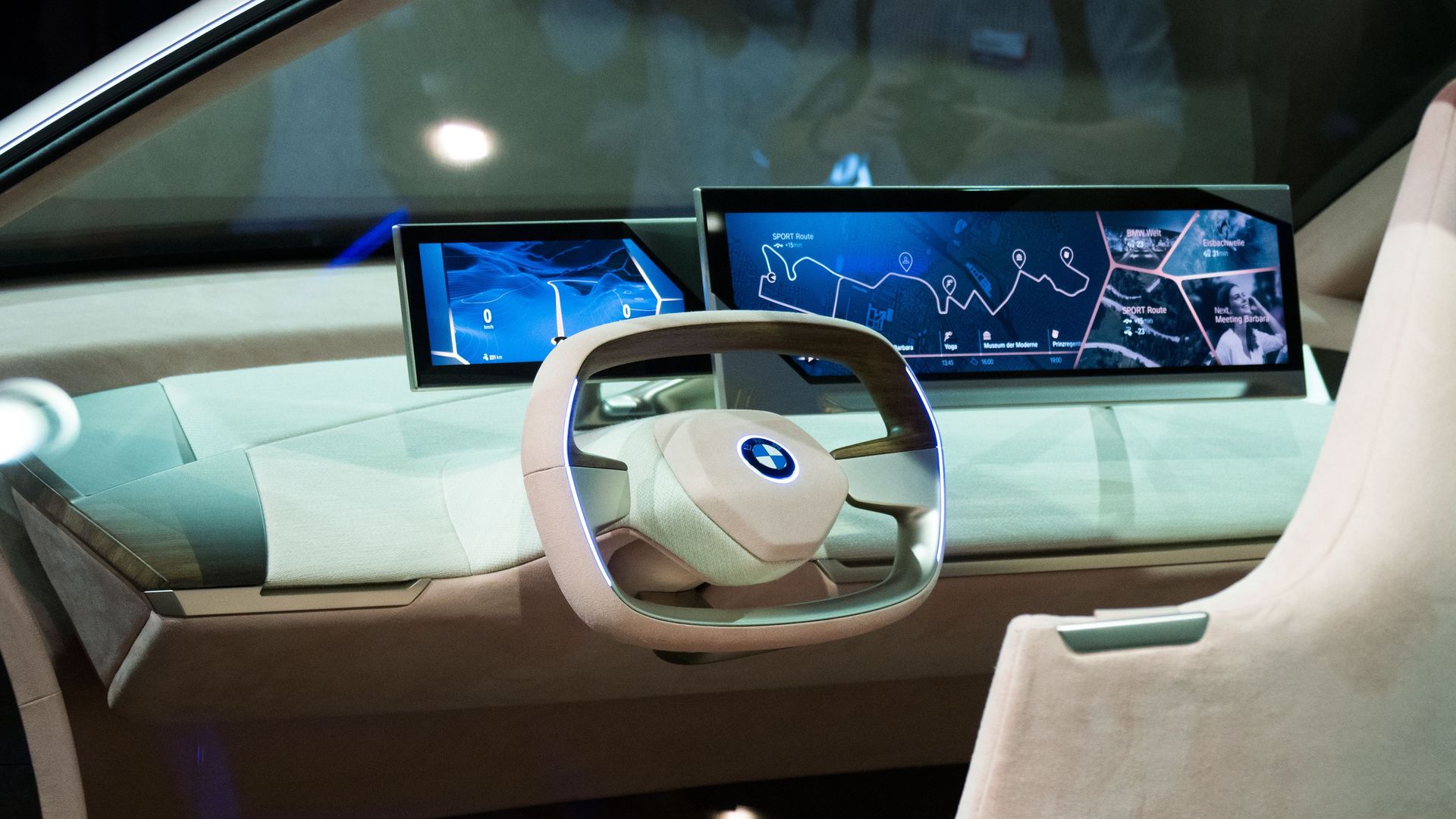 There were fewer cars and more tech on display at this week's preview of the Los Angeles auto show — a sign that automakers are shifting their strategy to shared but personalized autonomous transportation.
Why it matters: The auto industry is moving away from gasoline, steering wheels and personal ownership as cities get more crowded and polluted and people look to avoid the hassles of owning a car. The transition is going to be rocky for many traditional auto manufacturers, as we've seen at GM this week, but the consensus in L.A. is that personal mobility is approaching a tipping point.
"This is not a car" was spelled out in a rotating wooden sculpture at the center of Volvo Cars' exhibit, where normally a featured model would be highlighted. The Swedish manufacturer didn't have a single car on display.
Instead, the exhibit was packed with technology showing what it will be like when we subscribe to, rather than buy, cars and yet still make them our own.
"If somebody asks us three years in the future what our mission is we will not answer 'to develop and build and sell cars.' It is to provide the freedom to move in a personal, safe and sustainable way."
— Hakan Samuelsson, CEO, Volvo Cars
The details: Volvo highlighted an advance in lidar sensors by its technology partner, Luminar, that it says will dramatically improve AV perception.
Lidar, which uses pulsed laser signals to detect objects, is considered a critical technology for self-driving cars (except at Tesla, which relies more heavily on cameras).
But the resolution is poor, especially at long distances (that's why radar and cameras are also needed).
Luminar's new high-res system can for the first time detect human motion — and, analyzing their pose, perceive a person's intentions — up to 250 meters away, 10 times further than currently available lidar systems.
What we're seeing in L.A.: Others companies are also selling connected and autonomous mobility, not cars.
BMW unveiled its new iNext concept, a version of an electric, autonomous, connected crossover that is slated to go into production starting in 2021. Car and Driver says it is "autonomous and frighteningly intelligent".
Byton, with headquarters in China and Silicon Valley, showed its K-byte sedan concept — a high-tech living room on wheels with Level 4 (eyes off, hands off, brain off) autonomy and an entertainment screen that stretches across the dashboard.
K-Byte will be available globally in 2021.
"Our business model is not selling cars. This is a platform for selling digital content. And eventually we will sell mobility miles."
— Byton CEO Carsten Breitfeld, a former BMW exec
Yes, but: There were still some traditional cars and trucks — it is an auto show, after all, and dealers need to to stock their showrooms with shiny sheet metal.
None got mainstream automotive journalists more excited than the Jeep Gladiator pickup, a derivative of the iconic rock-crawling Jeep Wrangler that literally climbed the stairs to make its way onto the stage.
Go deeper:
Go deeper