2. White House threatens veto as Yemen resolution gains momentum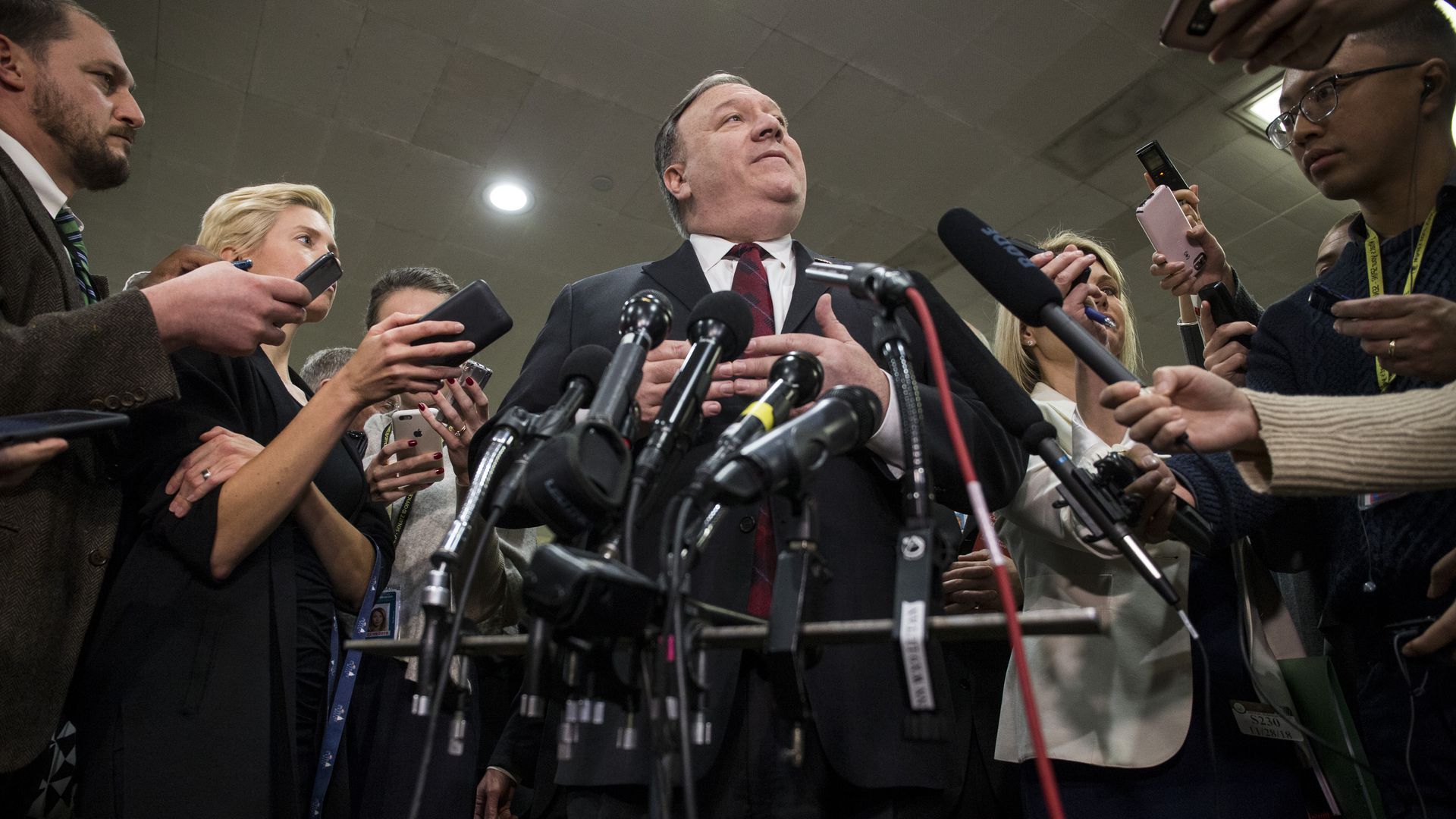 The White House has threatened to veto a joint resolution, up for a procedural vote in the Senate today, which would pull U.S. support from the Saudi-led coalition in the war in Yemen.
Why it matters: Opposition began gathering steam after Washington Post journalist Jamal Khashoggi was killed, particularly as reports emerged alleging that Crown Prince Mohammed bin Salman (MBS) was responsible. Earlier today, several senators left a briefing on the murder from Secretaries James Mattis and Mike Pompeo unsatisfied, and fuming that CIA Director Gina Haspel didn't testify. The resolution failed earlier this year, but now appears to have a better chance of success, at least in the Senate.
The resolution is backed by Senators Bernie Sanders and Mike Lee, and needs a simple majority today to move ahead. It would face an uphill battle in the House, and then a presidential veto.
What they're saying
Signs of movement...
Sen. Chris Coons, who voted against the resolution in March: "I left the briefing unsatisfied. ... I am going to change my vote and vote for the Sanders resolution. I think it's time for us to send a clear and strong signal to our close ally Saudi Arabia that actions that violate our core values...have consequences."
Sen. Bob Menendez, who also voted against the resolution earlier this year: "Not having Gina Haspel, the CIA director, at this briefing is a coverup to a critical question that members of the senate have...and a critical element of U.S.-Saudi relationships. ... I heard nothing convincing as it relates to why we should not proceed with the Sanders-Lee, and others, resolution."
Sen. Bob Corker: "Like most in the room was disappointed that Gina Haspel was not there...I may now be willing to get on the Lee-Sanders vehicle knowing it can be amended to figure out some way for us to send the appropriate message to Saudi Arabia." Sen. Murphy tweeted later on Wednesday that Corker announced he will vote in support of moving the resolution forward.
Sen. Lindsey Graham: The briefing "was inadequate because the CIA was not there. ... I'm not going to be denied the ability to be briefing by the CIA...and if the briefing reinforces the conclusion that I already tentatively have formed then there will be no more business as usual with Saudi Arabia."
Voices of support...
Sen. Bernie Sanders: "The question is, who is the world's leading military power? And the last I heard it was not a two-bit Saudi dictatorship, it was the United States of America. We have to make the decision as to what happens in the war in Yemen and our role in that."
Sen. Mike Lee: "I didn't hear anything in that briefing that changed my mind with regard to our constitutional authority to decide whether or not we go to war. ... [I]t makes me even more convinced that this is an appropriate exercise of that power."
Sen. Jeff Flake: "I went in prepared to vote for the Sanders-Lee Resolution and I remain convinced I'll do so. ... I wish she [Gina Haspel] would have been there. A lot of us were frustrated that she wasn't."
Sen. Dick Durbin: "The most persuasive presence in this briefing was the empty chair, the chair that should have been occupied by Gina Haspel. ... As far as I'm concerned, even allies of the United States need to be held to standards of values and principles that we in the United States embrace."
Sen. Tim Kaine: "It was unacceptable that they would not allow Gina Haspel to come, it was a clear effort interpreted by the senators to be an effort to not give us full information about the Khashoggi situation. ... It's very important I believe that we support this resolution and make clear finally that we will no longer be involved in this humanitarian disaster."
Sen. Chris Murphy: "I don't think the Republican administration won any votes in this briefing."
The White House's statement:
Go deeper