Russia's attack on Ukraine was an attack on the international order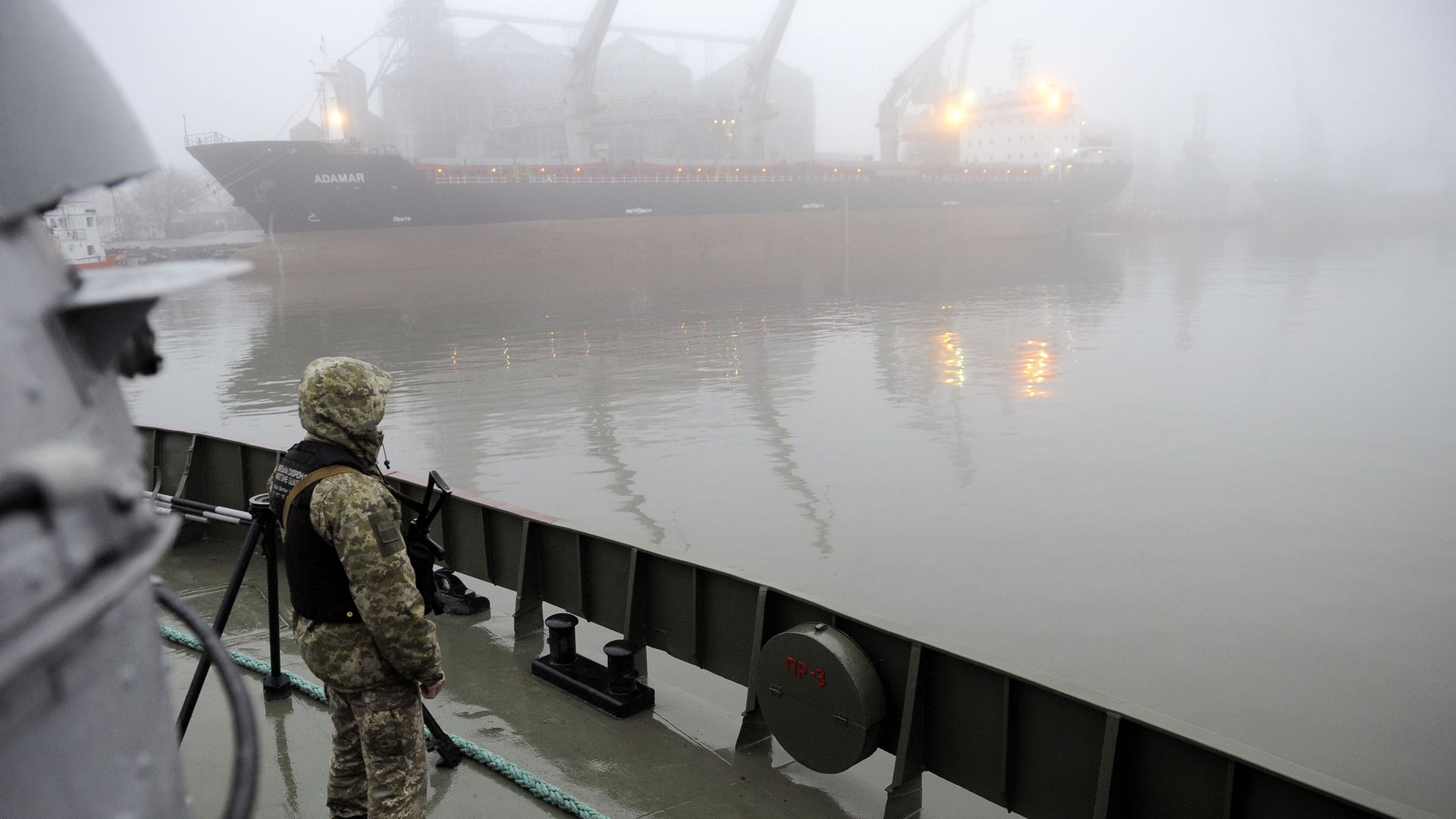 Russia's deliberate Sunday attack on two Ukrainian patrol boats and a tugboat, which violated a 14-year-old treaty that gave both states use of the inland sea, continues Moscow's policy of "nibble warfare." For nearly a decade, Vladimir Putin has used political intimidation, cyber warfare and fictitious claims of protecting ethnic Russians in neighboring states to advance his revanchist goals while skirting the threshold for international retaliation.
Why it matters: The attack is a reminder of Putin's ongoing intimidation of NATO member states on the Black Sea, and of Moscow's potential to heat up the "frozen" conflict over Transnistria, a thin slice of land that separated from Moldova after the USSR's dissolution. If Russia gets away with breaking its treaty with Ukraine and violating a neighboring state's territorial waters, China may also learn that more aggressive tactics in disputes with its South China Sea neighbors would carry little to no risk.
Background: The Kerch Strait — which separates the Black Sea from the Sea of Azov, where both Russia and Ukraine have coasts — was listed as shared territorial waters in the 2004 Russia–Ukraine treaty, allowing freedom of navigation for both states in the inland sea. After inaugurating a bridge over the Kerch Strait this past spring, Russia started harassing merchant ships bound for Ukraine's ports on the Sea of Azov. 
In addition to its implications for Ukrainian sovereignty, Sunday's attack is especially meaningful for China's illegal expansion efforts. The Kerch Strait bridge and the interruption of Ukrainian merchant ships have their equivalent in the South China Sea, where China has built and armed islands and continues to provoke incidents with other nations in an attempt to establish sovereignty claims over virtually the entire sea.     
The bottom line: A bipartisan commission that the U.S. Congress directed to review the Defense Department's 2018 National Defense Strategy reported last week that "Russia and China are challenging the U.S., its allies and its partners on a far greater scale than has any adversary since the Cold War's end." Sunday's incident could hardly underscore the commission's report more powerfully, nor bear a stronger resemblance to China's actions in the South China Sea.
Seth Cropsey is the director of the Hudson Institute's Center for American Seapower.
Go deeper