Russia opens new front in Ukraine conflict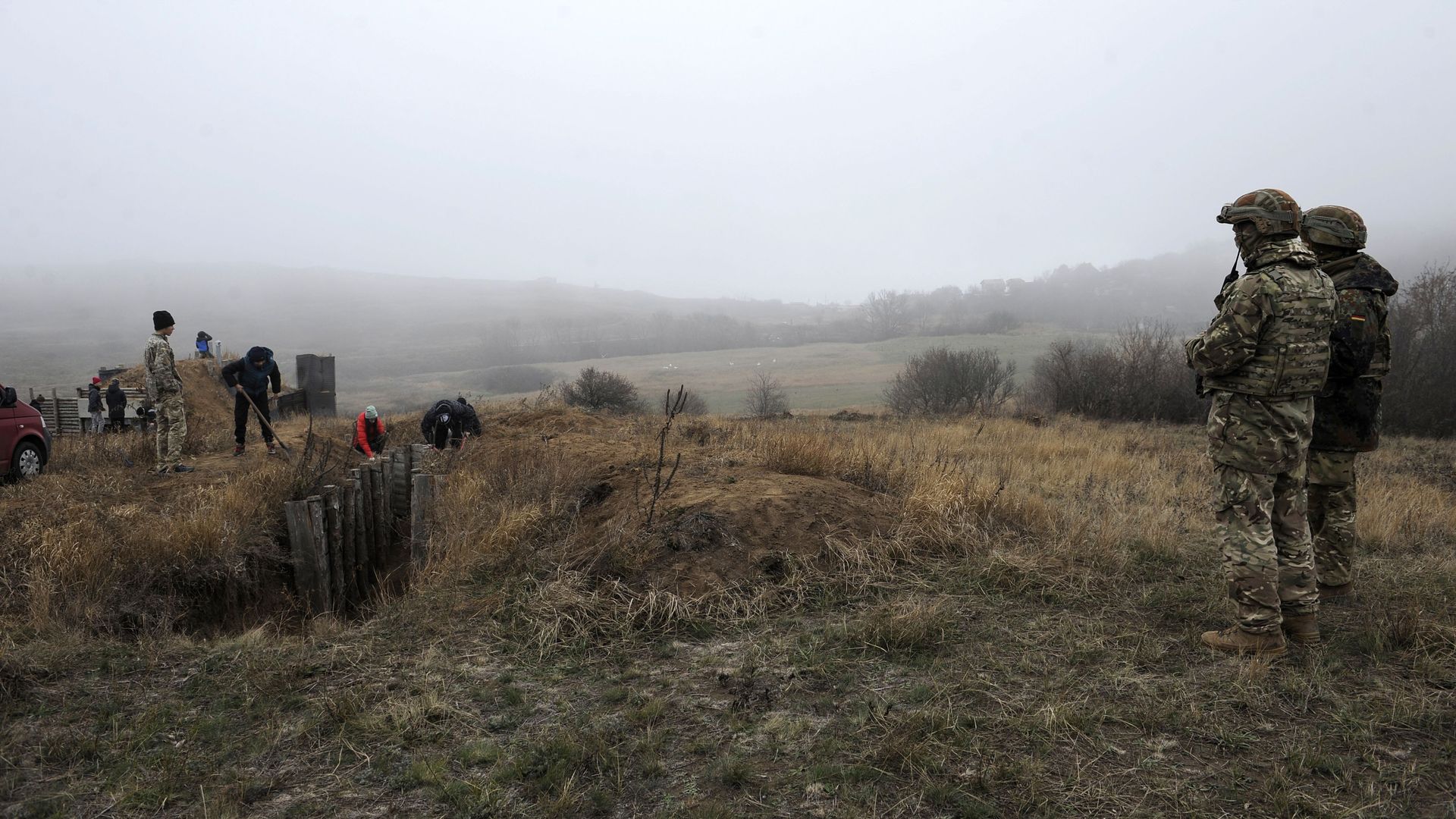 Much of Ukraine is now under martial law a day after Russia intercepted, fired on and seized three Ukrainian naval vessels off of Crimea, wounding at least six sailors in the process.
Why it matters: "This is a new, more dangerous form of aggression," says John Herbst, a former U.S. ambassador to Ukraine now at the Atlantic Council. "In the light of day, Moscow demonstrated that it will attack Ukraine with its conventional forces." Absent U.S. and European pushback that turns "a Kremlin tactical victory into a strategic defeat," he says, further aggression is likely.
The big picture: Alina Polyakova of Brookings writes for Axios Expert Voices that "Moscow has been harassing commercial ships bound for Ukraine's ports in the Sea of Azov for months." The attack on naval vessels now "opens a new front in Russia's four-year aggression against Ukraine, which includes the ongoing land war in Ukraine's east and the occupation of Crimea," she writes.
How it happened...
Ukraine's navy says it alerted Russia's coast guard that a tugboat escorting two small warships bound for the Sea of Azov was en route to the Kerch Strait, but didn't receive a response. As the tug approached the strait, a Russian vessel slammed into it.
"They were clearly trying to provoke Ukraine into firing," and seeking a justification to engage the Ukrainian navy militarily, Herbst says. That didn't happen. Now he says, "they're trying to get away with it without any international reaction."
The Trump administration was all but silent on Sunday's attack until outgoing UN Ambassador Nikki Haley denounced Russia's "outlaw act" this morning at an emergency Security Council session.
Asked about the situation hours later, President Trump seemed to suggest there was blame on both sides, saying "we do not like what's happening either way."
Secretary of State Pompeo, shortly thereafter, issued a lengthy statement condemning Russia's "dangerous escalation."
Meanwhile, Ukrainian President Petro Poroshenko sought and received parliamentary support for a declaration of martial law, to last 30 days and affect areas bordering Russia.
The declaration comes ahead of Ukrainian presidential elections, scheduled for March, which observers say the Kremlin has been seeking to disrupt. Poroshenko is highly unpopular and trails in the polls.
Jonathan Katz of the German Marshall Fund says he's yet to hear a good explanation for "what makes this moment different" that demands the unprecedented declaration of martial law. He says there's concern it will be used to Poroshenko's advantage, and to the detriment of Ukraine's democracy.
While the order is only set to last 30 days, "these things tend to get extended," Katz says. "Somebody can create a provocation… there's plenty of ongoing violence that could be treated as a justification."
What's next: Trump will meet with Vladimir Putin in just a few days at the G20 summit in Buenos Aires.
Go deeper