Climate change could force 13 million Americans to migrate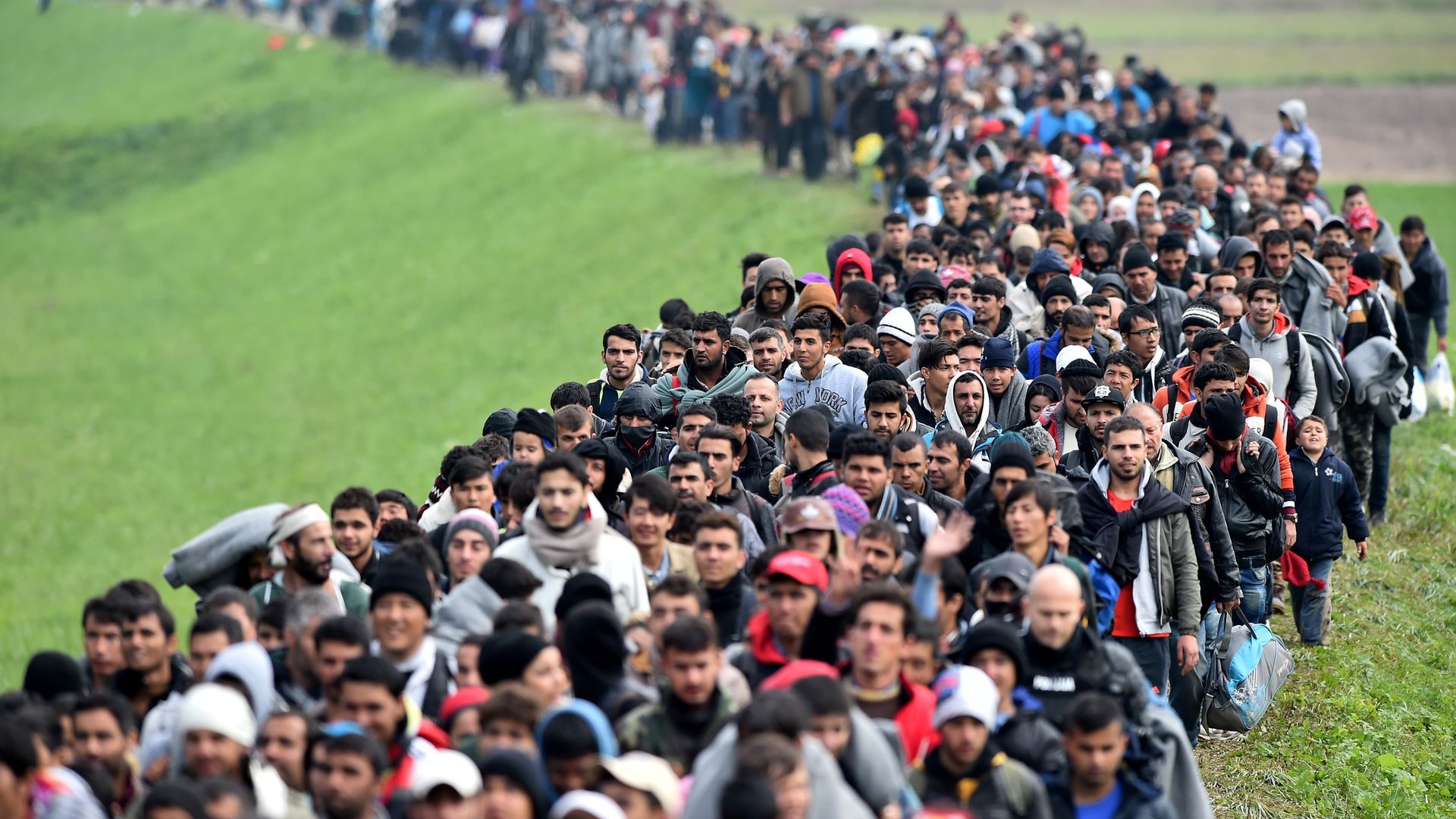 In recent decades, climate change has exacerbated civil unrest, led to war, and put migrants on the road out of their countries, according to the National Climate Assessment released last week.
Why it matters: Until now, most climate assessments have focused on the threat to human lifestyles — to where and how we live. But the recent cycle of catastrophic fire, drought and floods, combined with the spread of extremist politics, suggests a new scale of danger to the developed and developing world.
The big picture: The 1,656-page volume, released by the Trump administration although disavowed today by the president himself, says that extreme weather can trigger a cascade of crises, culminating in conflict, including revolution.
One danger: Some 13 million Americans — equivalent to the combined population of New York and Los Angeles — could be forced to migrate from where they live because of a forecast sea-level rise of 6 feet by 2100, the report says.
The report cites a history of examples:
In 2010, a wide-scale drought helped lead wheat prices to double — and, in countries like Egypt and Syria, bread prices to triple.
The following year, the Arab Spring struck in both countries and, in 2015, migrants poured out of Syria to Europe.
"While the 2010 droughts were not the sole cause of the [Egyptian] revolution, they contributed to destabilization of an already unstable region," the report says.
As we have written earlier, migration has been a key factor in the shakeup of politics around the world. In Europe, it has resulted in the fall of governments, including most recently the retirement of German Chancellor Angela Merkel after her current term. Opposition to migration is a pillar of Trump's politics.
The bottom line: The report says, "Whether migration in response to climate change will generally cause or exacerbate violent conflict is still uncertain." However, extreme weather and migration have occurred hand in hand around the world:
Philippines: In 2013, Typhoon Haiyan pushed some 4 million people out of their homes. Six months later, more than 200,000 of them were still in makeshift shelters.
Houston: In August 2017, Hurricane Harvey submerged and knocked out power to hundreds of thousands of Texans. Some 32,000 people were forced into shelters. It caused an estimated $100 billion in damage.
Sub-Saharan Africa: Climate change is forecast to hit the poorest parts of the world the worst. Researchers expect long-term drought and extreme heat to trigger mass waves of migration from sub-Saharan Africa to the north in the coming decades and beyond.
Go deeper