Home improvement retailers play down sluggish housing market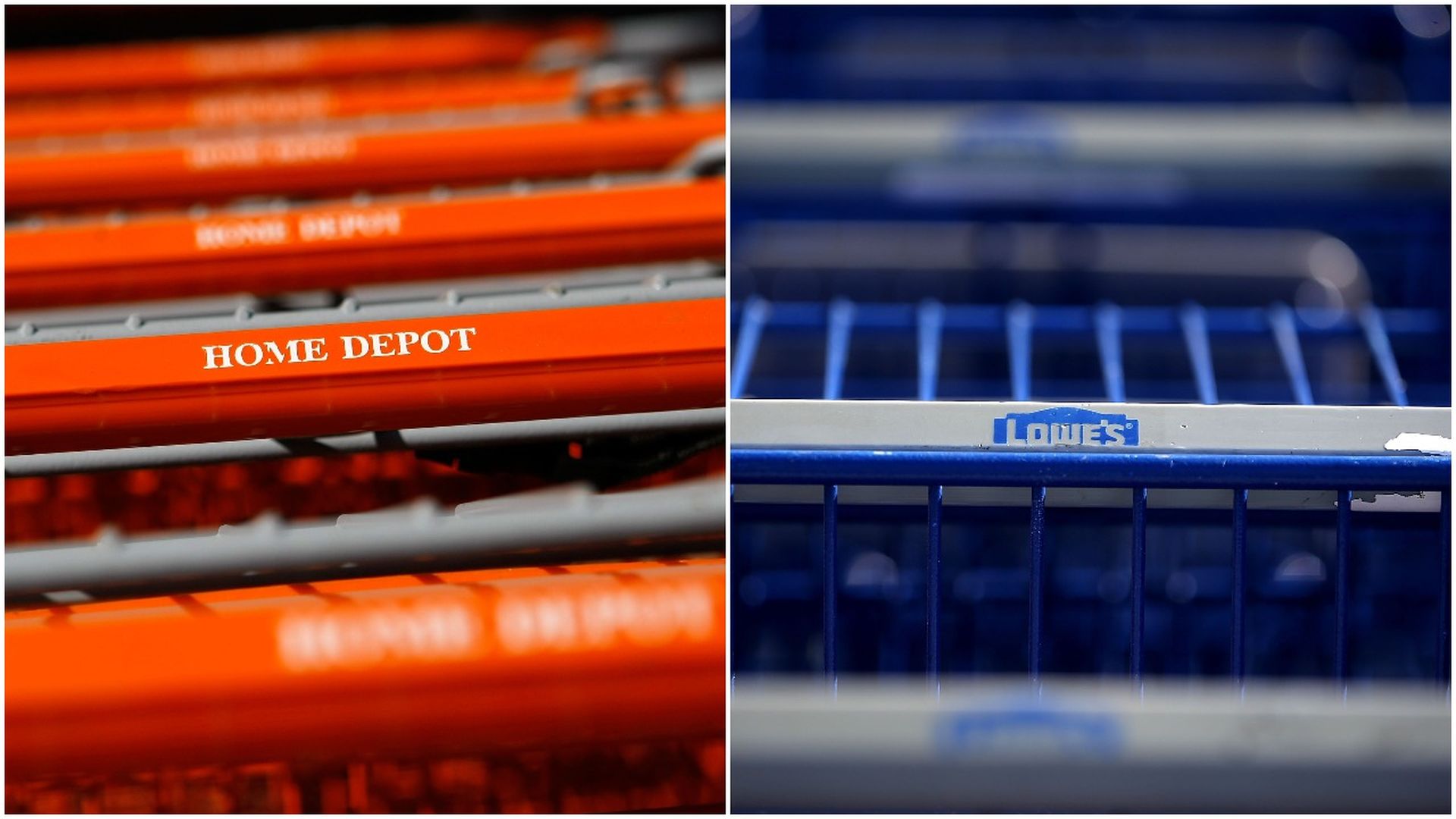 Executives at home improvement retailers say they're not worried about the slowdown in home sales — because they think customers that are staying in their houses longer will need to buy supplies to patch them up.
Yes, but: While Home Depot and Lowe's are banking on consumers reinvesting in the homes they already have, some experts say it's not clear that boom in remodeling will actually happen.
What they're saying: Executives at Home Depot and Lowe's — the two biggest home improvement retailers in terms of revenue — said on earnings calls this month that weak housing has nothing on the strong consumer.
Marvin Ellison, Lowe's CEO: "Home price appreciation ... continues to encourage homeowners to engage in discretionary projects. The average age of the homes in the U.S. is 40 years, which creates an attractive opportunity for our project categories that support maintenance and repair."
Carol B. Tomé, Home Depot CFO: "With rising interest rates, consumers are [incentivized] to stay in their home, and they have wealth in their home and their home is aging, and so they're spending money on their home."
Strong demand for new and existing homes has historically helped drive sales at Home Depot and Lowe's.
The other side: A recent study by Harvard University's Joint Center for Housing Studies predicts the pace of home remodeling is expecting to slow, not accelerate, next year.
"Low for-sale inventories are presenting a headwind because home sales tend to spur investments in remodeling and repair both before a sale and in the years following," Chris Herbert, managing director of the Joint Center for Housing Studies, wrote in the report. 
Cheryl Young, a senior economist at Trulia, told Axios she sees no indication that a softening housing market will lead to more renovations. "Even if a home sale happens, [homebuyers] will see more of their money going towards a mortgage and less available for renovations," Young adds.
What's going on: Rising rates are upping borrowing costs for would-be homebuyers.
The average 30-year fixed rate mortgage spiked to 4.83% in October, according to Freddie Mac, significantly higher than the 3.9% average rate in 2017.
That's not the only thing plaguing housing. Tighter housing inventories are contributing to higher prices in markets across the country. Wages are rebounding, but they still trail housing price inflation, per Reuters, making affordability more difficult.
By the numbers: Home sales rose slightly in October after a six-month streak of declines, but fell 5.1% on an annual basis — the biggest drop since 2014.
Lawrence Yun, a chief economist at National Association of Research, which puts out that data, said housing demand has weakened in the wake of higher interest rates.
Homebuilders completed the fewest projects in a year last month, per the Commerce Department, while single-family homes — the biggest share of the housing market — dropped for the second straight month.
Go deeper