World dreads picking sides in U.S.-China breakup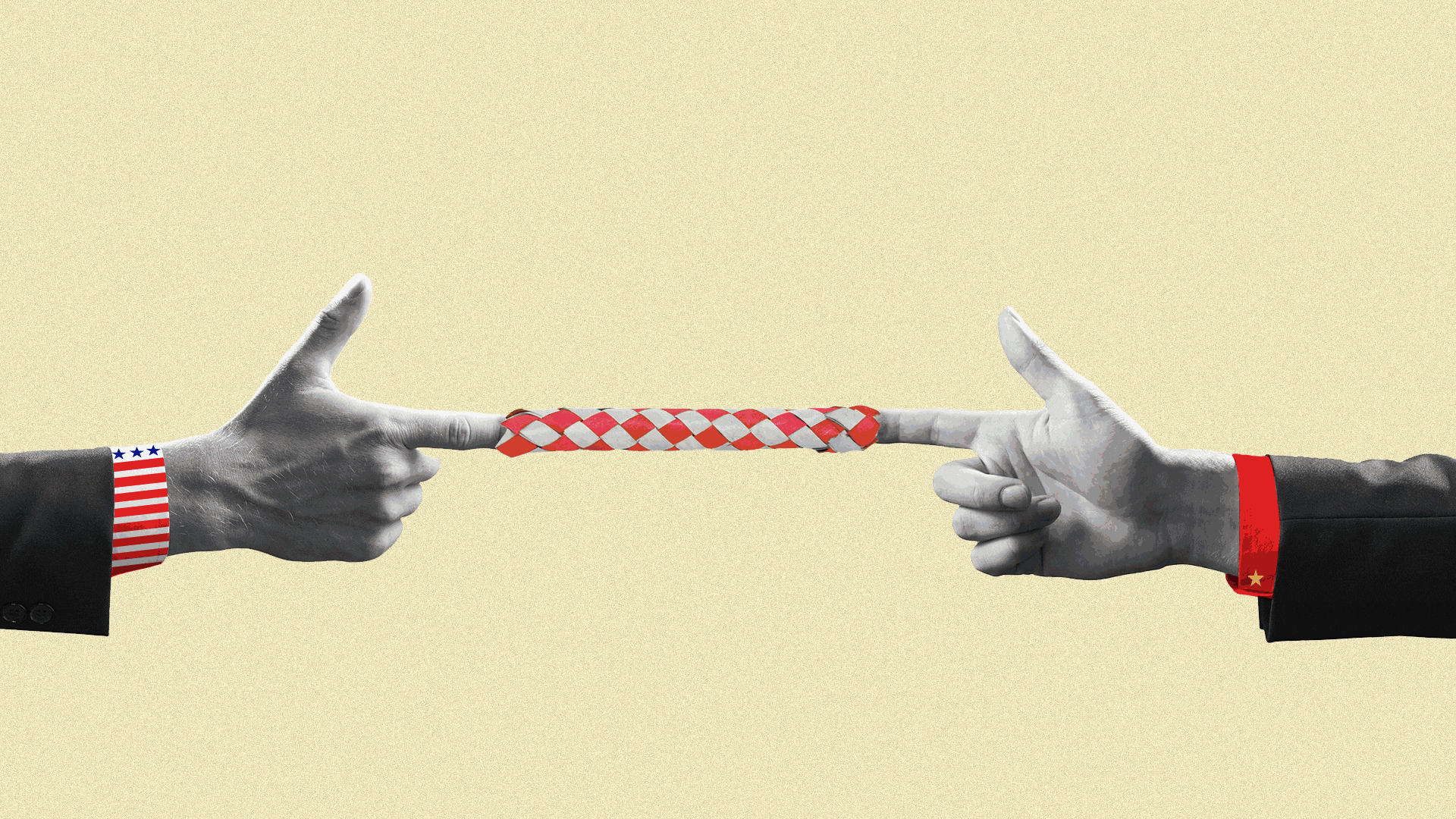 The case that the U.S. and China are entering an era defined by hostility and competition was bolstered this weekend when an annual gathering of Pacific Rim countries turned into a standoff between Washington and Beijing.
Why it matters: So deep do the distrust and divisions run that the 30th Asia-Pacific Economic Cooperation (APEC) summit was the first to end without a joint statement from the 21 participants. If economic barricades go up, and stay up, countries could be forced to choose between the globe's two economic giants. "The entire world is worried," the summit's host, Prime Minister Peter O'Neill of Papua New Guinea said, per the NYT.
Vice President Pence, representing the U.S., said the Trump administration would continue to up the ante on tariffs "until China changes its ways," and he urged countries to reject Chinese investment in favor of the U.S. That followed an interview with the Washington Post's Josh Rogin in which Pence said it's up to China to avoid a new Cold War, and if they won't budge, "so be it."
President Xi Jinping, meanwhile, criticized President Trump's "zero sum" approach: "Mankind has once again reached a crossroads. Which direction should we choose? Cooperation or confrontation?"
That question is being vigorously debated in both Beijing and Washington, including earlier this month at Brookings:
David Lampton of Johns Hopkins School of Advanced International Studies conceded that with Xi (and Trump) in power "we're destined to have a problem," but argued that to give up on cooperation is to strengthen hardliners and ignore areas (security, global development) where interests align.
Evan Medeiros, the NSC's senior director for Asian affairs under Barack Obama, now at Georgetown, argued, "there is a risk you make rivalry a self-fulfilling prophecy, but there's a parallel risk of emboldening a rising power."
As the debate rages, both countries are already working to reduce their economic interdependency, particularly when it comes to tech, notes Benjamin Charlton of Oxford Analytica:
"The Trump administration is developing new processes to limit Chinese investment, issuing regulations on dual-use technology ... imposing sanctions and 'naming and shaming.' There is every sign that it intends to do more of all this."
"Even if a deal is reached with Washington that blunts the sharpest edges of the current trade conflict ... Beijing will likely only see this as a delaying tactic and an opportunity to make greater progress until a harder line is resumed."
What to expect: "The endpoint if the process of economic decoupling continues will not be zero bilateral trade and investment as in the Cold War, but rather a gradual separation of the global tech industry along political lines over the next 5–10 years."
All of this sets the stage for Trump and Xi's first meeting since the trade war kicked off, to be held at the G20 (Nov. 30–Dec. 1 in Buenos Aires).
Axios contributor Bill Bishop writes: "The best case scenario appears to be a tariff ceasefire with some sort of framework deal to keep talking, but based on what I am hearing, even that may be a stretch."
The big question, Axios' Jonathan Swan writes, is whether the meeting will go well enough for Trump to postpone ratcheting up tariffs on $200 billion worth of Chinese imports, as he's scheduled to do in January.
What to watch: Ali Wyne of the RAND Corporation argues in Foreign Affairs that there are major national security implications to an economic decoupling: "A China less constrained by and invested in economic ties with the United States could pose a substantially greater challenge to U.S. foreign policy."
Go deeper