Arm's CEO talks chips, growth, and life with SoftBank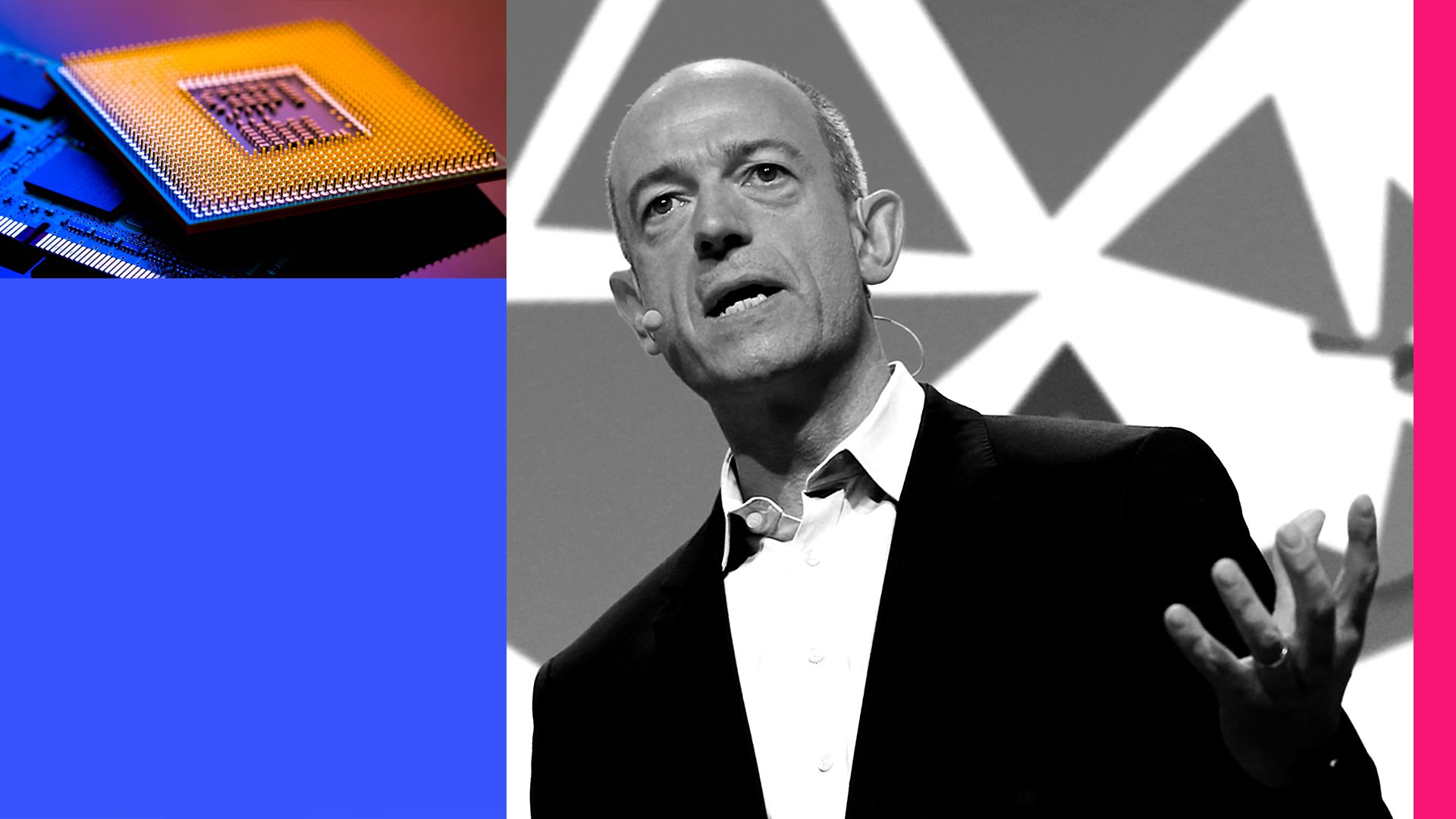 After years of intense focus on Internet services and software, chips are once again back in the spotlight, driven by the rise of virtual reality, artificial intelligence, autonomous vehicles, cryptocurrencies and other technologies that require powerful hardware.
At the center of that is Arm, a company that doesn't make any of its own chips, but whose low-power semiconductor designs are used in everything from cars to sensors to cell phones. Long independent, Arm was acquired in 2016 by Japan's Softbank.
The bottom line: "I think that there's so much that appears to be changing at the same time," Arm CEO Simon Segars told Axios. "You've got all the advances of those first few waves, leading to a kind of intersection of the growth autonomous vehicles, the growth of [the Internet-of-Things], the deployment of 5G, A.I .— suddenly all this stuff is capable, and it's coming along at the same time... And it is ultimately delivered by the underlying semiconductor devices."
Axios recently interviewed Segars about Arm's future, life as part of SoftBank, and more.
What are the biggest new markets for Arm chips now?
Purely in terms of growth, we're seeing huge growth in the deployment of Arm processors in embedded devices. It is billions of chips per quarter sold by Arm's licensees, and it's growing steadily.
But as we look forward, we're thinking about 5G today, there's an evolution going to be required over the coming years of capability in the network... A few weeks ago, at our developer conference, we launched a lineup of processors called Neoverse, and that's a roadmap of the next few generations of how we can deliver more and more performance with features tailored specifically for infrastructure.
How has SoftBank already affected Arm?
Well, what's been great about the acquisition is that [SoftBank CEO Masayoshi Son] really cares about longterm growth. He is not interested in short-term optimizations. He's thinking about what can we do now, how can we invest now to drive the biggest return in the future we can possibly think of... We've hired a couple of thousand more engineers into the company in those two years, so that we can invest in parallel in the opportunity that is 5G and AI and IoT and autonomous vehicles, as well as maintaining our core roadmap. We wouldn't been able to do that as a public company.
What are your aspirations 10 years from now -- where's Arm then?
I talk to people and they go, "Oh, you're the people who are in the mobile phones"... But we're also doing all these other things... I really want Arm to be viewed as having been successful across multiple technologies that we're really investing to take hold of, like IoT and autonomous vehicles and for me success is seeing all of that pay off...
I mean, I joked to my guys recently that one day [SoftBank CEO Masayoshi Son] is gonna ring me up and say, "So Simon, teleportation, what have you got?" and we better have an answer by Monday. Partially joking when I say that, but you know... You've got to be thinking about what comes next.
Editor's note: The story has been updated to clarify one of Segars' comments to mean "billions of chips per quarter," not "billions per quarter of ARM licenses."
Go deeper